One of the most anticipated upcoming games has to be Fable 2, Fable was an action/RPG on the original Xbox, where players have control over the main character from a third person perspective. The game was fully interactive and used a battle system.
I had the chance to listen to Peter Molyneux from Lionhead Studios speak about Fable 2 yesterday at The Gathering '07 and this guy is truly an amazing developer, in the sense that he has so much passion and enthusiasm about his games. What he wants to do is bring you a game that is like no other game you have played before, one that you will become totally engrossed in, a completely dynamic world where you control what happens to the world around you.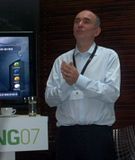 A lot of today's games have a lot of cut scenes you have to sit through to progress through the game and even worse a lot of them you cannot skip. Peter Molyneux promised that Fable 2 has the maximum of two and a half minutes worth of cut scenes in the whole game and even better the cut scenes change dynamically over what you choose to do, for example: a child may need rescuing from a forest, you have the choice whether to rescue them or not and the game will change depending on your choice.
He was very excited about the combat aspect of Fable 2 and implied that you will be able to use the combat against another person, he could not say whether this would be against your friends or A. I, but it very much sounded like he was implying that we will be seeing some Xbox Live Co-OP.
The combat he explained was built on the movie Kill Bill, where The Bride comes up against a host of enemies, now these enemies do not all rush in at once and attack, they gradually attack and this is what Lionhead want to achieve with fable 2. He showed us a demo of how this works.
The other thing he pointed out is that the block button should be the same button as attack, now this may or may not be a good thing as usually a separate block button involves using more skill, but he was very adamant that this would improve combat.
The environment can be used as weapons in may ways, for example you can use a wall to hit your enemies head against, which will increase your skill points enabling you to build up your character. A low fence can be a useful object to use to impale your enemy on. In Fable 2 everyone's combat moves will be different.
The music changes depending on the way you fight and you have a certain amount of control over this, for example: you can increase the drums in the background to enlighten the excitement.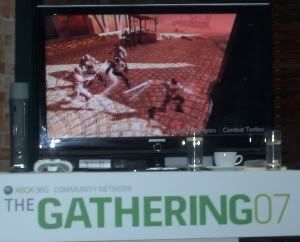 Peter Molyneux demonstrates the combat aspect of Fable 2.
As with Fable, the whole city can be owned by you and the city is then under your peril, you can either make the city prosperous or bring the city to ruin. You can own how many houses you want, put these up for rent or move your wife and children in.
In Fable 2 you can own a dog, the dog is a living animal that will also use combat, he did not go into great detail about this, but this could mean that you also build up the dog's combat skills.
There will be an action button, which looks directly at where the action is coming from.
Another thing he didn't go into detail about was the magic aspect, but he did about experience orbs, which will be bigger and greater than Fable giving you the sense of achievement as your skills build up.
The expressions on the characters' faces have been greatly enhanced too, giving you the sense that they are living people and they also use humour and will taunt you.
Peter Molyneux has certainly got me excited about Fable 2 and from what he was saying I cannot wait to play the game when it is released, and the almost certainty that it will be Xbox Live co-op really should be something exciting.