Wouldn't it be great if you could turn your enemies into friends? Well that's exactly what you can do with Spider-Man Friend or Foe based on the movie with the same name. Usually in games you defeat the villain and that's that, but in Spider-Man FOF your villains become allies (sidekicks) and will then fight with you through missions. Spider-Man is summoned by Nick Fury to the S.H.I.E.L.D Hellicarrier to take on a world wide threat, meteor strikes and a rise in criminal activity caused by Spiderman's famous foes and also from "phantoms" are causing havoc. From the Hellicarrier you begin your missions, upgrade web abilities, sidekicks, purchase power ups, change sidekicks, change options, view unlockables and begin versus battles.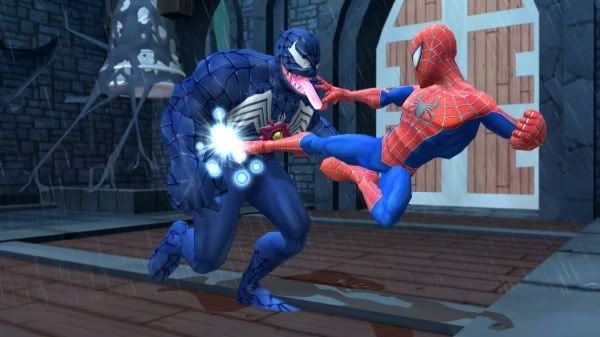 Early on in the game it is explained how to upgrade Spider-Man and his sidekicks, their health, strength and toughness can be upgraded using Tech Tokens. Spider-Man starts the game with basic attacks and a special web attack-web line, but as you progress through the game more special abilities become unlocked, including web-shoot and web-stun and are bought with Tech Tokens that are hidden in defeated enemies, in bushes and any object that is breakable. Web-line as you would expect shoots out a line that attaches to the enemy and from this you can swing them round, it also can attach to objects allowing Spidey to swing from them. Web-Shoot is like a machine gun, but with particles of web and Web-Stun shoots out a cocoon of web smothering those that you aim at and stunning them. All of these have four different abilities for you to upgrade and by using different button combinations you can make them do much more.
As well as upgrading Spidey and his sidekicks' the upgrade lab is also used to buy inventory, health regeneration, Mega Damage, Invincibility and Hero Strike. These are all assigned to the D-Pad, so for example pressing down will activate health regeneration. Mega Damage makes Spidey's fist glow and creates quite a punch and what is the point in having a sidekick if you don't team up? well Hero Strike is one of the most impressive features of this game, both Spidey and your sidekick double up and release their full power on the enemy in a rather impressive cut scene, this kills the enemy instantly, you can only carry one of these per mission. At the end of a mission you are give the choice to go back to the Hellicarrier or to continue. The combat is very simple with X being punch and kick, B to use the web abilities and throw depending on how close you are to the enemy, A to jump, pressing A twice will double jump and Y to change to your sidekick and back to Spidey again. Unfortunately the sidekicks are not as much fun as Spidey and I found myself using Spidey all the time. There is also a lack of camera control as the right stick doesn't do anything, but I guess Activision wanted to make the game as simple as possible for children. Auto-aim is on as well and whatever you throw always hits the target as long as you are facing in the correct direction. The pause menu gives you a move list, so you can vary those attacks. It's all too easy though to go through the levels using Spidey's web abilities instead of punching and kicking. It's worth noting though to get more Tech Tokens you need to build up the combo meter, the higher this is the more Tech Tokens will come out of the enemies. You also cannot die, well you can but you will be re-spawned back with a few less Tech Tokens as a penalty. There is no shortage of enemies either and these will come at you in groups. The enemies are grouped into three different classes, small, medium and large and there are different ones per level.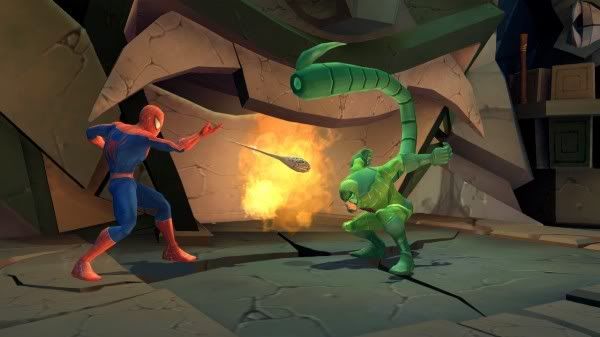 The locations throughout the game, Tokyo, Tangaroa Island, Egypt, Transylvania and Nepal all have an abundance of things to break and collect Tech Tokens and power ups from. They each have a different atmosphere and are colourful and detailed. Standing on switches on the ground will open bridges and in the Egypt level punching them open doors. To open doors and to be able to stand on the switches you need to clear the enemies from the area. Each of the locations consists of four levels with certain objects called DNA helix's to find. There is also a bonus section to find on most of them, but first you must find the keystone to open the door, once you have completed the bonus part the arena becomes unlocked for you to use in versus mode. Each location you fight a boss, those famous foes you remember such as Venom, Green Goblin, Scorpian, Lizard, Rhino e.t.c. who then becomes your sidekick. The soundtrack speeds up and gets more intense if enemies are approaching and Spidey and his friends have comical phrases, such as "Do you think this ruins the fun, with us always winning?" and "speed up the pace" the voice acting is very good. There are short cut scenes filling in the story, before you start a location a computer will describe what is going on and which enemies to expect.
Although there is no Xbox Live multiplayer action, there is local co op, which is as easy as connecting another controller and pressing A and there is also versus using the arenas you unlock through the single player game. The achievements are unlocked as you go through the single player game and completing each location will give you 125 gamer points, with 75 for upgrading each of the three different web abilities and another 75 for upgrading all characters. There are only 12 to unlock and if you are looking for an easy 'cheev game this is defiantly the one. Spiderman Friend or Foe is a fun game, although extremely easy and rather short. It is amusing and colourful and any child or adult who loves Spidey will enjoy it. Hey you even get to play Spidey in his black suit! You won't believe who's on your side.........
Graphics
7.1
Gameplay
7.2
Audio
7.5
Longevity
7.0
Overall
7.3