Put together plenty of blood, beheadings, dismembered limbs and partial nudity and you have Conan. Everyone has heard of Conan the Barbarian. Conan was born on the battlefield and by the age of fifteen he was a respected warrior who lived in the Hyborian Age. He is built like a human tank and nothing can stop him. The story starts as Conan, always a thief attempts to steal a priceless object and by trying to get this precious object accidently smashes a statue, thus releasing an evil sorcerer of immense power, who had been captured and encased in the statue and who is a great threat to civilianization. The evil sorcerer then gets angry and Conan awakes on a beach with his armour missing and it's this armour that you must find through defeating bosses.
Faced with a hoard of enemies Conan sets about cutting off their heads, arms, legs and burning down their homes. This game is defiantly not for children and many a time you will see arms and legs flying across the screen. Along the way maiden's call out "help me" and when you do find them they have nothing on but a thong, they seem to have lost their clothes and somehow got tied to trees and other objects. They express their gratitude in a rather seductive manor. It's not all hack 'n' slash though, red runes come out of defeated enemies, chests and from rescuing maidens, these are then used to increase the roster of Conan's moves. By using these experience points you buy a move to master, for example, you may have x,x,y and by using this combination frequently it increases the master level by percentage until it reaches 100% mastered. These moves depend on what weapon you are carrying and whether you parry or grapple. When parrying a button that you press may appear, pressing that button takes you into a slow motion graphic cut scene, where limbs are sliced off and heads roll. Which makes Conan more than just a button basher if you can remember the moves, thankfully a reminder is there just by pressing the back button.
Defeated enemies will drop their weapons and Conan can then pick them up, perhaps the most fun to use are the duel wielded swords or the huge swords, axes, spears and torches. The longer weapons give you that advantage of being further away from the enemy and you can hit more at a time. Arrows from archers will drain Conan's health gradually and you need to somewhere safe to pull out the arrow, not very easy when you are in the middle of a battle with enemies running in from all angles. Lions and giant apes also attack you. Should Conan be running out of health, this can be topped up with the vases of green runes dotted about, defeating enemies or by smashing crates.
Each piece of armour that is found or rather earnt from defeating bosses, releases a different kind of magic that Conan can then use. The Void will suck all enemies in its path into oblivion and a swarm of bird like creatures descend upon enemies, to mention two of them. To use Conan's magical powers blue runes like the red and green ones are found through defeating enemies, but the meter must be built up with enough of them. If you have played Gods of War, some of the boss battles may be familiar to you in the fact that you must use a mixture of combat and mental dexterity. By weakening the boss you then have a button sequence to press in a cut-scene before more combat and more button sequence. Conan does have a few puzzles too, smashing walls to find hidden chests and set brambles alight in order to climb a cliff. In order to increase your health and magic meters you need to stab three slabs which are hidden. Rocks can be thrown at enemies, carts can be pushed into them and huge catapults can be cranked up to fire at ships.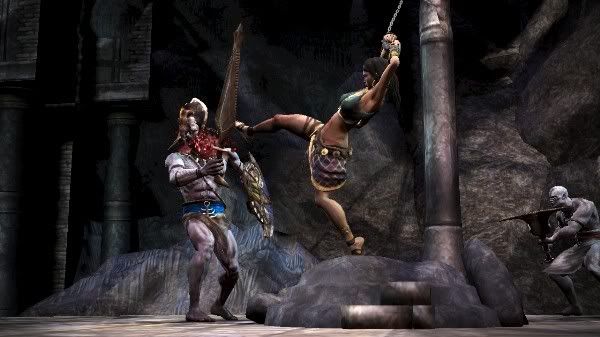 Graphically Conan shines through the stunning cut scenes and slow motion effects, but there are too many enemies that look like clones. The boss fights are also stunning and the game has a certain painted feel to it. The environments look great, especially the underground ones. The fixed camera (right stick is used for evade) is a little annoying but not too annoying. The soundtrack is orchestral giving you that feeling that enemies are approaching, it speeds up and then cuts out when they have been defeated. The characters voices are rather repetitive, they only know a few phrases. Conan doesn't have any kind of multiplayer aspect except for leader boards, based on the combined points you earn through each level. The achievements are varied with a few requiring you defeat several enemies at the same time and others by defeating bosses. Conan is a powerful fun action packed game, if you enjoy a gory, limbs and heads flying everywhere game (and which man doesn't like looking at boobies? hands up!) then Conan is for you. You will certainly marvel in the slow motion cut scenes and the all out combat and the bosses do give you a challenge.
Graphics
7.0
Gameplay
7.5
Audio
8.0
Longevity
6.5
Overall
7.3