Tony Hawk's Proving Ground is huge! To give you an idea of the scale, it is one and a half times bigger than Tony Hawk's Project 8 and that was classed as the biggest Tony Hawk's game ever made! this one goes that bit further allowing you to do just about anything you want to do. The game is comprised of three locales: Philadelphia, Baltimore and Washington DC and these are interlocked together to form one huge area of skateboarding heaven. The areas must be unlocked as you go through the game completing the main story lines. It does take a long time to get to each area, but by picking up the skate board you can jump on a car roof and hitch-hike, run on foot or use the skate board to build up your stats on the way. Luckily Neversoft have given you a map where you can target certain way points and using the on screen arrow find your destination. The arrow has the distance you need to travel included so you know how far it is. The map also shows you where each challenge is and clearly marks where you are at that moment.
Creating a skater has a fair bit of options, changing hair styles and hair colour, face and torso, attire and the skate board itself, even down to the trucks and wheels. You can place logos on front and back of shirts and generally be creative. The colour options do take a bit of getting used to as it is done with sliders. Throughout the game you can earn or find money and use this to buy new clothes or various skating accessories. Using this you can really create some amusing characters and even change their stance and make them goofy! Once you have created your skater it is time to start building up your character abilities and there are three main classes you need to master: Rigger, Hardcore, and Career, all completely different. By speaking to people each with a different colour glow round them (like a ready brek man) you can then start to become the best skater. As the classes are very different, you could choose to follow one particular class and stick to just that one or do all three as you go through the game, the choice and route you take is yours. There are famous people to speak to and you get to see some great videos of these doing tricks, including Tony Hawks himself.
Rigger class will take you through building ramps, quarter pipes and rails where ever you wish to place these across the map and you can place these items anywhere you choose as long as they fit where you want them to go. You can also climb ladders and scaffolding, picking up the skateboard and so can reach very high places otherwise not accessible. This gives you the ability to create huge stunts using the rigger technique adding to the environment, which has already got items like quarter pipes and grinding material in it. The editing screen is accessed by pressing the back button and then using a wheel with the different items on to place that item in to the game, you can then rotate and move the ramps, quater pipes and rails to the position you choose, so for example: you could place a ramp either end of a car or in a place so you are able to make a jump across a gap. The editor itself is very easy to use, but the camera angle does cause a few problems when you need to see where you are placing something and the goal you wish to obtain, using the stick you can change the camera angle a little but not as much as I would have liked and this does make a few of the challenges very tricky. Hardcore class takes you through the more intricate air tricks, you learn how to skate faster and harder using the "aggro kick" among others, a speed boost and career class takes you through tricks like "nail the trick" which was first introduced in Project 8. It involves pressing both sticks in then whilst in the air rotating the board and making a successful land. The new ones are "nail the manual" and "nail the grab" which are explained as you go through the class.
The big change with these classes is there is no longer one large story line you need to follow but three separate ones, which now give you more choice of where you would like to work towards goals. These three classes are accessible from "my goals" so you can see at a glance what and where you would like to go next or from in-game by meeting up with the three glowing people and following their instructions. All three rack up your skills and build up your career to work towards certain goals, such as getting sponsored and your own signature board. The big advantage of the three classes is that you are no longer stuck should the challenge be too difficult and can move on to the next one or even one of the street challenges. There are three skill levels with each challenge, AM,Pro and Sick, as you would expect you will need to do just that bit more to reach Pro skill and even more to reach Sick skill level. You may have to pull off more tricks or gain more points, but AM will clear you through so you can move on to the next one or come back and attempt it at a higher skill level. Each challenge you pass marks it off in the list and also marks it on the map, so you know what you have completed.
Along with the classes there are other challenges to complete, street challenges involve different kinds of tricks and photo mode, where you are doing tricks for a magazine and taking photos as you go, these are fairly tricky as the camera doesn't take the shot for you and you need to both do the trick and take the photo, you can then save these to look at later. Gap challenges involve jumping over large gaps and landing successfully often doing a trick in the air. There are also video challenges, where someone is filming your tricks, which you can then save and edit. The video editor allows you to edit your own videos. Using Guitar Hero technology you can edit in your tricks to music and also add effects or overlays. Like the camera you need to start recording these yourself as there is not a running video throughout the game, but it is a neat feature with lots of cool options. The Skate Lounge is also a new feature and as you go through the game you unlock parts, which you can then place in the Lounge creating a skate park or your own design. The multiplayer side allows you to invite your friends into your creation to ride your skate park or challenge them to face-to-face events, point based contests or just to free skate.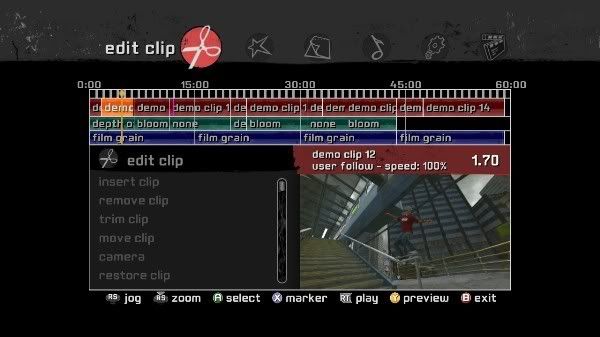 The music has quite a good variety of hip hop, punk and rock tracks, which you can toggle on or off or sit and listen to them through the built in player. The characters' voices are amusing and the famous skaters voices and videos have been well done.

Graphically, the detail is there, the environments are decent and the character details are to the point where you can even see the grooves on the bottom of the shoes. The game runs smoothly.

If you are new to skateboarding games along with the training sessions with the three classes you can also watch training videos whenever you wish, so you can go back and check how to do that trick again, these videos have been well done and even a novice can easily pick up how to do that certain trick and through practice master it.

Tony Hawk's Proving Ground includes a few new features and this game is huge! with the ability to place items where ever you want to change the environment to what you want and also to video your tricks, this game would last a Pro or Amateur months. Oh did I mention the Guitar Hero III demo is also included?


Graphics
8.0
Gameplay
8.0
Audio
8.0
Longevity
8.5
Overall
8.0