Assassin's Creed is set in 1191 AD, during the time of the Third Crusade. The Animus Control and feedback System has been set up to change the future by using Desmond Miles as a subject to send back to the Third Crusade to eliminate crime such as slavery, human testing and human trafficking by assassinating those responsible and so changing the future for the better. Or so we are lead to believe at the beginning of the game.... Using Desmond's ancestor, Altair Ibn La-Ahad's memories in synchronization with Desmond, Desmond is able to travel back in time using a Animus board, a specially designed time travel machine. You play the role of an assassin. An assassin must follow three rules; they must not kill the innocent, must do all actions in secrecy and must never compromise the brother hood. Every action that you do can throw the environment into chaos and your existence can change the face of history forever.
Altair has a mission to assassinate nine men all which have caused some kind of evil and all that have something in common, during this time you visit three vast cities, Jerusalem, Acre, and Damascus, each divided into three separate parts, rich, middle and poor districts, where you spend most of the time, returning to a master after each assassination to gradually re-learn the skills he took from you at the beginning of the game, following a failed mission. These nine men are actual people that did live and were assassinated or died from other causes around 1191 AD and the game covers each story exactly how they are written in history books. Assassin's Creed offers a comprehensive in-game tutorial where you will master the skills of an assassin such as how to use eagle eye by pressing Y, a mode where you can see the social status of the people around you, if people show a white glow they are unaware of you, blue you are beginning to vanish, yellow you are being watched or exposed and starting a fight, being spotted on roof tops or killing people will change the social status to red. Obviously you want to keep the social status white and you can do this by using blend pressing A. By using blend you can walk among the soldiers blending into the crowd. Eagle eye and blend appear on the top right hand side of the hud along with gentle push/pickpocket and the weapon button, reminding you which buttons to press.
The top left hand side of the hud shows a synchronization bar, which also doubles up as a health bar. To stay in synchronization you must remain anonymous or complete an objective. You will lose synchronization by killing an innocent person or by being hurt. The icon by the side of the synchronization bar also shows you which social status you are. If it is blinking red you must remove yourself from the line of sight of the soldiers by hiding, climbing or by sprinting. Before you can assassinate the men, you must find out where they are and there are four different ways of doing these investigations, pickpocket, eavesdropping, interrogation and informers. The more you do the more information you find out. These missions are the same in every city and do become a bit repetitive, once you have done one lot. Each city holds a Bureau, a safe house where you get useful tips and a feather to dip into each target's blood. The Bureau is closed when your status is revealed, so to enter you must be anonymous. To find the Bureau and the missions you must first scale a view point. Each view point is marked with an eagle, is usually a huge tower which you must climb and will also show up on the map once you have found at least one. The view points open up the map and give you a panoramic view of the cities, which are quite breathtaking. Once you have finished taking in the view the only way down is by a leap of faith into a pile of hay.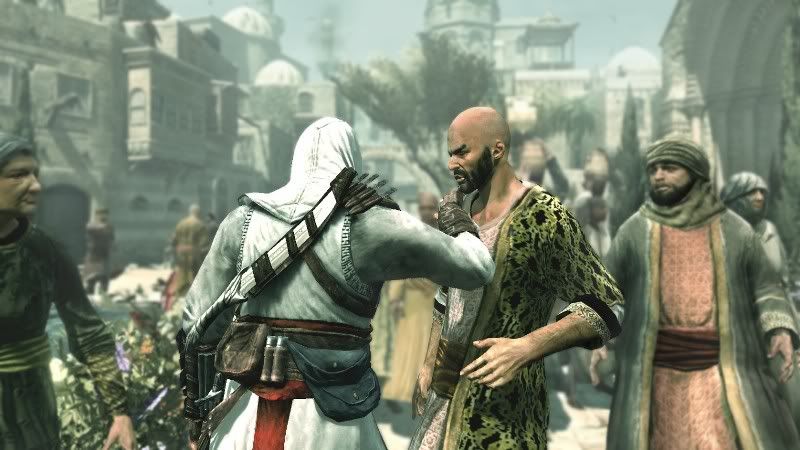 Climbing and jumping from rooftop to rooftop you can scale the highest points of the city, and the cities are interactive as far as you can see. The draw distance is impressive, so much so it makes you want to stay on the roof tops just admiring it. Ubisoft have made it fast and easy to jump and climb, so getting you out of situations quickly. For us at least, the combat system is the best 3D combat system we have seen in a game. It is highly impressive, it really works a treat, using simple attack, counter attack, throw and dodge functions you can run in and assassinate all in your path or take it stealthy and assassinate them from behind by slitting their throats. You lock onto one attack, then it will lock on to the next. As mentioned before the synchronization bar will flash red whilst in combat and all soldiers will be on the alert to attack you if they see you, so you could end up with loads to fight, unless you hide, climb or sprint out of their view. The soldiers are alerted very easily and it may only take you bumping into a few people. Be aware though should you climb or jump to try and avoid them they will follow you and can also climb and jump. As you fight you are treated to a close up of your target's death through rather impressive animations. The combat involves using timed actions and you need to learn the rhythm, but once you have got it all falls into place and dead bodies lie all around you. Each target is saved as a memory clip and once you have assassinated them they all give cryptic messages about how you have been tricked and all show no mercy about what they have done.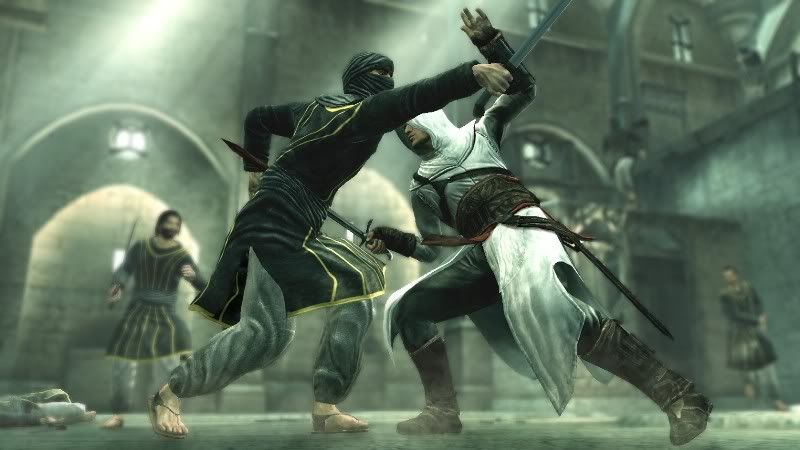 Each city holds a host of side missions too, including save citizens, where once saved will help you in return by summoning up friends that will block soldiers that will pursue you. There are also flags that are hidden to be find and Templars to kill. Not wishing to spoil any of the story and the twist at the end, you can go back and do all these after you have completed the game. Being 1191 AD the only form of transport is a horse. The horses are very life like, quite fun to ride and get you from place to place a lot faster than sprinting. You can also use your sword on horse back, but cannot take the horse into the cities. Assassin's Creed treats you to breathtaking graphics, the cities themselves are brilliantly done and packed full of people going about their day to day business. The views from the view points are works of art that wouldn't look out of place in an art gallery. Being a memory clip there are glitches, which flash up on the screen now and again, if you catch one by pressing a button you get a close up view of the action. Assassin's Creed is a graphically and combat masterpiece, that deserves not to be rushed, enjoy the game and take it slowly.


Graphics
9.0
Gameplay
8.7
Audio
7.5
Longevity
7.0
Overall
8.8