Published by: Midway Games
Developed by: EPIC Games
Release Date: 4th July 2008 (UK)
Genre: FPS
"This is EPIC!"
EPIC's Unreal Tournament series is back with its fourth instalment of the acclaimed fast paced action FPS fragfest. 4 years on from Unreal Tournament 2004's staggering PC success, players now have the opportunity to make fresh gib pie on the Xbox 360
Reaper, born into a mining colony, is part of the 'Twin Souls Clan'. After his sister suffered an accident as part of the 'Fist of the Twin Souls', he joined up in order to protect her. Now, ever since their colony was invaded by Krall, Reaper and the rest of the 'Ronin' are out for revenge. Following a multitude of enemies through battlefields in 5 chapters and close to 50 battles, Unreal Tournament 3's campaign is a true showcase for what is on offer as you will be playing every gametype on nearly every map. UT3 campaign hasn't got an amazingly strong story but playing through campaign will give you plenty of practice for when you go online. You can play through the entire campaign with up to 3 friends which can help a lot when it comes to the higher difficulties.
Having played the PC version plenty of times, I am not new to this game. The game in its outright self remains unchanged and this is good. Fears that the speed of the game would be difficult to grasp without a keyboard and mouse are blown away and the controller mapping couldn't be much better. There are plenty of options you can edit relating to sensitivity etc. You are still able to run and jump around the map firing rockets and shock combos toward your enemies with ease.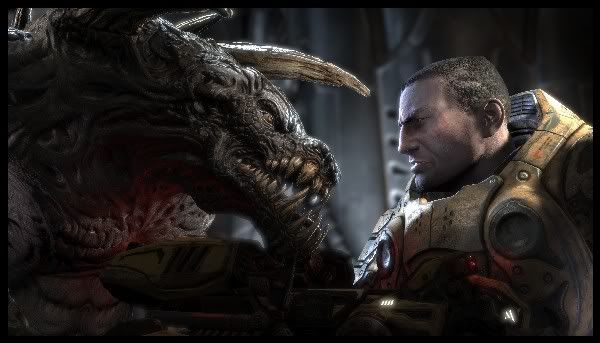 'Oh, breath mints, sorry im all out'
Multiplayer is truly where Unreal Tournament 3 excels. With up to 16 players spanning 6 games and 55 expansive maps and fully supported drop in/drop out 4 player co-op campaign, it will be a long time before anyone gets bored.
First of all, player creation which was seen in both the PC and PS3 versions of the game is non existent. However, you can choose a preset character from a library covering all 4 factions found within the single player game.
There are 6 game modes within UT3. Your normal Dual, Deathmatch, Team Deathmatch and Capture the flag modes are all here, however some great additions are Vehicle CTF, where players have the opportunity to pilot the wide variety of 15 vehicles found within the game ranging from tanks to flying octopus type vehicles with tentacles, as seen below.
An additional game mode that is new to the Unreal series is Warfare. Players are to link nodes found on the battlefield back to their power core in order to gain access to the enemy's power core. In some maps, teams are to capture the countdown nodes, which, after a period of time will cause an event to take place which will put the other team to a disadvantage.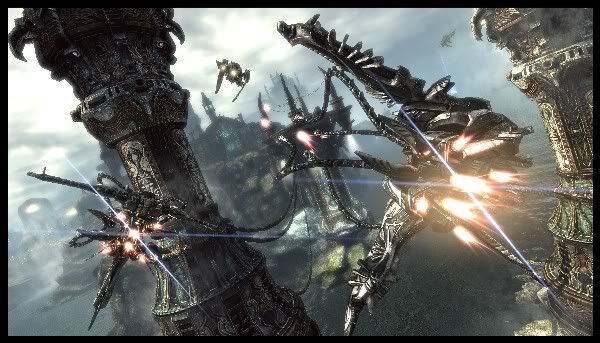 Why did we take the red pill?
Unreal's battlegrounds range in a huge variety of climes and landscapes from the devastated streets of heat ray to Deimos, the dead spacecraft verging on impending doom. Each set of game types (such as vehicular maps or dual maps or non vehicular maps) have around 15-20 maps each, making a huge 55 maps, 5 of which are exclusive to the 360.
Xbox Live play is truly where the fragfest is at, your skill and reactions will be truly tested when it comes to facing off against an opponent launching rockets at your face trying to make you a pile of giblets for all to see.
Xbox Live offers both Player Matches and Ranked Matches with all gametypes present. You will have the option to select between player match and ranked match, game type and then an option for a pure server, which is a server with no active mutators. Mutators are options in which edit the way the game plays, for example there is low gravity and slow motion available, also there is instagib mode, this is where players are given a one shot kill rifle and matches can become very long with this. Unfortunately mutators are not available in ranked matches.
Ranked matches are confined to one match before you are forced out which can be a little annoying but this does however limit boosting.
Player matches are a lot different, first of all, you are not forced to leave after each match and the host will simply choose the next map. However, on dedicated servers a voting system opens up where players vote for the next map.
UT3 doesn't suffer from horrific lag. If you are playing on the server from your area i.e. UK, then there will be no lag in most cases. Even when you enter other servers from other areas, all that is noticeable is lagging gun fire where the shot appears to leave the gun later than it should, which depending on weapon can cause a lot of problems. Voice communication is good with no real issues other than having to press and hold right on the D-pad which can sometimes result in feigning your own death.
Multiplayer split screen is a great addition to the game. Players can play in campaign mode, instant action and also multiplayer split screen over Xbox live.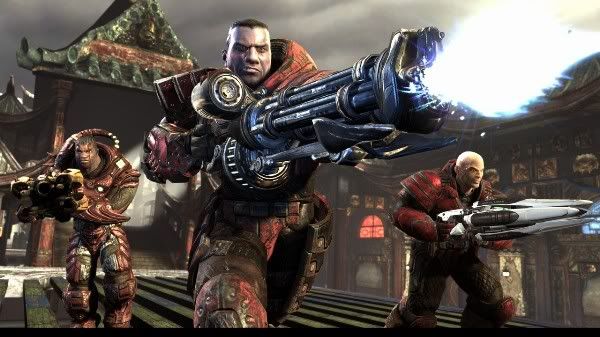 'This guy must be happy to see us' 'Urrr that's a bad thing!'

Graphically, Unreal Tournament 3 is spectacular. Not many games currently on the 360 can surpass the beauty of this game. Unreal's detailed textures along with the vast amount of colours present on screen really show off the Unreal engine. Unreal suffers from very little graphical defects, I have yet to notice any tearing and believe me I have been looking everything is also nice and smooth. The only downside I can say about the graphics is that textures can take a few seconds to load in after the match starts
The sounds of the Unreal world are very good. A big part of being successful in UT3 is to be able to use the sounds to your advantage. UT3 really allows this as you can hear enemies moving around and also there weapons when they are fired. The ingame announcer is also brilliant, nothing beats throwing a rocket into the enemies face to hear the announcer shout 'Godlike!' and with an announcement for plenty of different things, you will not find yourself short of a few self gratification moments that's for sure.
In conclusion, Unreal Tournament 3 is a truly fantastic multiplayer game, where it lacks an in depth story, it certainly makes up for it on the multiplayer front. With fantastic graphics and great sounds it's hard to find any flaws. Although flaws are present, they are minute. The range of difficulties available is great and any player good or bad can easily find themselves indulging in this game.
Unreall Tournament 3:
Graphics
9.0
Gameplay
8.5
Audio
8.5
Longevity
8.5
Overall
8.8