Reshape the Battlefield, Reshape the Battle.
Fracture is set in 2161 in the midst of a civil war on US tertority and tells the story of genetic modification and the fight to wipe it out. The Pacificans have begun altering citizen's DNA and the Atlantic Alliance decided to ban genetic modification and use cybernetic enhancement. The Pacificans aren't too happy about this and threaten to take over the world. This is where you come in, you play Jet Brody, a soldier in the Atlantic Alliance and are sent in to stop Sheridan the general and his army from doing their dirty deed.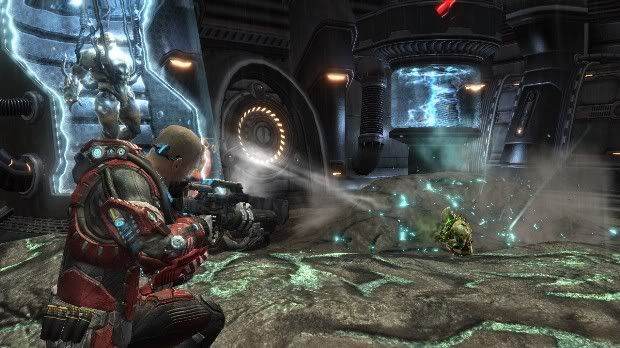 Fracture takes the inspiration from global warming, what would happen should the environment change and what technology would be used. Jet Brody has a recharging energy suit which is upgraded as you go through the game it also allows you to jump higher by tapping the A button twice, he is also able to restructure terrain by raising and lowering the ground to provide cover, reach higher ground or to tunnel underneath things using an Entrencher. The controls for these are easy to use being the left bumper to lower and the right bumper to higher the ground. This is the main feature which sets this game apart from other shooters and is fun to use. In fact most of the terrain can be reshaped.
Jet can carry four different types of grenades, one being a spike grenade which when thrown creates a glowing spike from the ground, as well as destroying enemies can be used to repair broken bridges or higher platforms, so that Jet and his troops can access otherwise inaccessible areas. Another grenade causes a vortex which sucks in everything in its path.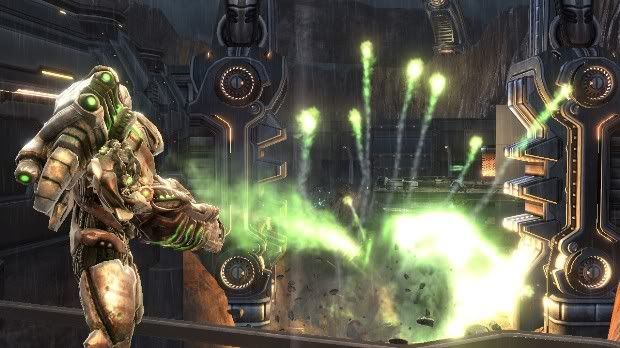 Fracture uses unique futuristic weapons, such as a torpedo gun which sends projectiles under ground that you then decide when to detonate, the Banglore, a rocket launcher, the Black Widow which launches sticky grenades, a mine launcher, the Rhino which forms huge energy balls that the rocks stick to, Lodestone sucks enemies in and many more. The weapons show that they have been designed to be unique and obviously a lot of work has gone in to designing them.
Should you wish to test the weapons you have unlocked, then Fracture has a special mode called weapons testing.
There is also a vehicle called the TDV 1, which can grind dig under obstacles and has a boost to jump over canyons. Using the vehicle is pretty fun and breaks the game up from running on foot.
Fracture is made up of three chapters, which are a fair length and involve clearing enemies and solving puzzles, so you can advance to the next chapter, they are pretty straight forward but tactical, using terrain deformation and there are one hundred Data Cells to find dotted around the levels.
There are quite a few Xbox Live modes, ranging from CTF to free for all.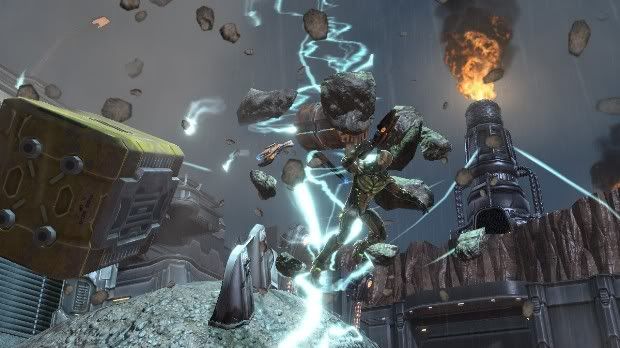 Graphically it is a very nice looking game, the terrain deformation looks pretty impressive and the environments look good.
The soundtrack is orchestral and movie like and the sound effects are pretty good.
Fracture is a fun game, the terrain deformation works well and provides something different to your usual shooter. The weapons have been well thought out and great fun to use. Overall a very enjoyable game, but its lifeline like many games rests on the Xbox Live side.
7.5