"Twinkle, twinkle little star..."
The giant mining ship USG Ishimura had contact with a mysterious extraterrestrial Artefact. Sadly, communication lines are cut and engineer Isaac Clarke is sent to repair the communications system. Sounds like an easy job...
Tool Time
As soon as you gain control over this techie and board the Ishimura you realise that there are some evil things going on. You are a bit helpless with only your hands and feet, this scary adventure starts with a run for your life sequence. But only a few rooms later you get hold of one of your tools – the plasma cutter, some corners later you find an audio log telling you to chop of the monsters limbs for better 'results'. OK, let the fun begin.
During your progress through the game you'll find dozens of text, audio and video logs which give you a deeper inside to what's going on with the Ishimura. There are boxes, lockers and dead enemies dropping ammo, health packs, stase packs, money and power nodes for your supply.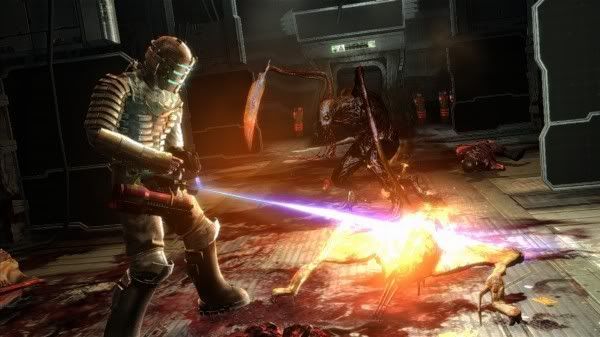 I got the power
Of course there's a variety of weapons awaiting your grab including a circular saw and a flame thrower. Your suit providing the ability to freeze enemies and fast moving mechanisms ( Stase ) and to grab and move things over a distance ( Kinesis ). Anything could be upgraded using power nodes at work benches strewn across the levels. There's one of these per level just up for a grabs and bigger enemies drop them. Further nodes can be purchased at shops. These shops offer anything you need: Ammo, weapons, health, stase, ... and advanced suits. But choose wisely, you can't max out anything at a single run through this game.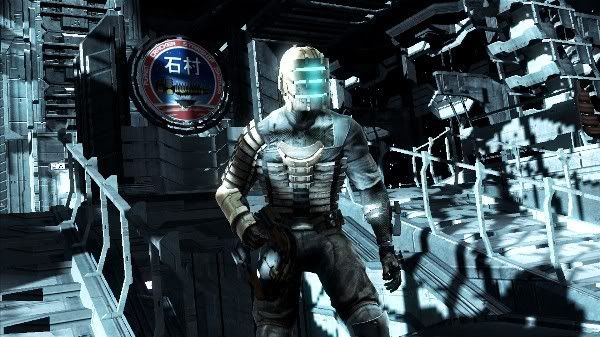 Excuse me, which way to Ravenholm?
Maybe it's just me gaming too much for six years now but the game giving you that "where did I see this again? " feeling. Launching saw blades at zombie like creatures made me smile. Beasts are a cross between Doom, Silent Hill and Resident Evil.
Game play is pretty much basic too. Find the key for a locked door, refuel some tanks, bring the power back on... Levels are pretty straight forward and an excellent map leads the way if you don't know where to go next.
I've tried to keep tied to my own opinion and avoided reading other reviews but spotted some ridiculously low scores for this game. I think it's because of this. But...
Upside Down, boy you turn me...
You'll face Zero-G zones where you can jump around turning the world you like or need. Some of these are in vacuum adding pressure because you don't have infinite air with you. These rooms are really fun and have you thinking where to go and how to get there.
F.E.A.R.
Now this game is talking. It is really scary in best FEAR like manner. You'll never safe of a shocking moment. You'll even die unexpected sometimes but you'll never have to do much again. The game has more than fair checkpoints and enough save stations. The excellent audio adds a lot to this scary feeling. It is simply the best scary game I've played so far.
Techniques
Here I'm sold completely. Okay, there are some rare ugly shadows and some rare jaggies BUT this game is rock solid even when you're surrounded by enemies. Rock solid frame rate, no hiccups when turning, no texture draw-ins, and no nothing! This is how games should work IMHO.
- Pretty much basic game play
- Not much replay value
- A bit short: 12-15h
- No XBL
+ Rock solid engine
+ no annoying loading screens, even between levels - fluid game play
+ You're an engineer
+ SCARY
+ Cutting off limbs is fun
+ Awesome sound
A MUST BUY for fans of scary games and should buy for everyone. Devs aiming for fluid graphics rather than shiny should get rewarded IMHO. Vote with your wallet! I can't wait for a sequel – I WANT MORE!
Score: 8.8
625 GS after 1st run (710 max possible)
This post has been edited by OppaErich: 02 November 2008 - 07:23 PM