Livin' On The Edge - Mirror's Edge Xbla Review - Written by Sup3rt3d
Ah, EA. The company everyone loves to hate - and with good reason. Bland, boring Madden after bland, boring Madden, feeble film tie-ins, rip-off downloadable content and invasive DRM; the company has long been synonymous with shovelware and poor service. However, recent events have signalled that there may be change in the air – and change for the good. This past year has seen a fresh approach to old franchises as well as some fantastic new IP – Rock Band and Dead Space being the most obvious examples. As a result, it was with some trepidation – as well as some hope - that I sat down with their latest offering… and came away more than a little surprised.
Mirror's Edge is quite different to anything you will have played before. The game is set in a dystopian future in which an all-powerful government rule over a populace who have exchanged liberty for security and wealth. Of course, there are some dissidents left who are unhappy with the status quo, and in a 'Big Brother' society where all the phone lines are monitored and there are cameras on every corner, the only safe method of communication is by courier – or 'runners' as they are known. This is where the game gets its hook, in such a built-up urban environment, the safest route is across the rooftops, and this is where the couriers roam, leaping over fences, sliding under pipes and performing death-defying leaps from tower-block to tower-block. It's a similar kind of thing to Assassin's Creed or Prince of Persia – though far better done. The game hinges round this free running mechanic, each level involves going somewhere very fast and very elegantly, avoiding death, either by falling or by a bullet, along the way. You play as Faith, a young, rebellious girl who, fed up with the restrictions of life in normal society, has run away from home in search of life 'on the edge', and ended up working as one of these runners. After your sister – who has chosen a very different path in life, joining the police force – is framed for a murder, you must find out the truth, uncovering a top-level citywide conspiracy in the process.
Firstly, it has to be said that the game looks absolutely gorgeous. The environments are all concrete and glass, nothing from nature (apart from the occasional miserable looking corporate pot-plant) is allowed to intrude, and by concentrating on one particular aspect of the world like this DICE have managed to make the quality absolutely impeccable. All the objects around are incredibly detailed, appearing almost photo-realistic even from up close (though this doesn't extend to the slightly odd-looking character models), but what really makes the game stand out – and it definitely does stand out – is the colour palette. The background features of the game are rendered in very washed-out colours, but intentionally so – stark white, cool blue, pale greys and contrasting blacks. This alone works well because of the high graphical fidelity of the game, but its not until the other colours come into play that you realise how creative what DICE have done is. Faith has 'runner vision' meaning that objects she can use for vaulting, climbing and so on are shown in bright red, contrasting vividly against the background. As the game progresses you encounter more bright splashes of different colours, but it never becomes common and the effect never gets old. The outside sequences allow you to survey the whole city from on high, and since the draw-distance is extremely good, it's an incredible view. Granted, there is occasional tearing and on one or two occasions when Faith is hanging from a ledge the wall in front dissolves into pixellated blocks, but these occurrences are rare and forgettable compared to how amazing every thing else looks. The overall concrete, steel and glass look of the game mean it looks like nothing so much as Portal, but a Portal of far higher graphical fidelity and with a unique colour palette.
Indeed, that isn't the only way in which the Mirror's Edge recalls Portal. I have a huge weakness for in-game in-jokes, and Mirror's Edge doesn't disappoint. I saw one of the numerous rats that scuttle about run into an electric fence, squeak and roll over with its tiny legs waving. This sort of detail really adds to the quality of the game, and there were several other such things I won't spoil for you. You come across news stories about the war in 'Serdaristan' (the fictional setting for DICE's Battlefield: Bad Company) and at one point you come across a janitor's closet where he has a pet rat in a cage, along with drawing he has done and notes to himself – very similar to the dens you come across as you work your way through Aperture Science Labs. Unfortunately, what Mirror's Edge doesn't share with Portal is a decent storyline – in fact, it's abysmal. The whole '1984' thing has been done, and done very well (think Half Life 2), and Mirror's Edge adds nothing to the genre. The characters are two-dimensional and uninteresting – you won't care about any of them, even when they die. The plot is very predictable, with a twist you'll have worked out by the end of the second chapter, and there's no depth to it at all. It isn't helped by some of the worst voice acting I've ever heard in a game. This isn't helped by the poorly rendered cut scenes, which look and sound like an unpopular early 90's children's cartoon. Indeed, the decision to do the cut scenes like this is completely bizarre; it doesn't fit well with the style and looks of the game at all and completely ruin the sense of being there. I should mention here that the game has an entirely first-person perspective, which at first seems a strange choice for one that relies so much on jumping about, judging distances and heights and so on, but it works very well, and feels exceptionally fresh, and very immersive. There are a very few cut scenes viewed from the first person perspective (i.e.: you can't move or do anything but the action unfolds in-game) and these sections work so much better than the ridiculous animated ones.
Of course, however lame the story is, with a game like this it's a secondary consideration to how it plays – and Mirror's Edge plays
good
. DICE have put a lot of effort into creating as authentic experience as possible, and they've got it just right. When you build up to top speed and pull off a string of moves flawlessly, you really feel the flow of the game, and its immensely satisfying. The core mechanic of the game, the actual running, is slick, solid and has obviously had a lot of effort put into it. It's a shame then that it never really gets a chance to shine – unfortunately, the descriptions of this game as 'open world' are hardly accurate, the single player storyline is very restrictive about where you can go – there is one route, and one route only. Granted, on some rooftops you can choose whether to wall-run over a fence or scale a nearby air-duct and vault it, but these decisions are minor, what I was expecting – indeed, what the pre-launch publicity had led everyone to expect – was that you were in one place, and the game simply told you to go somewhere else, the route was up to you. Instead, you are trapped in a linear route, which kind of defeats the point of the game.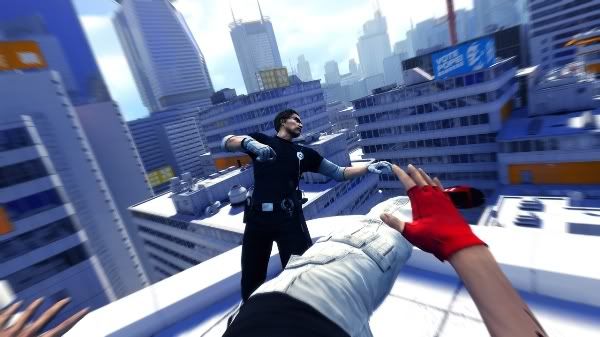 Another thing that isn't up to standard is the combat. You're unarmed, although you can disarm the 'blues' and use their weapons against them. Surprisingly for a studio that makes the Battlefield series, the guns aren't particularly well done, though perhaps this is on purpose – after all. The point of the game is running, and it is possible to escape these encounters. You can also do melee moves on the enemies you encounter, but the moves are fairly weak, and only work if you take the enemies on one at a time, two or more and you're dead. I actually avoided most of the combat, enjoying the fleeing far more than the fighting, but this tactic totally fails towards the end of the game. In the last few chapters you come up against cops who are super fast and super strong, wearing some kind of ridiculous 'nano-mesh' armour. You can't take them in a fight, but even when you run they can still get you – they carry tasers, one hit from which renders you slow and weak, and blurs your vision. This means the later sections degenerate into a joyless trial-and-error – with only one route across the rooftops and these annoyances hounding you if you make a wrong turn or jump the wrong way you're dead. The only way forward is to reload, and try again, and then again, until you've learned the whole route perfectly. This sort of grinding is completely joyless and totally at odds with the free-flowing enjoyment of the earlier levels.
This frustration is probably the biggest criticism that can be levelled at the game. The save system is done through checkpoints, and while by and large this works well, there are times when it seems distinctly patchy. There are occasional sections of the game where you come across a jump that is ridiculously hard. This isn't a problem – games should be a challenge and if you play through a game and don't get stuck once then you need to change the difficulty setting. What
is
a problem is when you mess up the jump and die and then it loads you two rooftops back, or at the bottom of a shaft. This means that to get to the tough jump you have to do a series of relatively simple jumps, which only takes a minute or two but by the fourth attempt it's starting to get very stale and repetitive. If the final jump is very hard, that could be as much as 15 attempts – that's half an hour going over the same section again and again. Not fun.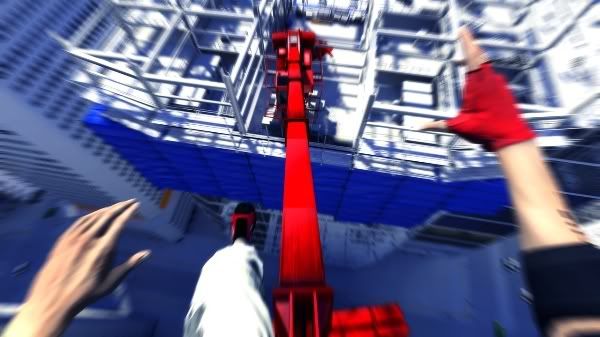 Repetitiveness can be a problem on occasion then, which is not that strange given that the game is built around one – admittedly very slick - mechanic that mostly only involves pressing two buttons. It never really does become that repetitive though because the game is horrendously short – around seven hours on normal, though I imagine it's a bit more on hard (you don't unlock hard mode till you complete normal). However, even if you crank the difficulty up to hard the main difference is going to be the combat, not the jumps, so there really isn't that much there. DICE have added a 'time trial' mode with a load of courses, which is enjoyable because they are both far less linear (though once you find the optimal route you stick with it) and because you don't have 'runner vision', which makes it a bit more exciting. You can also do the story levels against the clock, but there is limited enjoyment to be had from this, especially since you really won't want to sit through the story more than once. There are also a number of 'runner bags' hidden around the game, but hidden collectibles are a tired old trick, and in a game that's all about running fast, wandering around slowly looking for secret nooks and crannies isn't really what you want to be doing. For a full-price retail release, the game feels a bit light on content, and while there is something there for people who enjoy watching their name climbing (or, as I tend to find, dropping rapidly down) the leaderboards, most people will be left feeling a bit short changed. The game is good, undeniably, it looks gorgeous and plays very well, but it isn't quite what it could have been, and it certainly isn't what it was touted as being. Still, it's a highly enjoyable, though short, experience, and a big step up from what you'd normally expect from EA. After all, at least it's not another bloody Madden.
7.5/10