Be the evil Overlord
Will you cause destruction or domination? Which ever route you decide to take Overlord II is set to keep you being evil for a long time, because not only has this game got depth, but it's also fun to play.
Overlord was a game that I couldn't put down. I pinned the map of the game to my wall and there it stayed to just before Overlord II was released. So hearing that there was a sequel I was very interested to see if it matched up to the first.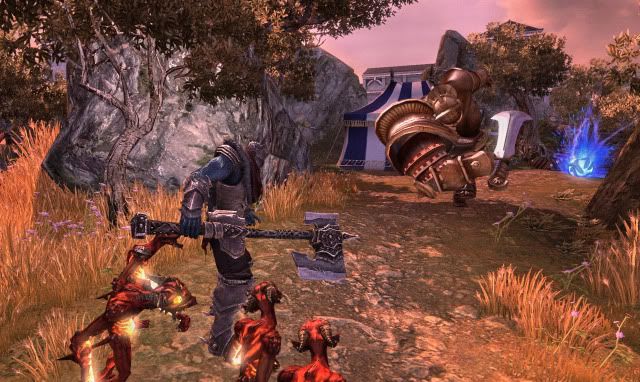 You are an Overlord and as such you rule! Not only are you evil, but you are also powerful and with your minions by your side you can take over anything.
Eventually you will have four types of Minions, little creatures whose job is to serve you and they will fight and die for you, but at first you only have the Browns. These are all-round-fighters, but with moderate damage. The Browns are soon joined by the Reds, these are immune to fire damage and can quench flames, but to spawn more you need to return their hive, after which depending on how much life force you have harvested you can pop more out anywhere you find a spawn point. As you go through the game the Browns and Reds are joined by Greens and
Blues. Greens are immune to poison and can jump on the backs of enemies and Blues love to swim, blink through enemy ranks without being seen providing you keep them moving and they can also resurrect other fallen minions. Controlling your minions is simple and effective, send them all off by holding down right trigger, one by pressing right trigger, you can sweep them where you want them to go using the right tumbstick or choose one colour only by pressing the right bumper and the colour of your choice, pressing red calls them back and left trigger will send them to a chosen target. Make some of them wait with a guard marker and they will stay there until you instruct them to move again, useful if you don't want them running into enemies, or you want to position them to directly attack enemies, or you want to send all of them off except one particular colour.
Your Minions don't just attack enemies though they also collect treasure, which you need to upgrade certain items, bring back objects and open gates, they smash through items, stand on objects and you can even play as a Minion, by possessing one of them. Minions can also mount other animals, such as wolves and spiders, so they can jump or climb where they couldn't usually reach.
As you gather life force from animals and humans you kill, your hoard of Minions increases, to keep your population of these topped up there are plenty of seals, sheep and other animals to abstract the life force out of.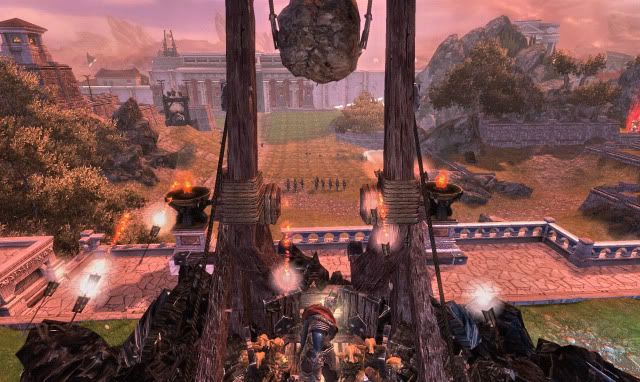 Your Minions are also busy building you a Dark Tower, also known as The Netherworld, this is where all upgrading goes on. As you bring objects to the gate these are put to use to upgrade your magic powers, forge new weapons and armour, upgrade your Minions to make them more powerful and also a home to any mistresses you find along your travels. It's your base from which you start quests, save the game and also home to your Minions.
The Overlord himself can fight too, although you will find you'll be using the Minions more than actually fighting with
him, just because it's far more efficient to send a hoard of Minions out to attack and because they are indispensable and you are not. You can forge new weapons and armour for him and upgrade his magic powers as you gather Catalysts from within the lands. Your magic powers are limited to what Mana you have in your bar, this can be refreshed at Netherworld Gates or by finding Mana bottles, but it doesn't go back up on its own. The same as your health bar, if your health bar diminishes and you are not near a Netherworld Gate or cannot find a health bottle, you will start again from the last auto save, which happens to be the last Netherworld Gate you reached. The Overlord's magic can be used to either kill or possess villagers depending on which way you are playing the game.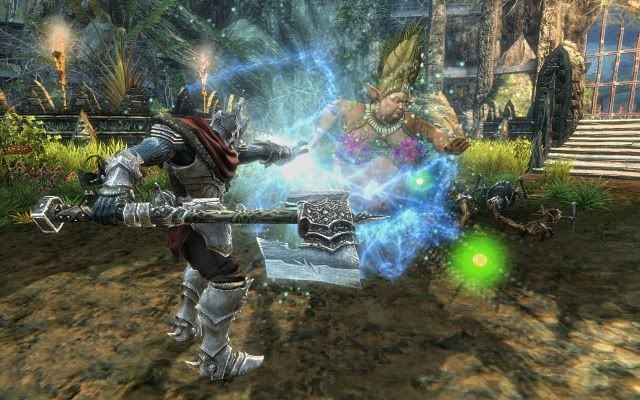 Although the quests are set for you, you do have a certain amount of freedom, you can choose which quest to take, return to The Netherworld whenever you see a gate, meaning you can stop mid quest to upgrade your items and Minions or to start a new quest and return to that one later. You have a choice which way you would like to play the game and your magic powers will reflect this. You can choose to burn down towns or to keep the town folk under your spell, whatever you choose is up to you.
The storyline is brilliantly done too, with just the right amount of cut scenes that you can skip if you want to.
Overlord II sees another new feature, along with an improved greater depth single player it also has Co-Op multiplayer with four modes, both Xbox Live and split screen. Pirate Plunder- where you are trying to gather as much gold as possible, Dominate- take and hold as many zones as possible, Arena- Survive as long as you can and Invasion- take down a Centurion in the quickest possible time and leaderboards.
There are puzzles which will have you scratching your head, the map helps in these situations as it shows where you should be heading and you are told clues before you go into an area, but it's still easy to get lost.
The camera angles are sometimes a pain and there are slight graphical problems, but not enough to ruin the gameplay.
Overlord II is one of those games where once you start you cannot stop, the new additions from the previous game enhance the depth and enjoyment. The Minions are amusing and will randomly start singing or say something when you are least expecting it making you smile and who can't resist those funny little critters? Overall the game gives you a sense of reward and challenge with a evil, but amusing and charming outlook.
8.2