Aim, Slide and Score
Sorry! Sliders
Is the final add on for the Xbox Live Arcade Title Hasbro Family Game Night. It is based on the board game of the same name, which before i had played the arcade version, i had never come across. It is downloadable from Live Marketplace for 800ms points. In-game it bears almost no resemblance to the game Sorry!.
Although they can be customized, the rules of the game are very simple; 4 Players must slide pawns with the analogue sticks down a runway, aiming to place each pawn nearest to the middle of a target, or to knock other pawns out of the away. Now as i said, the game and its rules are simple, yet some players will soon develop strategies and rivalries which surprisingly can make this game very exciting and its players get very competitive! At the end of each round you get to race for home with counters on a scoreboard. This sounds very old-fashioned and it is, to me it begs the question whether or not you really should be playing a board game...on your xbox?!?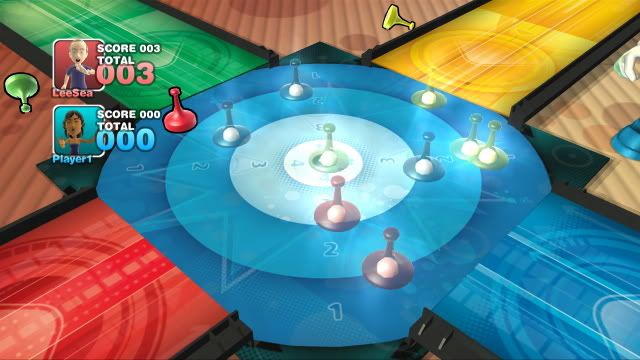 The board itself is very colourful and just looks good in general. Mr Potato Head is your host, and he likes to watch over you as you play, understandable i suppose, just in case things got out of control and pawns started to fly! The look is all very appealing to kids and is one that you would not mind seeing alot of, although the music and sounds can get annoying.
You will find your first few games fun, but eventually feel that the concept itself is lacking in depth. At this point you can head to the options menu and play around with some factors of the game. You can make the AI players harder, or make the scoring area spin, you can even throw in some power-up boxes which do weird and wonderful things to your pawns. This is all well and good and does add fun to the game, however the hardcore gamers will have trouble playing this for more than an hour as it does bore. I suppose as the title says, this game is for families, and it is true as i found out, playing with your family and friends is alot more fun. Yet it just is not how i remember board games as a young child. If this is what the younger generations are going to grow up with then it is a crying shame, as they are missing out on real board games, getting to move and touch the pieces themselves! I really find it hard to see the point of Sorry! Sliders.
There is one factor which i thought could save this game, and that is online play. Lets face it, when you were young, you never had the chance to play board games at home with people in Japan. And now with HFGN and Sorry! Sliders you can...Or can you? It may be because it is the newest add-on for HFGN, but i found that Sorry! Sliders has next to nobody playing online. Everyone is on Connect 4 or Boggle! And when you do get a game, and beat someone, i can assure you, you will receive the inevitable ten seconds of verbal abuse!
Overall Sorry! Sliders is not the greatest of arcade or HFGN games. It is hard to get into and will not keep you coming back for more over and over like other arcade games. At 800ms points it really is a big no. Chances are the most fun you will have with this game will be when you are under the influence of something very strong, and very illegal. If you really must buy Sorry! Sliders, buy it for your toddlers, as i am sure they will appreciate it.
Look: 8

Sound: 6

Gameplay: 4

Replay Value: 4



Overall: 5.5
This post has been edited by DomOnline: 23 July 2009 - 11:59 AM