Mothership Zeta is the fifth and final download content for Fallout 3 (or so we are told) and perhaps the most bizarre in a good kind of way. A strange Alien signal is being broadcast throughout the Capital Wasteland, originating from a crashed UFO. Is it a distress call, or something far more sinister? That question is answered when you find yourself beamed aboard an enormous Alien spacecraft, with only one alternative – to fight your way to the bridge of the ship and secure your escape.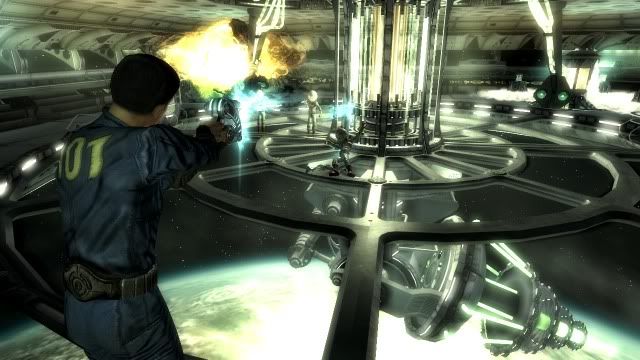 After downloading the content a radio signal is detected from the alien crash site, when you go to investigate you are beamed onto an alien ship; find yourself being prodded about by aliens and wake up in a holding cell. Here you meet Sonah, the first ally character, but you are about to meet a few more on your quest out of this ship.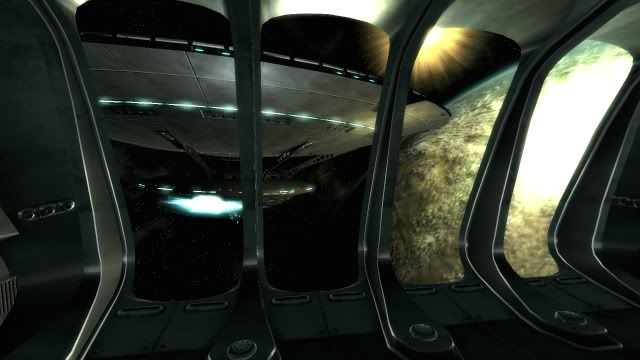 With the help of the ally characters you meet, you need to find a way to the bridge of the ship escaping aliens who are determined to stop you and some of these are tough and take a lot to take down. As well as different types of aliens, some attacking others cowering from you, you encounter drones, turrets and enemies from the Wasteland, although you can use the drones to your advantage to become your ally, these only take a few hits, but are useful when you encounter loads of enemies at once. At one point in the DLC we managed to get so many Albino Scorpions on one screen at once that the game almost came to a halt, in fact it looked like something out of a slow motion movie. There's no shortage of aliens, they come from everywhere and because there are teleports to parts of the ship they are popping out of those too in one section in the latter part.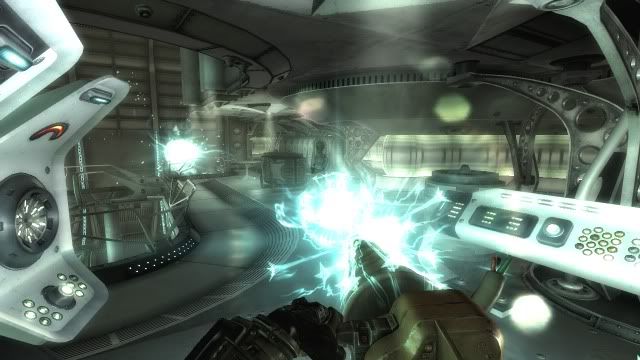 You lose all your equipment on entry to the ship and need to find it again, but make sure before you enter you have space to carry more as there are some powerful new weapons, like the Alien Atomizer, Alien Disintegrator, and Drone Cannon and you also gain brand new outfits, like the Gemini-Era Spacesuit and even Samurai Armour. The alien weapons are fun to use, but you are probably so powered up at this point if you have played Fallout 3's four other DLC and spent many hours with the game that you already posses powerful weapons and you'll probably end up using your older weapons, although the new weapons seem to be more effective against these aliens, kind of turning their own against them.
Mothership Zeta looks good as like Fallout 3 itself, the alien environment has quite a few rooms to explore and the ship itself is a fair size, but the quests are mainly linear, the rooms and corridors all look very similar. The object is to get off this ship as quickly as you can as the odd characters you meet tell you; they want to go home too. Once you play through the DLC there is little to make you want to return, unless you want a break from the Wasteland or perhaps to go back to collect the audio logs which you may have missed the first time round (which give you an achievement) or the new outfits you may have missed. Mothership Zeta is enjoyable, it's also tough and gives you a challenge, sometimes hard to know where you are going and it's fairly short.
Mothership Zeta brings the total achievements for Fallout 3 to 1550 with an extra 100 achievements.
800
http://marketplace.xbox.com/en-GB/games/of...307d5?cid=SLink
7.0