This Summer has seen quite a change in Microsoft`s Xbox Live Arcade titles . The games seem to ooze quality with titles like Battlefield 1943 , Trials HD and Shadow Complex . The quality has increased and so has the price accordingly . Trials HD is the game in focus here and is part of Microsoft`s "Summer of Arcade" and can be downloaded for the princely sum of 1200 Microsoft Points which equates to £10.20 in real British money . Some people are not going to be able to afford these games at this price point and this review will hopefully help you make your mind up for those of you that are balancing on the edge of buying , or passing this by .
So , what is Trials HD all about then ? Some of you may remember a show that started in the late 70`s called "Kick Start" and was shown on BBC . The show was all about Motorcycle Trials where contestants would take a modified motorcycle (aggressive brakes , low centre of gravity and low gearing) and ride them over obstacles such as the memorable VW Beetle , tractor tyres , upturned skips , various ramps and kickers . These were connected in small courses with planks or even had to hopped onto . The riders would be timed and would be penalised for making mistakes such as putting a foot down or falling off the obstacle . The show also had a version called Junior Kick Start where one of the first appearances of Dougie lampkin was shown who later became World Champion many times over . The series spawned a game as well which I fondly remembered playing on my Commodore 64 , I`m not sure it was official in any way but it was a fun game in it`s own right . So we come to today and the game has caught my eye in Demo form and I am donning the Rose Tinted Spectacles of fondness for Trials and giving it a whirl ................... within minutes I stop the Demo and purchase the full game
.
So , for those 1200 MS points you get a vibrant looking game that starts off with some random quotes related to motorcycling from the likes of Brandon DiCamillo and Rake Yohn (friends of Bam Margera , Johnny Knoxville etc) , not sure what relevance they have to this but hey , whatever . The music is very Metal influenced in a very fitting manner for this game and some of the stuff even sounds a bit like Pendulum . A quick trawl through the menu reveals a Track Editor , options for changing the colours on your assortment of bikes and the ability to change the colour of the kit you are wearing , Leaderboards (trust me it gets the rivalry going between you and your friends) , Skill based Games (little side games to help develop your skills in certain characteristics of the bikes) , Tournaments and the game itself . So we start off on a Tutorial in Easy mode .
Now this game gives you very little in any form of instruction whatsoever , you get a little clue as to what is required from a couple of Billboards next to the track with a hint on them . Also there are road style signs dotted around the courses giving you more than a hint as to what you should be doing . The controls for the game are Accelerate on the Right Trigger , Brake on the Left and the Left Thumbstick leans your Rider forwards and backwards to balance the bike or perform flips in the air . Sounds fairly simple and should be a breeze .......... or is it ? . I start off on the Tutorial and beginner courses and find the handling very agreeable and the bikes sound right as well . The game is essentially a side Scrolling game of skill that requires you to blast your way through these courses with the minimum of damage to you or your bike , dropping the bike or smashing yourself into obstacles gets you lost time . I am on the start line and give the bike a good handful of throttle and wheelie it away from the line and onto my first ramp , the bike gets a massive amount of air and lands sublimely on a ramp that starts to increase in steepness , the bike slows down and almost halts . I lean the rider forwards to stop the bike pulling a Wheelie and give the back end some more traction and the poor little thing drags itself up the ramp and over the lip and picks up speed again and crosses the finish line .
My time is sent to the Leaderboard and I`m horrified , my friends are a whole minute quicker than me . I resign myself to the knowledge that it is early days yet and they probably had more time on the game than I did . Various tracks are thrown at me in Easy mode and I relish them all and enjoy them . I am rewarded with Easy tracks next time around and a new bike with faster acceleration and better brakes . I select it and bring on the Easy tracks and right away I am in trouble , the bike Wheelies off the line and crashes ....... oops . Try again , I manage to keep the front end down and come across more severe obstacles and overhead problems all trying to make me crash or remove me from my bike . This is where throttle control and the ability to balance yourself on the bike in the correct manner will pay off in the valuable micro seconds of war that is raging on the Leaderboards . Some of the obstacles just seem to be there to make your life a living , miserable existence and had me swearing at the TV over and over again "This is Stupid" , "I`m going to kill somebody in a minute" "NOOOOOOOOOOO" "I`ve done it again" .......... all exclaimed by myself in about 30 seconds on a particularly harder track and are some of the safer things I could say . I turned the 360 off in disgust and stormed off ..................... and this , you are thinking , is where I am going to pan this game and tell you it is Satan`s own design , designed to make you die from a burst Vein in your forehead .
Well I`m not going to , and for one simple reason . This game is GOOD , So good in fact that you come scurrying back to your 360 within minutes , telling it that you were sorry for swearing at it and it is all water under the bridge and will you load this game a bit quicker as I need ONE MORE GO . You attempt the course and the wailing and gnashing of teeth ensues ........ that is , until you crack it and realise where YOU went wrong , NOT the game , but YOU . Smugly you carry on and realise you can do this course quicker , with no faults and nail those sections . You do so and go onto the Leaderboard after the race and realise your buddies are a second quicker . You retry and fail but you keep coming back for more until you are higher than them on the board .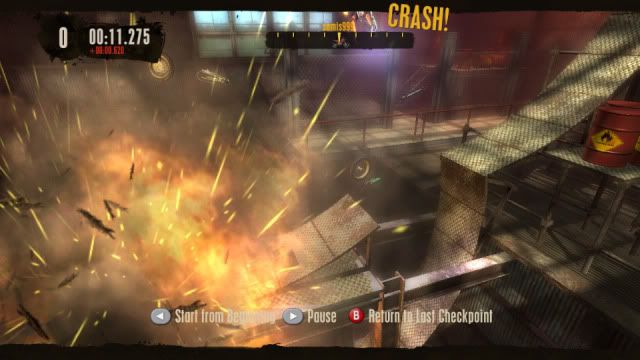 Now to help you keep track of this is a handy gauge at the top of the screen that shows time in Green if you are beating your old time , or in Red if you are slower , there is also a bordered box at the top that shows you how close you are to any friends who have this game and if they are pulling away from you on some sections . If , at anytime you royally faff a section up , you will see your buddies representation in that box and how far away you are from them and you can hit the back button and restart the race and try again , it is all done in a jiffy with no horrible waiting times (very well thought out indeed) , you can then get right back into the action . On some of the Harder courses there are Marker gates that will allow you to go back to them rather than the beginning if you are trying to nail a particularly nasty part of a course , a handy feature as well . The courses are peppered with certain themes like pipes or tyres , ramps , ladders you name it , it`s practically there . Some courses have breakables on them where you have to get across them in a timely fashion , some have explosives packed amongst the obstacles waiting for an unwary fail followed by a large explosion and your body is hurled for miles and always raises a giggle . Huge gouts of flame and firepits pepper some other courses and can set fire to the exhaust of the bike sending it off like a rocket ..... all to an exhilarating sense of speed and you never know what is waiting at the end of it for you , It`s like riding a Rollercoaster with a turbo on full blast with no brakes and packed full of explosives . It can make for some very tense sessions that are full of relief when you eventually cross the line .
The learning curve on this game feels a bit steep and harsh , but it is only when you go back to the earlier courses with a better bike that you start to appreciate this game and it`s control method . You become a lot more fluid with just the right amount of throttle and you hop that bike on it`s back wheel from a massive drop to a flat and stay on, instantly you give it some Gas to coast off the end of a ramp setting the bike up to pad down gently onto the next section and then it hits you , you are riding in a smooth and calculated fashion and you feel like a pro at this game rather than a Gawky know-nothing who explodes a lot . This gives you a good confidance boost and makes you head out to trim those earlier sessions up to get Gold medals on them and then tackle the harder ones , which have become oh so much easier now , "I don`t know what all the swearing and fuss was about really , I`m a pro at this and ................. OH DAMN IT" ................ BOOOOOOOM!!!!!!!
Now , I decide to send a message to 2 friends on my list saying something along the lines "This game is Sweet but by God it`s making me gnash my teeth" , I get one reply back of "I know but I can`t stop playing it" , the other reply from my other friend says "Watch the replays of the best riders on the Leaderboard" ...................... Replays ? . I scuttle off and surely as Eggs are oval , the Replays are there and they are sickening to watch , these guys are so smooth and show you how fluid you can be and how badly you are doing in comparison . the Replays also show how much input that person put into it on the triggers and the lean applied , very helpful but it`s the finesse you apply to these that sets you apart from the others on your Leaderboard . You go back and try to emulate them and realise how Ham fisted you have been . You change your whole mindset and get as fluid as you can over the courses , The Badgeress even watched me at one point and commented "That`s a different way to the way you were doing it before , looks a lot better" ........... "Cheers baby" ........ BOOM!!!!! ...... "DAMNIT!!!!" , some things never change eh
. This game grows with you and as you mature at it , you realise you can go back to your earlier times and annihilate them . If you ever get too frustrated with the main game you can have a crack at the Skill based Games and these are simplicity in their own right but take some doing to get a good score . The following list is a quick description of the Skill Based Games taken from the Official site .
Inside the Ball: Ride inside a giant iron ball. Try to roll the ball far as possible before you crash.
Ski Jump: Jump off a big ramp, bail out and fly as far as possible.
Ring of Fire: Fly through series of flaming rings using an afterburner. You get some extra fuel every time you pass a ring.
Delivery: Haul a cart filled with bombs. The further you reach in one minute time limit, the better score you get.
Down the Stairs: Bail out down the stairs and break as many bones as possible.
In Flames: The bike is on fire! If you ride slow the bike engine temperature rises, if you ride fast the bike engine temperature lowers. Don't let it overheat!
Target Hunt: Collect as many targets as possible in a two minute time limit.
Hill Climb: Climb the hill as high as possible.
Outside the Ball: Ride on top of a giant iron ball. Try roll the ball as far as possible without falling off the ball.
Infernal Pinball: Reach as high as possible inside a huge pinball machine. Don't forget to bail out at the end!
Flip Hunter: Make as many flips as possible in a two minute time limit.
Loose Screw: The bike front wheel bolt is loose. If the wheel touches the ground it gets more and more loose and finally detaches. Wheelie as far as possible.
These games are as much fun as the main game itself and they also have Leaderboards as well , RedLynx have given this game some serious thought and care with attention to detail that provides as smooth a transition in the menus as you could ask for . And in no place does it show even more than in the Track Editor . I wouldn`t be surprised if the Devs use this themselves to make the tracks in the game , it is simplicity in itself and reveals some interesting results and I spent a good couple of hours tweaking my track , although I suspect that RedLynx have applied some knowledge to take most of the error out of this . I was then satisfied with my track and uploaded and found my only teeny gripe about the game , you can only share tracks with friends , a shame really as they could have made a Leaderboard for track designers as well with reviews or ratings for tracks for all to enjoy ....... then again , reality has to check in and maybe they considered the idea but binned it so the game would be released and they could all have a well deserved Holiday .
Tournaments are also available where you play all the tracks in the current Difficulty and try to complete them as fast as you can with the least amount of faults , and in true fashion , RedLynx have a Leaderboard for this as well and it is not but a moments work to see how you fare against your friends or "Deadly Rivals" as they have now become . This game has changed my opinion on higher priced XBLA games , are they worth it ? Why are you still here ? Shoo , go buy this , it`s worth every frustrating and teeth shattering penny . The game gives you all the control you need and more , hardly any instruction on how you go about it , it is down to you how you go about it and what the consequences are . It provides something that has long been lost in games ....... that little "One more Go" feeling that leaves you gaming long into the night and has left me yawning and falling asleep in work . I have been watching the clock so I can leave work as fast as I can to get home to have a stab at a course that has been haunting me all day long . Mr Badger gives this game a rating of 93/100 . All wordage remains the intellectual property of Mr Badger , Don`t mess with his rights ..............."Just One more go"
BOOM!!!!!!
"DAMNITTTTTTTTT"