It's 6.30pm and I am sat opposite what looks to be a, gravel covered disused car park positioned between a Novotel Hotel and a quaint little Coffee Shop. My table is at the Southwark Rooms bar and I am trying desperately not to look like one of those over eager kids that have started gathering in the car park opposite. 6.50pm… it's time to make my way over.
As I enter the car park I can now see exactly where and what 'The Arches' club is. Literally built into a railway bridge is our venue for tonight. How many people are they expecting to fit into this place? It looks tiny. Approaching the queuing areas I spot two sections; 'Comp Winners' and 'VIP'. Well, looks like I am going VIP tonight.
Let the queues commence...
Well it wasn't the best start to the night, there was a slight communication error and my name wasn't down on the list as it should have been. But not to worry, I turned on my charm, flashed my breathtakingly handsome smile and dusted down my jacket. I wasn't going to walk away empty handed after having come all this way. It took me nearly 10 minutes to convince our friend Chris at Codemasters who was manning the VIP door to let me in. After a quick look around him, Chris waved me through without another word. (I tried looking out for him when I left to thank him, but he was off elsewhere enjoying the night I believe).
There was still the problem of now not having access to the VIP area and bar at the back of the club. I tried gaining access to both, but unfortunately was turned around by a Joe Louis (1937 World Heavyweight Boxing Champion nicknamed the 'Brown Bomber') lookalike. This guy wasn't having any of it. No amount of XBLA charm was going to win him over. At least I tried, hey?
So now I was left to make the most of the 500 or so NME Competition winners that were milling around with the sprinkling of other reporters and humble VIP's that weren't in their private section. Honestly, I wasn't jealous. So it was onto my first stop of the night; the bar. A bottle of water in hand I make my way outside to view the queue that is still building with those NME crazy kids (and adults). It was here I managed to speak with P, Katrina and Craig, all from South East London.
Quote
RA – So guys, here we are at the DiRT2 Launch Party. Are you excited?

P – Oh yeah. I've been excited since I won the competition.
Katrina – It's all we have been talking about. Craig just wants to play the game.
Craig – Well I do want to see The Rakes, but yeah, can't wait to trial the game out!
Quote
RA – Out of the 3 acts tonight on stage, who are most excited about seeing perform?

Katrina – Has to be Dinosaur Pile-Up for me. Heard them for the first about 6 months ago and have been hooked since.
Craig – Yeah Dinosaur. But I am also really looking forward to seeing the other bands too. The Rakes are awesome live and Glamour of the Kill is pretty decent also, you know.
I was on a roll with these guys when out of nowhere an old acquaintance of theirs appeared and whisked them away, leaving me stood alone in the middle of a crowd surging towards the entrance. This was a perfect time for me to take a walk around, get some pictures and go try out the Game in the 'Games Room'.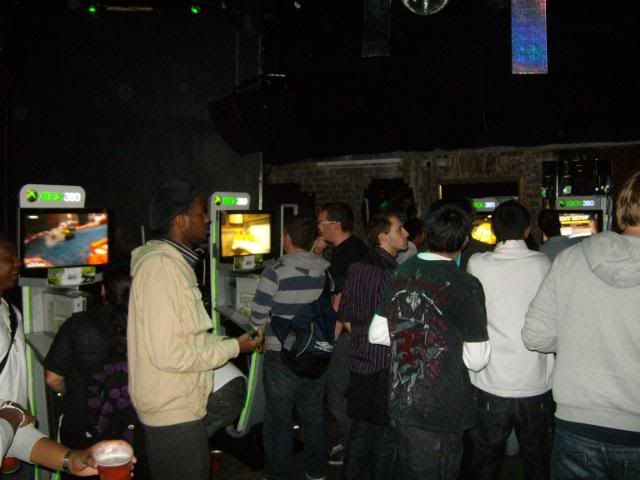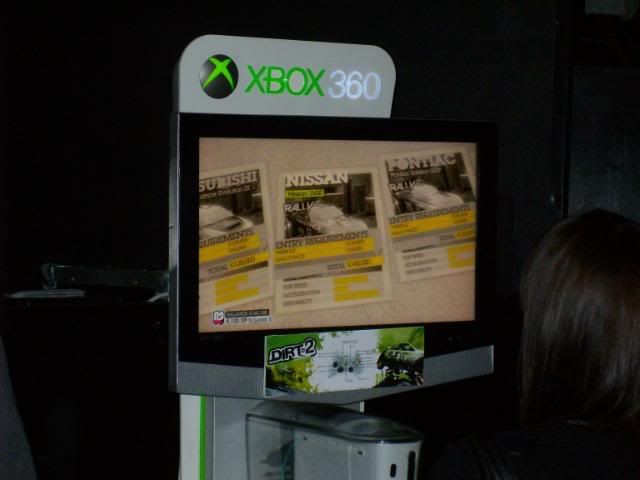 I won't dwell on what I thought of the game, and whether I think it was good. All I need to say is after 20 minutes of hogging one of the controllers I was hooked and already working out what in my flat I could sell this month to then buy the game the following morning.
For the music fans reading this, trust me when I say The Rakes were incredible on stage. I have been a fan for a while and have their latest album; Klang. But I have never seen them live, and boy was I impressed. Nothing can describe the feeling of electricity and excitement that flowed through the crowd as Chris Ketley, Lasse Peterson, Jamie Hornsmith, Matthew Swinnerton and Alan Donohoe took to the stage at just after 9pm. Alan decided he didn't like the lighting after a few minutes and asked for the Xbox branding lights to stop being flashed in eyes. Was quite a comic moment to hear him ask 'Will someone turn the bloody branding lights down, all I can see is green circles out there!' '1989' is the track that features in the game, and was performed to an ecstatic crowd, and is currently playing on my stereo keeping me awake also.
The Rakes stirred the crowd into a frenzy.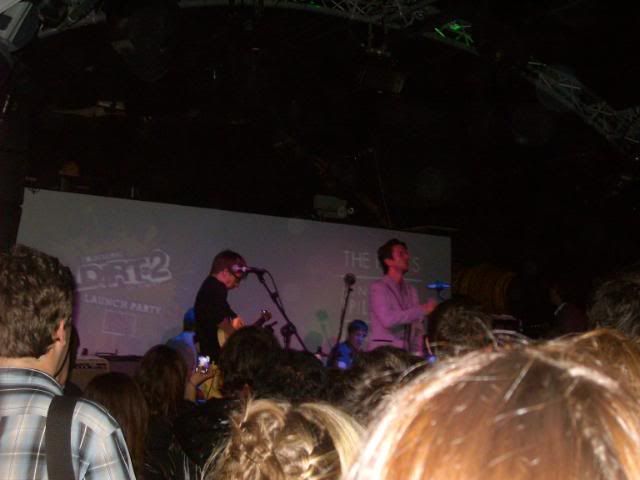 Dinosaur Pile-Up opened the event as the first band on stage and I was equally impressed. Matt, Tom and Steve definitely won me over as a new fan. They weren't on stage long as they have another gig in London and had to leave pretty quickly. They did find time to charm us with 'All around the world' which features in the game. Great track! Unfortunately I wasn't there when Glamour of the Kill took to the stage.
The entire club and evening definitely had a dirty, underground feel to it and kept to the branding we have seen with the www.dirtytats.com promo stunts amongst others. I don't know if people were asked not to wash, adding to the effect. But a couple of fans in the crowd definitely needed a spray of Lynx.
On that final note I will leave you with the rest of the pictures I took with my trusty digital camera. Hey, I never said I was a natural photographer!
All in all, it was a great night and a fantastic experience. Obviously it didn't go quite according to plan (I believe Mush is on the rampage with Codemasters to find out what happened) but it worked out well in the end.
4am and time for bed!
R.