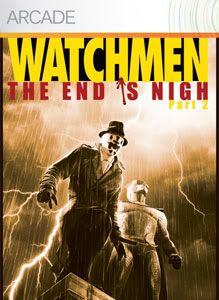 Title:
Watchmen The End is Nigh Part 2
Developer:
Deadline Games A/S
Publisher:
Xbox Live Arcade
Genre:
Action & Adventure
Game Rating:
M (Mature)
Modes:
Single Player and Co-Op.
The second instalment of this overly addictive, visually pleasing gem of an Arcade game see's Rorschach and Nite Owl back once again roaming the back streets of New York dishing out their own brand of punishment. Which eventually sees them going up toe to toe with the Twilight Lady.
The game opens with Rorschach enlisting Nite Owls assistance during day two of the Police strikes in the city. A girl is missing, and Rorschach has a video tape that immediately sets the scene. Our masked vigilantes are out to punish those working within the sex trade.
Back again adding to the game is Patrick Wilson and Jackie Earl Haley providing the voices of Nite Owl and Rorschach. And personally I enjoy the script as you play through the game. At times providing some comic relief but then adding to foreboding atmosphere that just reeks of sleaze… which fits perfectly in this game. The background music does exactly the same, providing an uneasy feeling with each corner you turn.
Before jumping straight into the game, you can work your way through a small but neatly put together tutorial mode. Basic attacks, counters, throws, stuns and knock downs are all covered as well as a few others. You can play the tutorial as either character. Depending on which character you play, the tutorials cover 2 different move sets. For Night Owl you can practice the 'Grenade' and 'Electrify Armour' abilities and for Rorschach the 'Bull Rush' and 'Rage Mode' abilities.
From here, you can head of into the Help & Options settings and remap the button configuration to suit your play style. Camera options, Audio, Video and Subtitles can all be changed from here also.
In total there are 12 Achievements up for grabs, but to get them all, you need to play solo and campaign mode. Although neither mode will challenge a veteran gamer and you will quickly tick them off the list as you play.
So moving on to the game play, which flows almost as well as this review. At first it seems like your somewhat attempt at button bashing is wasted but then it suddenly all fits into place. Whilst using the counter ability you can set up and perform some graceful but deadly ass kicking moves on the 70's throwbacks. For those of you that played the Shenmue series on the Dreamcast or the sequel released on the Gamecube will remember the on screen prompts to perform special finishers, which is repeated here to good effect. With subtle reminders you can start drilling down your killer routine and wiping the floor with these bad guys. And don't forget to use your surroundings to your advantage… there are some well placed items you can use to help dish out an extra helping of justice to these criminals.
The one shortcoming I have come across is the AI of your partner. In my scenario, Night Owl. On 3 separate occasions Night Owl got stuck in metal doorways or just froze up a ladder and wouldn't move. Luckily the 'autosave' feature dug me out of the hole Night Owl put me in, and we were able to continue our serving of justice.
It was a pleasant surprise to find myself enjoying this and I am sure a few of you will agree. However, due to the somewhat poorly received Part 1, I would highly recommend you download the Demo first before spending the 1200 MS points it will cost you for the full version.
My personal rating is a highly respectable 7/10.
R.