Quote
Freelancer is a space trading and combat simulation video game developed by Digital Anvil and published by Microsoft Game Studios. In the game, players take on the role of spacecraft pilots who fly single-seater ships, exploring 48 known star systems, and visiting planets and space stations in them. The player-controlled pilots can engage in combat with other ships to protect traders or engage in piracy themselves. Other activities include accepting bounty-hunting jobs and engaging in commodity trade. The single-player story centres on Edison Trent, as he goes through a series of missions to save the Sirius sector from a mysterious alien force. In multiplayer mode, players are free to take on whatever role and explore anywhere from the start. (Source Wiki.org)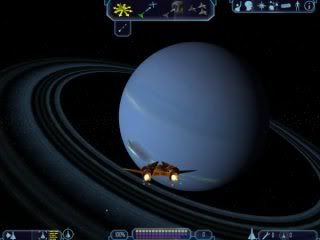 Galacticum Mod on the Banana world Server
My own personal venture into online gaming started with Freelancer. Still considered one of the best Sim Games to grace our PC's, even with the likes of Eve and Jumpgate Evolution out there, it was a game I was drawn to immediately. Once I had completed the single player story line, I ventured, for the first time, out and into the online part of Freelancer. At the time there was what was called the GLS (Global List Server) which listed a whole host of MS owned and privately owned Multi Player (MP) servers. I was like a kid in a candy shop… which server to play first? Each server had its own set of rules and guidelines as well as player base and emerging custom built Mods. Now there was a new term for me; short for modification(s), it basically meant that some extremely talented individuals of all ages (down to the age of 14) where taking the game apart and adding in new features, graphics, ships and missions and even attempts a building dynamic economies.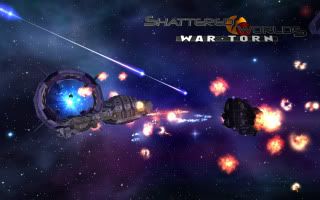 Shattered Worlds Freelancer Server
However many consider the glory days now over. But I believe them to be wrong. Microsoft removed all support for Freelancer nearly 2 years ago. This included closing down the GLS and pulling support from what was at the time the biggest fan site; Lancers Reactor. Lancers Reactor also played host to the Starlancer fans and provided coverage for a small amount of other Space Sim Games. The biggest lose that the Freelancer Community felt was when Lancers Reactor went through a period of instability no less than 6 months after MS pulled support. Ownership changed hands time and time again, and eventually this lead a complete Database of custom built Mods, Modding Tools, Ship Packs and general player FAQ's being lost from our sites. The community was lost floating through space.
It was at this time a group of individuals got together on a site named 'Universal Modding' and started to discuss what could be done for the community. There was one individual that helped bring this group together, and that was 'Grim Reaper'. It was here; on Universal Modding that the idea and team behind The Starport was born.
The Starport
The Starport, now just turning 18 months old is considered to be the central hub of all Freelancer Modding and server related information on the internet. Since the launch it has grown to include the largest collection of Mods and tools, a Freelancer Modding Wiki and a brand new site development, nicknamed 'TSP:2.0'. Below is an interview held with FriendlyFire, the head Administrator of The Starport.
Quote
Roo Avery: In 20 words, tell me about the Starport.
FriendlyFire: It is one of the last strongholds of Freelancer fandom and knowledge, regrouping server admins, modders and players alike.

RA: How did The Starport come about?
FF: It was a long and rather convoluted story of which certain elements are best left unspoken, but the basis of it was that the largest fansite at the time was going through serious problems and resolution was extremely slow. As a response to this, I, Jean-Philippe Guertin (FriendlyFire) and the other founding members of The Starport, who included current staff member Gary Roberson (CheeseOnToast), as well as former administrator Kris Wingfield-Bennett (Roo Avery) and a few other good friends and Freelancer fans, decided to create an alternative fansite. We wanted something more modern, organized and fast moving, a place where feedback would actually be listened to and used to improve upon the site. In two short weeks, the site was put up in its first iteration. It grew slowly at first, but picked up pace to the point we're at now.

RA: How long have you been involved in Freelancer?
FF: Too long to count! Nah, seriously, I've been playing the game ever since a few months after its release back in 2003. I can say I've been an active modder for about five years by now.

RA: The Starport recently opened up the first community Modding Wiki for Freelancer. Can you tell me a little about it?
FF: The Wiki is an ever-growing, never finished project which aims to be the ultimate knowledge repository for both modders and players. It's already covering many important topics such as technical issues with the game (which have increased steeply since the release of Vista) as well as multiple modding subjects. We're hoping to also cover things such as the storyline and the overall universe of the original game, as many mods as we can possibly find information about and of course, every single thing about modding, from adding a simple sound to rebuilding the whole game for a total conversion.

RA: With more current games like Eve, Jumpgate and even World of Warcraft and games like the newly released success, Aion; why do you think Freelancer is still attracting such a large and loyal fan base?
FF: Because there's nothing quite like it. World of Warcraft and Aion are both fantasy-themed MMOs, which for the most part have limited appeal to the space simulation/opera crowd centered on Freelancer. EvE's main strength is in its economy and player-ran structure, but its combat and overall "twitch" gameplay is very weak compared to Freelancer's. On top of this, the MMO paradigm completely removes an essential part of Freelancer's success: modding. Freelancer is based on a large number of relatively small servers which are separate from one another and which are administrated by fans of the game. As such, they are completely free to modify the game from the ground up to create a unique and engrossing experience that is completely different from the one the next server offers. It's this diversity and ability to cater to a variety of audiences which sets Freelancer apart.

RA: There are a lot of big personalities in the Freelancer community. Who should we look out for?
FF: The Freelancer community has a lot of great names, but if I had to select a few people, I'd suggest first the one person without who The Starport probably wouldn't exist today, Worfeh. I also consider w0dk4, administrator at Hamburg City and server modification genius, Igiss, head modder of Discovery, Cannon, another server mod genius at Discovery, as well as Soupman and DwnUndr, the founders of Freelancer Community, another fansite, SWAT-OPR8R, administrator of the fansite SWAT Portal, and bakedpotato and Turion, administrators of ReactorForge, the final large fansite.

RA: You can't be the only behind The Starport. Tell us a little a bit about the rest of the Staff team.
FF: The Starport's staff has changed a lot since its inception. Of the greater contributors, Worfeh comes first. He's been our server administrator/geek since about halfway through the site's life. He gave us the means to create and manage this site and we wouldn't be where we are right now without him. He also was of great help during the reconstruction which gave the current site, taking care of the migration of the data and of the overall security, stability and database management of the site. You, Kris, also have significantly contributed to this site during your time as an administrator. On top of being one of the founders, you've been a great moderator and community manager, organizing multiple events and taking care of all the relationships and advertising for the better part of the site's life. All of the staff, which included w0dk4, Lancer Solurus, Sushi, Hazard, CheeseOnToast, Zap, Torch, Crazy, foxUnit, Sion and others (you know who you are), have made significant contributions, too, but I can't possibly list everyone or we'd still be here tomorrow morning. All in all, however, the point is that this site is the effort of many, not the creation of one. We wouldn't be here without all the help we've had.

RA: Is there anything new coming up in the future for you and The Starport?
FF: Now that the new site is done and mostly stable, we'll be looking into fixing bugs and small quirks that will appear over time, as well as continue polishing the whole package. One of our main goals is to further improve upon the Wiki, adding more and more information into it over time. We're also looking forward to introducing the Mod Spotlight feature sometime in the future, which should help promoting the lesser known mods and hopefully attract more people thanks to a more diverse offering.

RA: And finally, is Freelancer here to stay?
FF: Oh, yes! We're not going anywhere, that's for sure. If you haven't tried the game, you should; it's seriously better than drugs and just as addictive... And there's no patch to give you a fix!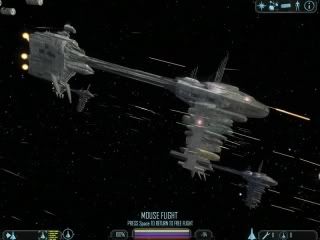 Freeworlds Tide of War Server
Even though The Starport is considered by many the central hub of Freelancer we should not forget the other community sites that strife to help keep the game alive. There is SWAT Portal and FreelancerCommunity as well as ReactorForge and Digital Brilliance. All of these sites can be found on the FLCN…
The Freelancer Community Network (FLCN) is a mutual link exchange hosted by The Starport and created by community member; w0dk4. The idea behind the FLCN is to set up a giant Freelancer community network where you can reach any Freelancer site from any other Freelancer site. And the idea is one that has been extremely successful. The network now links together over 30 sites. These include Community sites such as The Starport and SWAT Portal, Multiple Player server pages/forums and guild/clan sites. Even with so many sites and communities linked, there are still a good number not taking part. Another key example to show Freelancer is not yet dead.
Procyon Vanilla Server
Of course, there wouldn't be a need for the FLCN or community sites if there wasn't still a large player base and plenty of MP (multi player) servers to play on. These are run by everyday people, like you and me that simply want to share their passion for this game with the rest of the world. Being privately run, these Server Admins, Mod makers and Staff teams not only dedicate their own time to the cause, but also a great deal of money to host these servers and sites and additional costs associated to this also. To them, I take my hat of and pay my respects. Without you guys, the gaming community in general would have lost one of its little gems, although not well known to masses, well respected by the minority.
Discovery Freelancer RP 24/7
And that about wraps up my feature, I want to take time to thank FriendlyFire, Worfeh and The Starport community for helping me with this write up. I want to thank the Server Admins and Owners out there, and the other key figures of the community that keep the game alive.
Thank you for reading… and tell your friends!
Roo-Avery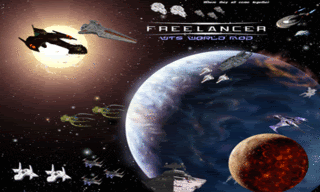 WTS World Server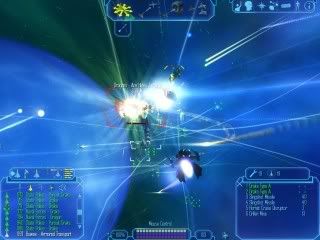 88 Flak
BSG Galatica Server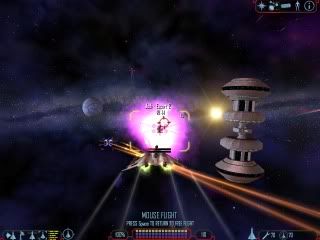 Topfreelancers Server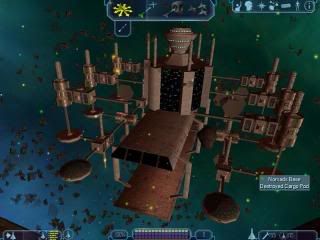 Monkey Universe Server
For further reading and information on Freelancer;
Official Freelancer Wiki
The Starport
Official Microsoft Freelancer Page