Mad Catz has released a collector's edition Modern Warfare 2 combat controller and Throat Communicator for Xbox 360. Both are licensed and supported by Infinity Ward.
I have recently been sent these two peripherals to review and let you know about their features.
The Collector's Edition Modern Warfare Combat controller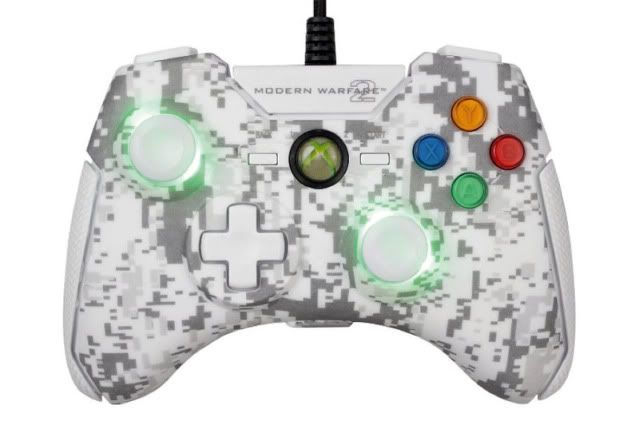 The Collector's Edition Modern Warfare Combat controller is wired and comes with features not found on the Official Xbox 360 controller, designed to aid you in your game of Modern Warfare 2 in comfort and style, with custom remapping twin combat buttons, quick fire triggers, ergonomic pistol grips, backlit analog sticks, vibration feedback technology and a 9.8 Foot braided cable, with a handy Combat Case to keep it in.
The first thing I noticed was the rather rubbery texture, which is rather different to the hardness of the Official Controller and being used to the Official Controller felt rather weird at first, once past this feeling of weirdness it became comfortable to use. The cord is more than a decent length allowing you room to lean back and relax.
The analog sticks both are backlit from the base of the sticks, with a green glow. I'm not quite sure of the point of this, but it certainly gives the controller personality along with its combat design.
It's the practicality though which matters and this controller allows you to map the XYAB buttons to one button on the underside allowing you to use both analog sticks without removing your fingers from them, giving you the chance to concentrate on the game rather than which buttons you are pressing. These are rather small however and do involve feeling for them, but at least it's one button and not many.
The D-Pad is a straight off cross without the circle behind and seems to not only work well with MW2, but also with other games.
With both bumpers and triggers available, you can perhaps imagine you are squeezing the trigger of a gun. These are again conveniently placed for access, allowing you to concentrate on the game rather than the buttons.
I was quite impressed with the controller, only grumbles are my chatpad wouldn't fit on it and it would be good if a wireless version was available, overall it works well and is comfortable to use.
The Collector's Edition Modern Warfare Throat Communicator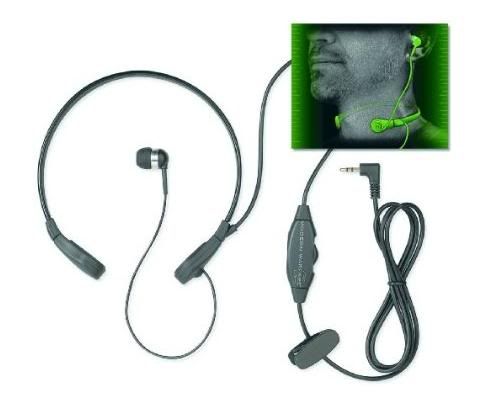 The throat communicator is designed to wrap around your neck instead of going over your head as the majority do, this uses the sensors in your neck to pick up noise. In loud situations such as gun fire a normal microphone wouldn't be able to pick up the voice from a person especially whispers, as there is too much background noise, so the the throat communicator is generally used in these environments and can even pick up a person's whisper, hence it's perfect for a game like Modern Warfare. Obviously unless you have your volume up so loud the next town can hear it, then you are not going to be playing in an environment which measures the decibel of close range gun shots, but we can pretend this is where we are and when you are immersed in a game of MW2 having the correct equipment helps you to get into the game.
Having no mic in front of your mouth may seem weird at first, we are all used to those mics which come across your face and get in the way of snacks etc. but you soon get used to it and it is in fact more comfortable.
The band wraps around your neck and a the ear piece is fitted into your ear, making this one of the most comfortable headsets I have worn, in fact after a while you don't even realise it's there.
The toggle has a mute button and a volume switch, both in easy reach so you don't need to search around finding it.
The quality of sound is extremely good both from the wearer and the receiver. In fact it was louder than the Official headset and I needed to turn the volume down. I was told I was coming over loud and clear with no problems, although I did hear a few crackles on my end.
Again like the controller I was impressed with the quality and comfort of the throat communicator.
The Collector's Edition Modern Warfare Combat controller comes in black or white and has a RRP of £39.99 and The Collector's Edition Modern Warfare Throat Communicator has a RRP of £24.99.