The Passing, the first piece of Downloadable Content for Left 4 Dead 2 is finally here, with promises of that of an interesting meeting between our beloved L4D1 cast with that of the new, how expectations come high.
As well as that, the guys over at Valve made an incredibly big deal over what the content included for our fearless foursome, so lets go over each one by one shall we?
So, similar to L4D1's DLC, the level is perhaps a little longer. It's a three part campaign, but the segments are a bit longer than usual, meaning you've got about 40-60 minutes of brand spanking new game play. The content sits between the first and second levels 'Dead Center' and Dark Carnival and bridges the gap so to speak between the two.
Something which was also added is weapons. Well, only two. One firearm and the other melee were now given the opportunity to crack some skulls with an all time favourite, the golf club. Go crazy with that five iron. Once you're done with that, and if you're lucky enough to find one, grab yourself an M60 Heavy Machine Gun and just go nuts till it goes click. This un reloadable behemoth is exactly what you need to deal with a room full of the undead, just be aware, once your out. That's it!
Along with the new weapons come a couple of new enemies. Whilst these are only variants of zombies already around, the Witch Bride will bring a whole new meaning to crashing a wedding. The other addition is the 'Fallen Survivor' now; this new enemy got quite a fair bit of plugging when the DLC was in its pre-release stage which really made the meeting with the Fallen survivor, incredibly disappointing. The enemy is essentially, someone else in the L4D universe that was just like you, only. Turned out he wasn't immune, and has joined the ranks of the common infected. This means, the well equipped fellow will drop a health pack or even some usable items when you bring his zombie life to an end. Only, there's just one problem. Not only is the Fallen Survivor just as weak as a normal one, but he also, runs away from you! My first encounter with one of these guys was actually rather uneventful. I happened to be wailing on an infected with my trusty golf club when I turn around to see a zombie mid fall after he'd just been gunned down by my A.I. It wasn't until I saw the items that I'd actually realised HE was the Fallen Survivor. My second encounter was sooner on in the level, in which I fired. Missed, and he ran away into the crowds. Never to be seen again. Seems his testicles dropped off mid infection. Or in other words…pointless.
So, with those new and interesting additions, let's get to the big juicy kicker. The original 4 survivors.
Contact with them is minimal, you meet with 3 of them at the beginning, talk and then you're on your way. In which you won't see them ever again, until the beginning of the third and final chapter. In which, you'll meet. Talk, and then be off collecting gas cans. The main plot behind meeting the four is that one of our beloved 4 dies. A big deal was made of this in promotions, and rightly so. Only, discovering who actually died is a lot less filling or even rewarding when something of a considerable story happens. Rather than learning what happened or why the character died, we just see a trail of blood leading to a room with the slumped corpse, still holding an M16. Which, obviously we can take. *Yoink*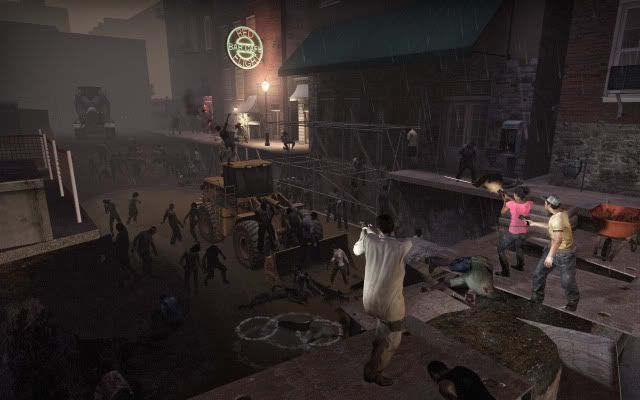 According to valve, the DLC coming later for L4D1 will depict what actually happened for the original 4, and the fate of one of the survivors. However, considering Left 4 Dead games never have cut scenes…I doubt it will be very heroic or cinematic.
With all that said. What really redeems this downloadable content is its price. For just 560 Microsoft Points, you're getting a fair addition to your game, for relatively quite cheap. Which the DLC doesn't scream out with the quality which was originally depicted in all the promotion, its still a new level, with new things for our survivors have to go through, not to mention a new game type mode, Mutations, which will twist and combine other game types each week to create new game modes I.E. Realism Versus, in which survivors on Versus will be playing in Realism mode, but the infected can see everything. Or tons of other possibilities involving weapon types and more.
Like Left 4 Dead 1's DLC Crash Course, the content didn't scream out anything crazy, but its great price, and the fact its adding new things for you and your friends to fight off zombies with, is usually more than enough to warrant this download.