Format:
PC (Steam)
Release Date:
16th April 2010 (Out Now)
Publisher:
DnS Development
Developer:
DnS Development
Players:
1 – 12 (online)
Site:
www.boostertrooper.com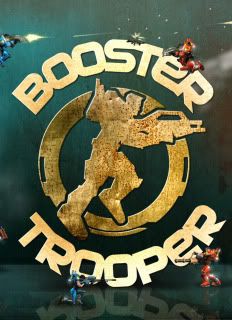 There is something grand about a good old fashioned, fast paced action shooter. Something that screams out at you; grabs you by the balls and makes you want to play more.
Booster Trooper
does just that and more. There is just so much action buzzing around you, that you quickly forget this is an Indie-made title and you quickly lose yourself in hours of action-packed & adrenaline-pumping hardcore shooter action!
DnS describe the game as a 'cross between an old-school "jetpack platformer" and the modern, arena based, multiplayer game', and you know what? They are right. This is exactly what
Booster Trooper
feels like. Spurred on by a large variety of weapons including assault rifles, shotguns, sniper rifles, mini-guns, magma throwers, rockets and grenades you are never short on weaponry during gameplay. The shotgun kills instantly from close-up whereas the minigun shoots fast bursts but with little very little accuracy. Choice your weapons wisely Trooper!
I always worry when playing Indie titles and panic that I will get bored or there will be very little to keep my interest past the first 15 minutes.
Booster Trooper
gets around this with a very rich feature list. Multiple maps come as standard (no DLC rants here please!), multiplayer with up to 12 players, online ranking/leader boards, and more than 250 achievements to unlock! The game has multiple modes to choose from including Death-Match, Team Death-Match, Capture the Flag, Destroy the Base and more! Now lets be honest, a great deal of Xbox LIVE Arcade titles barely manage to achieve this at present. Good work DnS, good work indeed.
The greatest thing about Booster Trooper is the simplicity; from weapons, maps, controls and general gameplay elements. Combined they make this game an awesomely addictive and eye burning game. Yes after 5 hours playing it in the pitch black of my lounge my eyes were hurting! Even playing against the 'bots' you will find yourself at the end of your 15 minute round without being able to explain where the time went. The 'bots' can be just as challenging and evil as the player controlled characters. I desperately wanted to try my hand at Multiplayer on STEAM. But unfortunately (as has been reported elsewhere), the Multiplayer mode has currently a great lack of players. Here is hoping that this review will encourage some more to purchase the game.
The great thing about this title is it proves that Indie titles are making there way into our homes, and with great pace. With more and more original concepts coming to fruition and a increasing quality to match, Indie games are fast becoming big business for small developers. Mainly because they remember to make games first and foremost; fun to play.
At £7.99 you cannot go wrong with
Booster Trooper
.
8.5/10
Cons
Lack of player controlled characters to play with.
Only available on STEAM and not Xbox LIVE.
Minimum System Requirements:
OS: Windows XP Sp3, Windows Vista Sp2, Windows 7
Processor: 2 Ghz multicore or higher
Memory: 2 GB or more
Graphics: 512 MB, Shader model 3.0 or higher, NVIDIA 7800, ATI X1800 or better
DirectX®: DirectX®: 9.0c
Hard Drive: 800 MB available
Sound: DirectX 9.0c compatible soundcard