SBK X- Superbike World Championship
Enjoy the adrenaline of pure motorbike racing and feel just like a real rider on the official tracks of SBK Championship

SBK X is the third iteration for the Xbox 360 and fans of SBK will be pleased to know that this is the best one to date. Milestone have said they have listened to the fans and created a game which is tailored to suit both arcade racers and simulation racers and indeed they have stepped up their community interaction offering a chance for the public to talk to them on their blog, a dedicated website, Facebook page and Twitter, something I feel is very important in the development of these games.
SBK X includes the tracks and riders from the 2009 and 2010 seasons, excluding Silverstone, which at the time the game was been developed was still under construction. (Full list of bikes and riders in the upcoming Legend DLC category further on in this review)
SBK X has in-depth simulation modes and improvements on the previous games, adding new features and improving on those already there, but running on the same game engine as before. We still do not have feedback on the track, the frame rate could be a hell of a lot better considering the Xbox 360 is capable of more than 30 frames per second and to set any times to the leader boards you must be in an online lobby with at least one other person, meaning this is not good for those who like to Time Trial on their own and perfect their lap times for the leader boards, couple this with the game is still region locked, it will be a while before America get a sniff of this game and even then they won't be able to play with Europeans due to the different publishers which has been the same for all SBKs for the Xbox 360, Americans shouldn't have to wait as long as the other SBKs though as Milestone have estimated Q3 which is September onwards, but for us Europeans who are lucky to be able to play the online demo which is out now and the full game available from 4th June, what we have here is a bike game which has a lot of simulation of the real sport through three levels of simulation, low, medium and full giving any level of skill the chance to perfect their racing. For real bike riders the level of simulation will delight as they can almost achieve that feeling of riding a real bike but without the feeling of tyre touches track which you get from feedback from the controller unless of course you go off the track.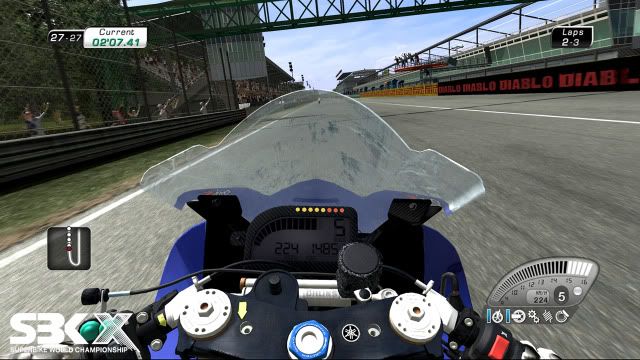 If simulation is not your cup of tea then the game does have an Arcade Mode which is extremely easy to play, in fact you'll find it very hard to fall off the bike. It even includes a boost button which does exactly what it says, it boosts the horsepower increasing the speed for a short time, it tucks the rider in, allowing the aerodynamics of the rider to reduce the drag, but decreases the leaning angle, this does give you more to think about, but it works more like a turbo button than a gradual increase in speed. Arcade Mode is set into challenges which award you with either a bronze, silver or gold trophy and is called 'Story Mode'. Arcade Mode is a mode for beginners or the casual player, something to ease them in to the Simulation Mode, which is far more in depth and harder to master.
It is still the SBK that you may have played before, you still have to endure a two year season with 'real laps' meaning it's an hour for qualifying, and you need to go through Free Practise 1, Qualify 1,Qualify 2, Free Practise 2, Superpole, Warm Up, Race 1 and Race 2 in SBK X's career, thankfully you can skip straight to the race if you are feeling confident but by doing that you will miss the research needed to upgrade your bike or you can use LB to speed up time. In fact to be the SBK World Champion, starting from the Superstock, passing through Supersport and then reaching Superbike you will have to endure eight (game) years. This long drawn out career may put people off, but on the other hand will please those who are hardcore Superbike game players, those who love the sport or just enjoy putting the time and effort in. SBK X's career is all about building your reputation and becoming the best, but even though you are signed up into a team it's not so much about team racing but you as a rider, you still have technicians to advise you.
As you progress through the career test weekends will open up which require you to meet a certain criteria in order for your technicians to research you bike, these then begin to fill up the bars, adding new parts to the bike.
In games like these customisation is very important, so what can you do with your bike? Well there isn't any editing your own liveries or creating your own bike style, instead what you have are five pre-set riding styles (Troy Bayliss (Baylisstic Style), Ben Spies (Elbowz Style), Luca Scassa (Rocker Style), Troy Corser (Crocodile Style), Max Biaggi (Corsair Style)) and the real riders and bikes to choose from, but you can change the helmet style and visor.
It's especially important to be able to set up your bike altering the suspension, steering, gears, chain adjustment, brake power and tyres and SBK X gives you plenty of options within these categories to adjust the bike to handle as you want it from Preload, spring stiffness, compression damper, rebound damper, rake angle, trail, to soft medium and hard tyres, you can save and load settings from within data and then load these up offline or online in a lobby. Each aspect of tuning your bike gives you tips to help you understand what each one does. Having a low, medium and full simulation choice also makes it easier for anyone, whatever skill level they may be to enjoy the game and you can really feel the difference between low and full, for example it is much more forgiving to take a corner in low than in full, full ensures that you take each corner and brake exactly right in order to avoid wrecking.
It's also worth noting that the rider's weight on the bike will alter the handling of the bike, unlike a car these machines have two wheels and the rider does a lot of the work as you turn into corners. (You can turn this on or off in the options). The rear brake power has been reduced forcing you to use the front brake more and is now used for tightening round corners rather than on the straights.
Tyre wear is also included and sooner or later you are going to crash, the crash animation has been improved from previous SBKs.
SBK X has fully mappable Controller mapping.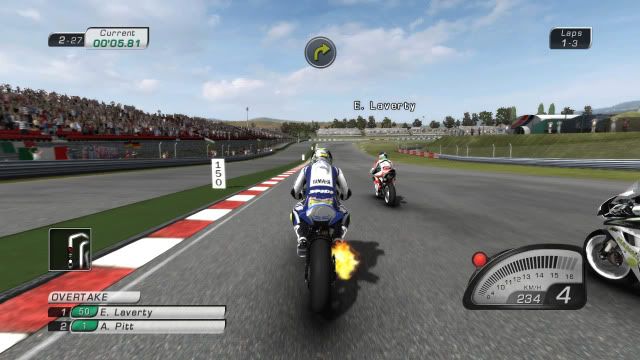 SBK X has an Evolving track feature, typically as you start a wet race after a while the rain will ease creating dry patches on the tarmac, to explain this better I have taken a section from Milestone's blog;
"- Dry race: at the beginning of the weekend, if you look at the track you see a plain grey asphalt strip. Then the competition starts and during the race, the bikes deliver their power and stick to the ground thanks to their wheels. Because these wheels have to handle power slides and huge G-Forces, they get worn and some parts may detach. Detached and worn-out parts remain on the ground, and they make a darker strip appear close to the braking points, continuing along the corners (because G-Forces are higher in these zones) and drawing a perfect racing line around the rumble strips.
- Wet race: in case of a wet track, at first you should be brave enough to push to the edge whilst riding in a completely wet and stain-filled track. Some laps later, the bikes will start to dry-up the tarmac creating a dry and brighter ideal line all along the track."
This is all very well, but when you are racing it is hard to notice these changes.
If it's all about the racing then you don't want distractions, things which fly above like helicopters with sounds which are too loud or too quiet, what Milestone have done with this one is balanced these sounds so you can experience the bike noises instead of some loud helicopter flying above. The bike noises are particularly meaty with a deep roar of the engine.
Perhaps where this game shines is the attention to detail of the graphics, the bikes do look very good, you even get your rider's name on your leathers, the scenery too has been given a facelift with 3D trees and 3D people in the stands.
The attention to detail goes right across the game, the menus are clean and easy to use and there are tips everywhere. Even the pits look great, with the engineers visabably checking your bike over and everyone busy doing something. The Umbrella girls are shown before a race in a short video which is also a good touch.
If you don't want to go through a full blown career, SBK X offers you Quick Race, Championship, Race Weekend and Time Attack as well as the Career Mode. Although playing Single Player will not upload any times to the leader boards.
The Xbox Live modes allow you to choose between Arcade, Simulation or Time Attack. At the time of writing this review I could not find a room open to join as it was before release.
Download content is already planned, The "Legends" pack, that includes bikes and riders from the past years of the SBK, from Fogarty to Spies, from Chili to Hodgson, from Bostrom to Bayliss will be available immediately for those who purchase the "Special edition", along with a DVD documentary focused on Ben Spies and the 2009 season, and a nice poster, or on 25th of June for the rest of the world.
Full list of bikes and riders in the Legend Category;
Pierfrancesco Chili, Suzuki GSX750R 2000
Katsuaki Fujiwara, Suzuki GSX750R 2000
Max Biaggi, Suzuki GSX1000R K7 2007
Yukio Kagayama, Suzuki GSX1000R K7 2007
Aaron Slight, Honda VTR1000 SP1 2000
Colin Edwards, Honda VTR1000 SP1 2000
Ben Bostrom, Ducati 996 2001
James Toseland, Ducati 996 2001
Neil Hodgson, Ducati 996 2001
Carl Fogarty, Ducati 996 1999
Troy Corser, Ducati 996 1999
Troy Bayliss, Ducati 999 2006
Lorenzo Lanzi, Ducati 999 2006
Ben Spies, Yamaha R1 2009
Tom Sykes, Yamaha R1 2009
Akira Yanagawa, Kawasaki ZX7RR 2000
Gregorio Lavilla, Kawasaki ZX7RR 2000
SBK X has a lot going for it especially for simulation riders, but is it the Forza of the bike world? You could certainly say that with the amount of customisation for the bike set ups and the in-depth career mode, but with the frame rate which could be better it is almost there but not quite. However, simulation riders will love this; it is definitely the best SBK on the Xbox 360 so far.
Want to try it before June 4th? The demo is on the marketplace
http://marketplace.x...387e0?cid=SLink
.
8.9