We've all done it; we have all repeated a line from a western, normally an Eastwood one as well. But Rockstar has brought you the ability to be the cowboy, well okay not so much the bank robbing, people killing, rich type, but you can still break the law!
Red Dead Redemption brings you to the land of Cowboys and Indians, lawmen and gangs, horses and carts, with the base of a brilliant game, how did Red Dead Redemption turn out? Is it the new GTA? Has Rockstar made their best game yet? Read on to find out!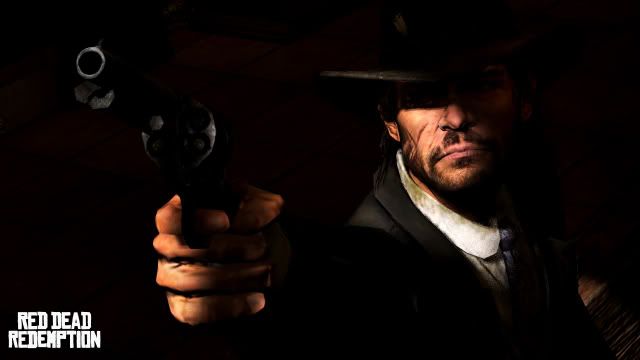 The story line of Red Dead Redemption is one of the best written and most stable that has been in any game for quite a while, you can instantly tell that it has been worked and re-worked many times to make it perfect. You can follow and understand the story line from the word go, full of jokes and times of pure emotion, you really do create emotional bond with your character and the characters around him. While parts of the storyline are predictable if you've played enough Rockstar games, it still has few to no faults with it.
The presentation of the HUD has changes slightly from the GTA series, firstly and most importantly you will notice a lack of a health bar replaced by your "Dead Eye" meter, so where has the health bar gone?
Well there isn't one, instead you have regenerating health, so when your health is low you screen goes red and you need to take cover!
Another change is the wanted or as it is now known Bounty meter, instead of using a 'star' rating you get a bounty of cash amount placed on you and out running the law enforcers won't sort this out, oh no you need to pay your bounty or pardon yourself if you are lucky enough to have a pardon letter.
A small addition is the horse stamina bar, make sure you don't run this too low or that horse is going to fling you off the nearest cliff edge. But the positioning of this has become a problem for people with TV's that are not widescreen it wanders off the screen into the border.
Along with a new look HUD come the new look, well, world. Being in the west in the end of the Wild West's day's means that unlike previous Rockstar games Red Dead Redemption looks totally different from any other game around, not only different, but almost beautiful! Probably the most stunning open world game around, everything looks so real this helps you feel like you are John Maston not just a person sat with a controller.
One great example of this is your horse and every horse in the game, as their legs moves you see their individual muscles tense, you see their tails whip about as they hit the floor while the dust flies up beneath their hooves. The horses look and feel natural to ride it is simply amazing at the quality and amount of fine detailing in this game, another thing to point out is the environment, again vast dusty dry deserts, luscious green grassy savannahs, rough rowdy towns and beautiful ones. The entire game fits its time zone again reaffirming this feeling of being in the game. There are only one or two graphical glitches in the entire game and these are rare, and not really a nuisance as much as they are funny, to see a man fly from the sky and actually wave his arms about as he does.
Playing Red Dead Redemption overall is an amazing experience with the combined effect of a sturdy story and fantastic graphics, but one more thing adds even more to this equation of what seems to be adding up to perfect. That is the gameplay itself, with intuitive controls that you can grasp easily, and an amazing amount of things to do, mini-games allow you to waste, or win, money like there is no tomorrow. Duels add a nice different type of challenge as you try to kill him before he kills you.
Gang hideouts are another brilliant feature of Red Dead Redemption, even if you've done every missions including stranger missions, you will hear more on them later, you can still shoot people without having the law after you. Gang hideouts put you in a mini scenario normally involving you escorting or rescuing someone and then receiving an item or cash reward , but you can repeat them as many times as you wish, gaining more money as well as shooting more hats off the bad guys. This can make a nice change from the story of actual missions as it is just an out of the blue challenge for you to complete.
Now I mentioned stranger missions and you may be wondering what these are, well they are another nice touch that adds more excellence to this already brilliant game.
Stranger missions appear across the world of Red Dead Redemption and can consist of you doing things from playing a card game to win a house for someone to solving a mystery of people going missing constantly, each of these reward you with a nice chunk of fame and honour and a fair amount of money. The reason stranger missions are so fantastically brilliant is that they be funny or they can be serious but wither way they make the game even more fun and if you concentrate on completing the main story they give you a few mini stories for after.
Rockstar Games have put a lot of effort into Red Dead Redemption and have been developing the game for quite a while now, and as they say you only get out what you put in, and wow did Rockstar obviously put a lot into Red Dead Redemption. It is clearly visible they were entirely passionate about this game from day 1, dare I say it but I feel it is better than any GTA game around. It makes a great difference to play a game and actually fully understand the story line this is something rare in games these days, and boy do you feel like you are in the game because of it.
I fully believe Red Dead Redemption has earned its place amongst those legendary games and could possibly be a game to be remembered for years, let's hope that Rockstar continue to support the game and continue the Red Dead franchise. With only a few frame rate issues occasionally and the odd graphical glitch. Red Dead Redemption could be one to watch at the award ceremonies later in the year.
Red Dead Redemption has earned its incredible rating of:
9.2