Raystorm HD is a port of one of those old classic vertical scrolling shooters, set in the future you are tasked with saving the earth from invading enemies, using your Ray planes using an assortment of weapons, you must once again fight, dodge and fly to save the world!
Raystorm HD is an extremely short game with only 8 levels in each of its four modes all the same with just a few things changed, there is no diversity. The added modes for the 360 version are just modifications on the original Arcade Mode, no new levels no new planes. This leaves the price tag of 1200 Microsoft Points to questioning.

When it says HD on arcade classic it is normally just slightly improved graphics, which is the same case here with wide-screen capabilities and slightly tuned up graphics.

The story is non-existent in the game unless you press pause and go into the help menu, the story is explained in the menu with a lengthy bit of text even then you can still be left unsure, as Raystorm HD is part of a series.
When I load up and play I remember why I hated this type of game so much when I was younger, and Raystorm is the worst case yet, repetitive cannot even explain the gameplay, it is just endlessly the same lock on a press the A button hope to survive, even worse is the fact that they adopt the arcade live style die three times and its game over. You have to start from missions 1 all over again, this makes it terribly frustrating as you become dazzled by the colours of the projectiles flying towards you.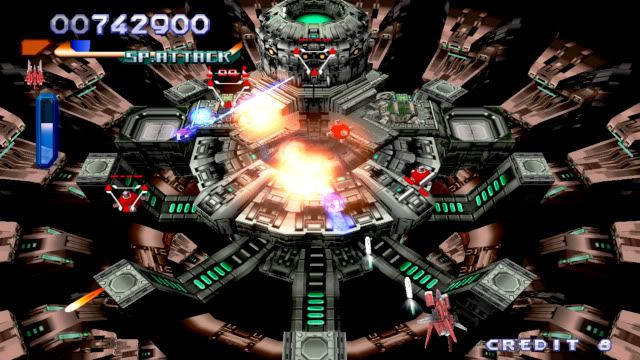 Overall I give Raystorm HD a low score of:
3.0