There is one game cross over that critics fear most in the gaming industry. That is, the movie to video game cross over. This is mainly due to the fact that 90% of the film to game titles, are shocking. With exceptions of games like Spider-Man 2 and the newly released Toy Story 3, the majority of movie/game adaptations are no more enjoyable than taking a stapler to your privates. So why is this?
Mainly, its due to time, money and constraints. Developers are given a rather small amount of time usually to create and launch a game to co-inside with the film. Along with this, often, the developers are rather new to making a large production with that of something like a block buster film and to top it off, there's not always a community that they can bounce feedback with to ensure the title is a sure hit with gamers and movie fans a like. So with this in mind, does Iron Man 2 hit the few exceptions?
Set shortly after the events of the film Iron Man 2, the game starts with the loveable rock star behaving superhero in a spot of trouble. Jarvis, the computer which runs Iron Mans suit is being attacked at his mainframe on a small island by an unknown company. Iron Man then learns that this company have their own series of mech-like creations and are quite keen on gunning down the corporate opposition.
To sum up Iron Man 2 in a word, messy, could be a suitable one at times. The controls are relatively all over the place and combat can get a little etchy, sometimes a lot of things can be going on, and you cant really make much out of it, especially when it comes to being hit. Not all projectiles show up and unless your knocked to the floor by it, you cant actually tell when your losing health, unless you get a friend to sit and watch nothing but your health bar. Its an idea at least.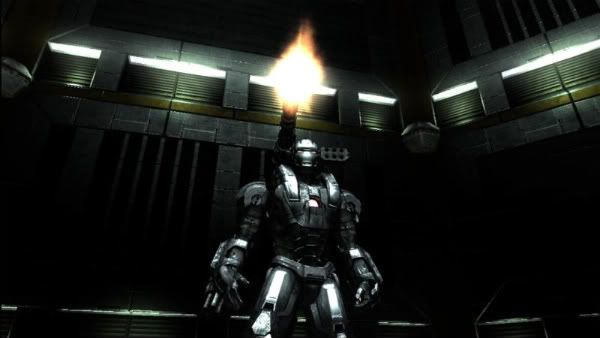 When not actually in the missions, you can use points earned by completing levels to upgrade your weapons and suit enhancements. Early on in the game, its quite hard to actually get the idea of how all of it works, later on however, when you have loads more cash to spend the enhancements actually have a notable impact. However, getting to understand how it all works takes a little longer than expected, because, just like most of the combat, the menus are also messy as hell. With one selection going left to right, to the next being up and down, but neither showing what you can move to on screen, its a bit of a labyrinth down there.
What does make this game good however is the fact you can (and in some levels have to) play as War Machine, personally my preferred of the duo, this can mix things up a little more and adds some extra playability, however this is a perfect position for co-op to get involved yet we see nothing? Massive disappointment.
Lets face it, seeing Iron Man and War Machine in some full on HD graphics would make any grown man shed a tear yet unfortunately we're not treated to the visuals they so rightly deserve, not even a all stops FMV to get us all hooked. The game suffers from moments of looking great as shown in some of the screenshots, but at other times also looking a little rough on the edges.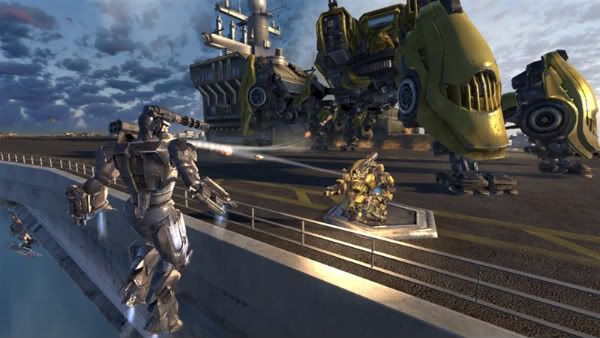 The game sadly supports no Xbox live leader boards or more importantly no online or offline co-op. This, is a rather large draw back in the game, considering the main point between the two characters, are not only both fully playable, but also supposed to be working together. Makes an incredible shame as this could definitely have boosted the replay ability of the game, on all the difficulties.
Iron Man 2 is sadly rushed. Lots of missed out opportunities especially with the lack of co-op. Cluttered and hard to understand menus and rather sporadic difficulty spikes make this game tolerable to the Iron Man fan, but not much else for any other gamers.
This post has been promoted to an article