Zombies. Eat your heart out!
Developer Blue Castle Games
Publisher Capcom
Platform Xbox 360 (Xbox Live Arcade)
Release date 31 August 2010
Price: 400msp
Dead Rising 2: Case Zero is the prologue to the full game, Dead Rising 2 and is out now on Xbox Live Arcade for the small price of 400 Microsoft points. Case Zero takes place after a massive zombie outbreak in Las Vegas, three years before the events of Dead Rising 2. You play as Chuck Greene, an ex motocross pro, who finds himself stuck in the small town of Still Creek, with his infected daughter Katie.To prevent Katie from becoming a zombie, Chuck must find the drug that can temporarily cure her, Zombrex. The game opens with Chucks truck being stolen, and Chuck having to figure a way out of Still Creek. He leaves Katie in a abandoned garage, promising her that all will be OK, and heads off to find transport out of town.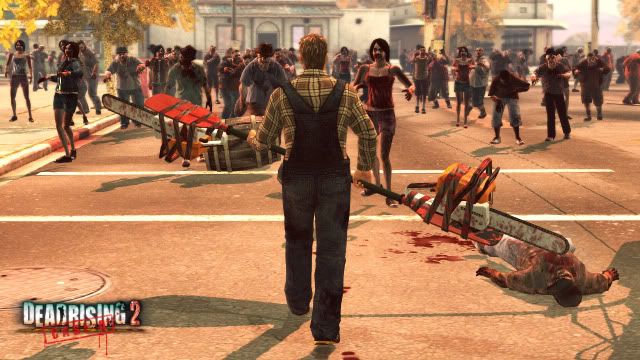 You have one game-day to locate all five pieces of equipment to fix a motorbike before the army comes to neutralize the area, and before Katie turns; this should take you about three hours to complete on the first play-through. To acquire the necessary tools needed you will need to explore the town, make friends with other survivors and help them get out of a spot of bother. This can be aggravating, as some survivors will not defend themselves unless you have a weapon to lend them, and others can only be found at certain times of day. You must also never forget to save your game, in a toilet, as if you die you will be forced to start all over again.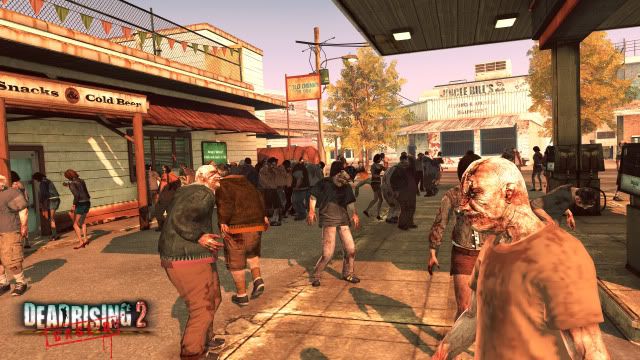 Besides sticking to the objectives, or cases, you can spend your time levelling up (max lvl 5) through killing zombies and creating weapons. This is where Case Zero shines, the weapons you can build are great fun. For example, Chuck can tape a garden rake and a battery together to build an electric rake! Another good one is the "boomstick" a combination of a pitchfork and a shotgun! Sadly there are only a few weapon combos available, as it offers a small selection of what shall be in the final game. Saying this there is still more than enough weaponry and toys to get excited about.
One of the best things about Case Zero is its replay value. Even if you'll drop it once the final game hits the shelves, there's still quite a bit to sink your teeth into. The weapon creation obviously being one, along with the XP ranking which carries over to DR2, and multiple endings. It's also just great fun slaying zombies, whether it be with a chainsaw or a football, you'll find yourself just aimlessly killing them purely for the thrill of it and the satisfying noise of a zombie being decapitated!
As far as the game is presented, it looks good, not great, but for a 900MB download, the graphics are hardly bad. In cut scenes flaws are easily spotted, and there is a little rendering here and there, but nothing to cry about when you've only spent 4 pounds. Hopefully the graphics will be slightly enhanced in the full game. Blood looks fantastic, and the zombies look frightful, if a little comical at times.
Simply put, Case Zero is a bargain. Whether you plan on buying dead rising 2 or not, you should really give this arcade game a go. Its prepares you for the full game, filling you in on the back story and teaching you the basics. There's plenty of reason to play through it more than once, whether it be the multiple endings, achievements, or levelling up. Case Zero is great fun, at 400 Microsoft points, you need to try it!
Graphics: 7

Sound: 8

Gameplay: 9

Replayability: 8
Overall: 8/10
This post has been promoted to an article