Zeno Clash: Ultimate Edition is one of those arcade titles you may have overlooked, but it holds a gem of a game behind its rather weird initial first scenes.
Following the story of Ghat, Zeno Clash takes you through the fantasy world of Zenozorik where Ghat is on the run from his siblings who are after him because he set off an explosion killing Father-Mother, the creature who has brought up him and many others. Ghat on his run from his siblings who are out for revenge is accompanied by Deadra who aids him on his travels.
Typically first and foremost Zeno Clash is a 3D fighting game with the option to use weapons, guns and clubs mainly which can be picked up, but generally you are going to use your fists more than these as fists are a faster option due to the rather limited ammunition, which means you are always reloading.
Prepare to be sprung up behind you too as enemies seem to have the upper hand when you first start. It's not until you learn what the different punches do and indeed how to block do you have a chance to find out what tactics are needed, giving the enemies space and timing the blocks are the key. More emphasis is on the fighting rather than the weapons and the prologue will teach you how to use both. Locking on to an enemy by pressing Y and using strong punches whilst blocking and avoiding is not as easy as it sounds and takes some mastering, especially if here are multiple enemies. There are also some abuse to chickens, what is it with harming chickens in games lately?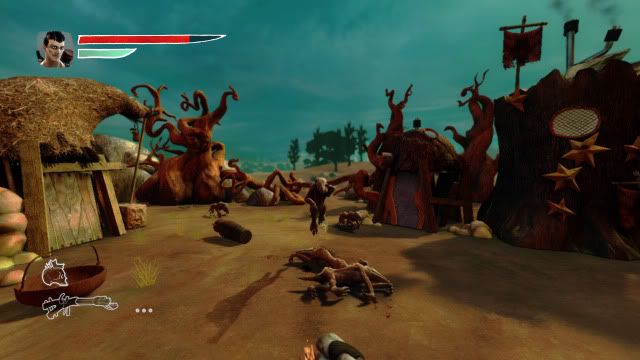 Zeno Clash generally gives you a cut scene and then a glance of the enemies before you are thrown into a battle, but it also gives manoeuvre for a certain amount of exploring of the atmospheric, strange and colourful world. Most of the characters are dressed with rather weird costumes most with masks and helmets covering their heads which is fitting for their surroundings although Ghat and Deadra are normal looking.
The main story mode will take you around five hours to complete which isn't bad for an arcade title, along with this Co-Op mode is available, Tower Challenges, which are timed battles in an arena setting, Zeno Rush, timed battles from the single player mode and leaderboards.
Zeno Clash: Ultimate Edition is 1200 Microsoft Points
http://marketplace.x...http://marketplace.xbox.com/en-GB/games/media/66acd000-77fe-1000-9115-d802584109dc/?of=7

8.0