Tom Clancy's HAWX 2
Published by: Ubisoft
Developed by: Ubisoft Romania
Release Date: 3rd September 2010
Genre: Arcade style flight/action

Hawx is back with its genre defying aerial combat fighter, armed with more aircraft and many more weapons, will it soar into the atmosphere or plummet back to the earths surface?

Hawx 2 continues on from the events of the original Hawx and now insurgent activity is growing in the Middle East. Unlike the original Hawx, you now follow a Call of Duty style multiple storyline intertwined into one story type idea. However you will need to pay attention as getting your head around the story isn't easy. To begin with you take over the persona of a David Crenshaw. After being attacked you then take over multiple roles within various squadrons as it turns out numerous Russian nuclear missiles have gone missing.

The single player campaign is a twenty mission long story in which you can fly some of the world's most elite aircraft in some of the world's most beautiful locales. You will get the chance to support the Ghost team from the upcoming Ghost Recon title, don't worry however, playing through the campaign doesn't seem to give too much away. You will also play alongside a familiar face from the Splinter Cell series known as Kestrel.

Now I was pleasantly surprised to experience some new types of missions that have been introduced. Yes you still fly everywhere but now you get the chance to fly UAV's and be a gunner on an AC-130 Gunship. You will also fly the likes of the F22 Raptor, F15 Eagle and the A10 Thunderbolt II. You will fly over the likes of Cape Town, the Caucasus region and a lot of sea including oil rigs and coastal Africa. Even with its 20 missions, I felt that the story was very short and even on regular difficulty, didn't really pose too much of a challenge. It seems as if I was getting thrown about between random missions with not the greatest of links.




Essentially the gameplay mechanics prevalent in the original Hawx remains ever present in this latest title, yes, it's still very much an arcade action flyer but Hawx never suggests otherwise. The ability to land and take off from airfields and aircraft carriers does offer the player a little more and also the ability to refuel your aircraft is actually quite well executed. The Assistance Off feature from the original Hawx has remained in this game pretty much untouched but it works well and certainly offers the player a new challenge. There aren't a lot of options in which you can define your flying style other than whether or not you play in expert or normal Assistance off mode.

A new introduction the Hawx series has is, as with a lot of Tom Clancy games, a PEC Challenges aspect. Yes, this was also in the original game but now it has been revamped with yet again a similar system found in a lot of games of late. As you gain XP for performing set goals such as killing 'X' amount of enemies with your cannon or fly at mach 2 for 'X' amount of time, you will level up your pilot level and with this you gain XP tokens. Use these XP tokens to unlock various different perks and aircraft and the more XP tokens you collect the more weapons and aircraft you unlock. You can also unlock items that will give you set time bonuses such as damage multipliers and invisibility. These are all pretty much useless within the story but are a great asset during other game modes. There is also a separate aircraft levelling system in which you gain XP to unlock custom weapons packs and new skins for each one. I suppose this offers a little longevity but just seemed rather tedious to do this for every plane.

Other than the story there are a few more modes in which you can battle to rule the skies. First up is simply the ability to play through missions from the story in any plane you like, fair enough, that's a given. Next up is Free Flight, yeah nothing much to say here, just fly any plane in any of the mission maps without any enemies. We have Survival mode next, pretty self explanatory, use an aircraft to shoot down 10 waves of ever increasing enemies without being killed. This mode is certainly a very tough challenge and extremely good fun. Last up is the arcade mode, here you play through a map trying to complete abnormal challenges such as flying through oil rigs to kill enemies only using cannons. This is fun too, but can be a little infuriating as this mode is extremely quick paced and death somewhat becomes a norm.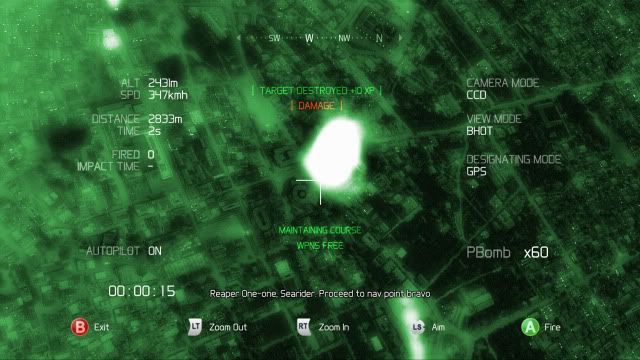 Hawx 2 looks absolutely fantastic. I cannot fault Ubisoft too much here, their use of Geoeye's satellite imagery to canvas such huge maps with such detail is amazing. When flying about everything looks so sharp. The Caucasus regions mountain ranges are stunning and the city of Cape Town looks brilliant (you can even fly over the world cup stadium and it looks pretty much exactly as in real life). When on the ground you do notice the lack of textures on buildings and runways but I guess they would have put more effort in here if the game was designed to be played on the ground. Each aircraft also looks amazing with some very smooth textures and the in cockpit view is pretty sweet as well. Graphically Hawx 2 is great across the board.

Hawx 2 has a strong online component once again, it would seem that not a lot has been changed from the original. We have 8 player adversarial modes such as team battle and an arcade mode. The team battle mode consists of two teams killing opponents and ground targets on a map to gain the most points before the end of the session, however you can only use the aircraft you have unlocked in single player. Fair enough, but there's always someone who has played it longer than anyone else and has an unbeatable plane, I guess we just have to get on with it. There is also a 4 player co op campaign where you can play through the story with some friends to help you. Maybe a few more objective game modes could have been implemented this time round but that doesn't seem to be the case unfortunately. Still a good multiplayer experience however.

Overall Tom Clancy's Hawx 2 is a pretty decent arcade air combat game which is still fun to play. The story is a little short but there are still plenty of things left to do once you're done with that bit. The levelling system will keep you playing both single and multiplayer longer so you can unlock some of the world's most ultimate fighting machines. With such amazing graphics and a well polished HUD, what Hawx lacks in storytelling it almost makes up with looks. A good game for fans of the flying genre but would struggle to hold anyone else long enough to see it through.

My Rating 7.5


This post has been promoted to an article