With Halloween on the horizon, its time to have a look at some of the Xbox 360's best horror titles. So you can ditch the horror flicks and ignore the trick or treaters and sit yourself down for an evening of spooky video games. Horror, survival or psychological. Its your choice, but here are a few ideas to send your haunting Halloween off to a start.
Best Xbox 360 scariest
Silent Hill Homecoming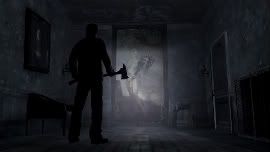 The return to the town of Silent Hill is a haunting tale of a young man and his fight to understand what happened to his younger brother. Take a trip around the fog surrounded city, meet some of the community, and unearth the horrific secrets that they all harbour. Silent Hill Homecoming is a dark and enthralling game, keeping you on the edge with every step taken. As one of the pinnacle of psychological horror franchises, Silent Hill Homecoming is not to be overlooked.

Since the game isn't too hard, it should be lights off and volume up for the best experience. Especially the beginning level and the hotel level early on.
Dead Space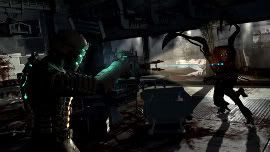 In space nobody can hear you scream, but everyone in your household will. Play this intense intergalactic horror and uncover the truth as to what happened on the ship USG Ishimura, fight against horrific creatures and try to make it to the end in one piece. But who said that was the end for Isaac's nightmare?
Want to up the chills?
Knock the difficulty up to Impossible and learn the true meaning of survival horror.
Alan Wake
Renowned writer Alan Wake takes a time out from promoting his latest book with his wife in the small community town of Bright Falls. When Alan awakens, missing a week, and the only last memory being of his wife being pulled into the depths of a lake. Wake begins to find manuscript pages from a book that he has no recollection of writing, and what's worse, is the writing on the pages is slowly unfolding into reality. Wake must learn to fight the depths of the darkness which engulfs Bright Falls and ultimately himself if he is to have a chance at saving his wife, Alice.
Not afraid of the dark?
Download the two downloadable content episodes and play the full game on Nightmare mode. Will Alan make it out from the darkness?
SAW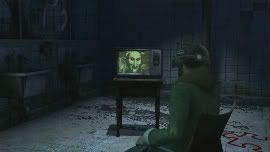 Filling the gap between the first two Saw films, Saw: The Game, puts us right in the shoes of Detective Tapp, and right in the position of jigsaws traps. Work your way through the asylum filled with traps and other victims, meeting some familiar faces. But at the end of it all, will you risk everything to catch the illusive Jigsaw? Or give it all up to learn the harrowing truth?
Too much of a horror film fan?
Try playing SAW: The Game with all the lights out in the dark. Have a friend with you to help with the puzzles, or if your too scared to do it alone.
F.E.A.R. 2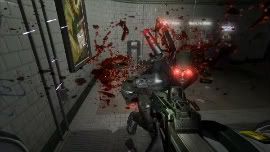 The only first person shooter of this seasons list, F.E.A.R. 2 continues the story of troublesome child, turned evil spirit Alma. Fight your way through cloned soldiers, and breeze past the well praised mech fight section. But when your HUD starts to glitch, the shadows begin to dance, and the only heavy breathing is your own, you'll find Alma is just dying to mess with your mind, and keep each and every corner a mission to make it around.

Think your a tough guy?
Watch out for the school level...its famous for being an incredible scary moment.
Cheap freaks for a fiver
Haven't got any of the more recent titles and cant get hold of them for the weekend? Here are a couple of cheap titles that'll keep your wallet full. Along with your trousers...
Condemned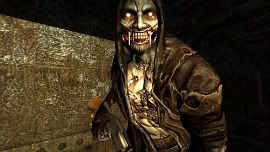 The original launch horror title, Condemned puts you as a FBI agent on the trail of a disturbed serial killer. Use CSI like skills to decrypt crime scenes, and work your way through the more hazardous parts of the city. Crawling with drug addicts, murders and dangerous men. You'll literally have to tear your weapons from the walls if your to make it through the derelict dark settings alive, whilst uncovering something a lot more sinister and darker afoot.

Another game most famous for is particular scenes, definitely check out the Department store...
Jericho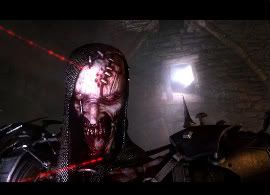 A rather old first person shooter in this list, but still a damn good mess with the old noggin. Clive Barker's Jericho follows a team of supernaturally blessed soldiers sent in when thinks get a little too spooky for the normal task forces. With a task to save the world, the Jericho team go through different era's fighting some of the most messed up creatures in some of the most gruesome settings ever. With some tense and sometimes challenging moments within the game, Jericho is definitely worth a look in if your in the mood for a casual shooter with a little extra gore and horror mixed in for good measure.
Retro horror
Fancy some old school horror? Dust off those old consoles, we're going
retro
.

Silent Hill 2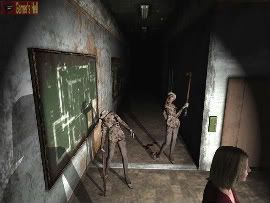 The golden oldie of survival horror. Ask any experienced gamer what their scariest game is for them, and nine times out of ten, Silent Hill 2 will be their answer. The game follows James Sunderland, a young man who took his wife to the town of Silent Hill back on their honeymoon. Recently, James received a letter from his wife, telling him to meet him in their 'special place'. The only problem being, is that James wife was dead.
Silent Hill 2 is a true psychological horror, with wholesome and interesting characters, incredibly immersive game play and atmosphere, and one of the most iconic gaming horror icons to date, the one and only Pyramid Head. Silent Hill 2 is really a game for those who both like to be scared, and also love a good story. Nothing ever happens or is in Silent Hill 2 that doesn't have hidden meanings, or a much more deeper link within the story. Add that with an incredible ending and plot. Silent Hill 2 remains one of the greatest horror games to date.
Resident Evil 4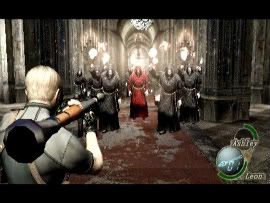 Probably one of the boldest moves in changing directions of a massive franchise, Resident Evil 4 ditched the fixed camera positions and the zombies for an infected population and one of the most well used over the shoulder cameras used still today in video games. Whilst the game ditched its 'survival horror' roots for a more action adventure role the game still stands as one of the best Resident Evil games, and in gaming in general. The game is packed to the brim of unique moments that every gamer will fondly remember, from the boss fights, the settings all the way to that annoying Ashley. Resi 4 is still one of the most memorable of the series, with its innovative play style, incredible story, both length and depth wise, if you own a Gamecube or a PS2, you need to own this game, otherwise, your missing out on pure history. Hell, if you own a Gamecube, buy the entire backcat of Resident Evil as all are available from 0/1/2/3/4/CV and have yourself a true Resident Evil weekend!

The craving for brains...
10 years ago, you'd have to wait for the next Resident Evil for your next Zombie fighting fix, yet within the last year and a half, the undead have taken video games by storm. Something about those shuffling reanimated corpses is like cat-nip to us gamers which has lead the following selections a sure fire hit with you headshot hunting, decapitation delivering Undead destroying players.
Left 4 Dead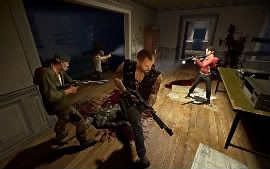 First up is the ever loved zombie survival shooter Left 4 Dead. Both L4D and L4D2 deliver some rich unique environments and insanely testing difficulty curves. This first person shooter will test the mettle in even the battle hardened shooters, with its game analysing A.I. 'The Director' which will study the game in how its going and will react accordingly to ensure a new experience every time, Left 4 Deads expert mode will definitely knock you back a peg or two. Mix that with Left 4 Dead 2s Realism mode, and your in for a hell of a treat.
Dead Rising 2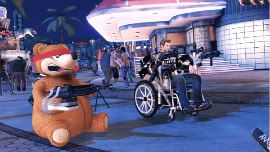 The infamous zombie launch title finally gets its deserving sequel, set in a massive casino this time round, protagonist Chuck Greene must fight his way through the undead crowds to clear his name and ultimately save his daughter. Dead Rising is notorious for having a huge amount of gore, with a great amount of comedy linked in. Use absolutely anything in the world to fend against the zombies which just endlessly flood into the casino. Not so much a horror title, but a quality game at that.
Red Dead Redemption
Undead Nightmare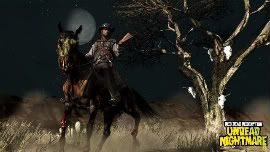 The most recent of these zombie instalments, got your self a lil ol' cowboy game known as Red Dead Redemption? That's right, the guys at Rockstar, after sitting on a fair profit from May 2010's massive hit, had a bit of a brain storming session to find the answer to the question...'How can we make RDR better?' 'Zombies!' They all cried. And so, 'Undead Nightmare' was created. A downloadable pack, available from this week, see's us wonder the deserts as everyone's favourite cowboy, fighting something a little more different to a couple of Mexicans and a bear or three. Undead Nightmare gives us a story involving Marston searching for a cure for his family from the plague that has riddled America, the Downloadable content includes tons of both online and offline features including 4 awesome horses of the apocalypse. All for 800 Microsoft Points.
Call of Duty World At War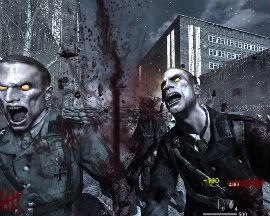 Possibly the pinnacle point of where video game developers truly thought. 'Dayum, this game need more zombie!' Would be that of the World War II game Call of Duty World at War, with its creepy co-op pitting four of you against the relentless Nazi zombie horde. With one map already on the game, you can download the other maps, for more traps, perks and crazy weapons. And lets not forget about those hell hounds!
Zombie Apocalypse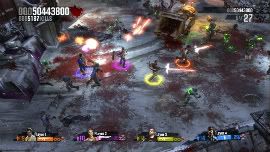 For an arcade game Zombie Apocalypse is about as simple as you can get, jump into a game with up to 4 players in this top down horde shooter, with nice easy controls, pleasant graphics and rewarding game play as you work together to survive countless waves of zombies.
Upcoming Titles
So after Halloween, what can we expect to keep those fears amongst us?
SAW 2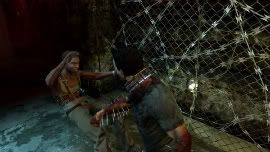 Jumping straight from the end of the first game, Saw II: Flesh and Blood see's Tapps son, put through the same gruelling tests as his father once was as he fights for the truth, and to save himself from the vicious traps and the blood hungry victims of Jigsaws twisted games.
Saw II: Flesh and Blood was released on
19th October.
Splatterhouse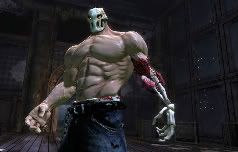 Atari remake of a arcade cabinet classic, Splatterhouse puts the player in the role of ### The game features over the top gore, and plenty of fighting to boot. Dismember enemies and beat them over the head with the soggy end. Or use true rage and even use your own dismembered arm instead. Don't worry, it'll grow back. Eventually.
Splatterhouse will be out on
November 26th
.
Fear 3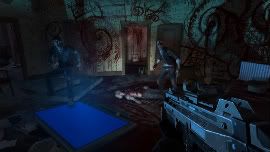 The fear of Alma still lives, with Fear 2's more than open ending, its quite clear Alma is not yet done with us yet. Expect some crazy more mechanised fights, some incredible graphics, and more ghostly antics to come.
F3AR is released
March 22nd 2011
.
Dead Space 2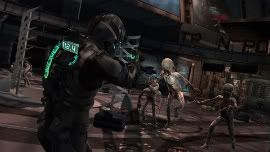 Isaac returns, this time on a colony which suffered the same fate as the ship which Isaac spent so long trying to escape from. This time, the creatures are bigger, more aggressive and a damn sight more bloodthirsty, and Isaac must survive it all if he's to truly uncover the nightmares both from the colony, and inside his head.
Dead Space 2 hits stores
January 25th 2011
.
Gaming experiences
Everyone has them, here's some of our staffs. Care to tell us about yours?
Johnathon Waples
- My favourite horror game has got to be The Darkness. I remember the first time I played through it, my pants got all wet. The gory, dark feel and intense storyline. Couple with the crazy snake monster aspect really scared the ba-jesus out of me! If there was any game I would recommend playing in the dark, is The Darkness. Because it has "dark" in the title. And it just makes sense!"
Mush xx
- The original Resident Evil when it first came out in 1995 on the PlayStation 1, the scene with the zombie Dobermans. As it was new it made it even more atmospheric and frightening.

DomOnline
- Mine has to be Resident Evil 4, I remember entering the village at the beginning of the game. It was my first play through and i had opted to play on normal difficulty. It was hard, so hard in fact, i ended up firing all my bullets and had to knife my way through the hordes to a house which appeared to be safe. Oh how wrong i was! On entry, the game went to a cut-scene, of Leon shutting himself in and scoping the area through a window. Then it came. The loud piercing noise of the chainsaw. Leon barricaded himself in with a chest of drawers. I panicked as the crazies banged on the windows and doors, shouting and snarling. As the cut-scene finished i ran up the stairs, and to my relief found a shotgun in a cabinet. I proceeded to jump out a window onto the roof. I did not realise this would in turn lead to my imminent demise. I backed up against a wall, and looked down the barrel of my gun. And then he came, charging at me, with a potato sack upon his head. I was trembling, unsure of what to do, dreading what was about to happen! I tried to fire, but he was too big. He strolled through my bullets, revved his chainsaw, and slowly but surely cut my face off.
What twitter has to say:
AzureAngel17
- The first Left 4 Dead, for sure. Before I was used to the game, every corner of No Mercy was absolutely terrifying.
McMullzy
- RE4 on the Wii facing off against crazy undead spanish women who are married to pitchfork wielding psycho husbands
Paragon53
- Condemned: Criminal Origins - most of it
xxGENEVIEVExx
- The bathtub scene in Eternal Darkness.
visionvilla1
- zombie dogs in resi evil, when they smash through windows, and almost all of dead space.
AkhilMalhotra
- fear 2. the bits with the girl.....Freaky stuff.
Early_Grave
- The opening attack in Dead Space. Unarmed, alone, sirens wailing, your crew slaughtered, a truly panicked dash to the lift with the Necromorph all around you in the vents, struggling to see through the dark & being blinded by alarms. Then the supposed safety of the lift offers little protection. And that's the first ten minutes, a truly breathtaking and chilling intro to a new series and the whole of Silent Hill 2
And from Facebook
Mark O'Connell
- When the T-Rex came running towards me for the first time in the original Tomb Raider (level 3)! I had no idea it was coming! I also found it quite stressful when your child goes missing in the shopping mall in Heavy Rain. I guess that's because we are expecting our first child shortly.
Jason Couture
- Any of the scenes in F.E.A.R. where Alma showed up in the scene.
I'd be so focused on the environment around me, that I would literally jump out of my seat when I'd all of a sudden have Alma either on top of me, or walking by at the side of my view.
Nicholas Simonovski
- I'm going with Alan Wake. That was my first 'thriller' game and even though you still knew a Taken was going to appear due to the change in the backgrounds with smoke and what not, the building music, the shadows and the slow-motion really came together well.
Paul Ward-Williams
- That's a hard question? the opening level on Call of duty 3, All hell has broken lose and your stuck behind a wall with German bullets flying all over and your buddies all getting blown to bits, realistic, that's what scared me I think.
Mark Reid
The part in F.E.A.R when you go down a ladder and as you turn around Alma's standing at the top of the stairs where you just where - staring at you and giggling. The one and only time i've jumped at a computer game!
Nathan Schmidt
Original Resident Evil when the dogs bust through the window made me jump pretty high.
This post has been promoted to an article