Costume Quest is the latest Xbox LIVE Arcade game for Double-Fine Productions who have created some great titles such as Psychonauts and Brütal Legend and is a light hearted adventure mixed with an RPG. Whether it is a RPG to remember is another thing.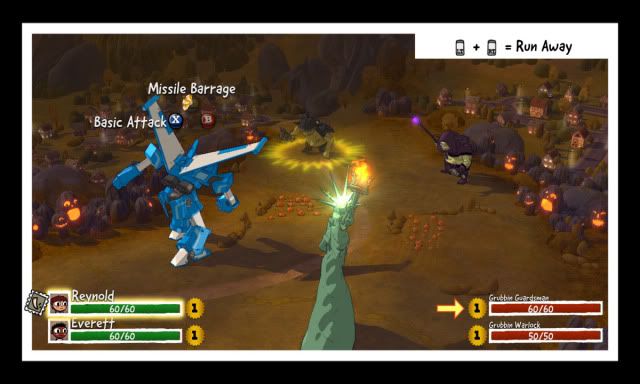 The game is set at Halloween and tells the story of brother and sister Wren and Reynold who are the new kids in their neighbourhood. They see Halloween as the perfect opportunity to make new friends. You decide if you want to play as either Wren or Reynold with both characters having the same story. Upon knocking on the first house your sibling is mistaken for a treat by a goblin looking creature. You are now set with the task of rescuing your twin so you don't get grounded. Costume Quest is an adventure game with RPG style mixed in and it works fairly well. In order to level up you must defeat enemies in battle. Your character transforms into the mega sized version of the costume they are wearing such as the Ninja costume transforming into a highly powerful stealthy Ninja and takes part in turn based combat which involves pressing buttons and then pressing the corresponding button that pops-up on screen for maximum damage.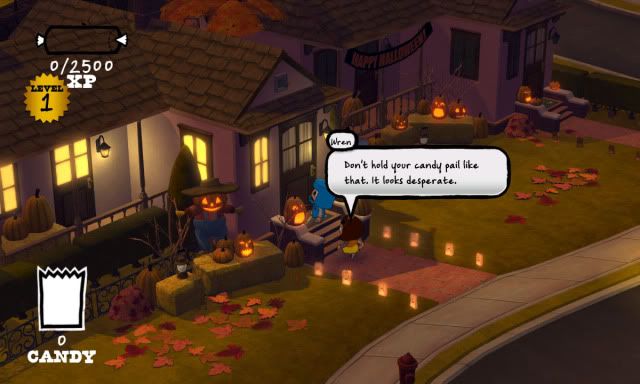 Throughout the game you collect sweets which are used as the currency to buy battle stamps which grant your character special abilities during combat. There is a level-up system that is very simple with you gaining XP on completion of battles and quests. You are also given layouts for different costumes and you must find the materials in order to acquire that costume and unlock its abilities in battle or on your journey with the spaceman suit having the ability to see into dark areas. You will meet allies along the way who will help you on your quest to rescue your sibling. They wear the costumes that you have collected and use them to help you in battle. Each costume has a special ability with the Knight having a Guardian Shield to protect an ally to the French Fries costume being able to stun enemies using its Salt Assault.
The graphics for Costume Quest are nothing special with a comic look effect but they work well for such a simple game. It uses the graphics that it has to the best of its ability and they look good during battle scenes and for once the fire looks good. The music is very much Halloween themed, but it isn't very noticeable. The game doesn't have any voice actors but uses speech bubbles instead which can be very annoying as it means you must pay more attention to the already weak story. The people you meet along the way will have some humorous things to say but that's the height of it.
The game involves going to three different areas: The Suburbs, The Countryside and The Mall and these areas aren't very big. Costume Quest is fairly short and the quests are over very quickly. There are side quests but these are only small and are the same in each area such as hide and seek to bobbing for apples. The game is small and there could have been a lot more added in such as co-op.
<object width="425" height="355"><param name="movie" value="http://youtube.com/v/45jeYG_g1gI"></param><param name="wmode" value="transparent"></param><embed src="http://youtube.com/v/45jeYG_g1gI" type="application/x-shockwave-flash" wmode="transparent" width="425" height="355"></embed></object>
Although Costume Quest has a weak story, ok graphics, no voice acting and no co-op it is still fun. It is short with about a 3 hour story but there are a few collectibles to be found such as collecting every battle stamp. The game features some Halloween themed avatar awards, but with a hefty price tag of 1200MS Points it can't be justified.
Rating:
6.5
This post has been promoted to an article