Can you explain how the Xbox 360 D-Pad works and why it's an improvement?

The D-Pad 'Transforms' by twisting it, as it twists the gaps in the '+' design fill in making the D-Pad a circular D-Pad. By having the option to have a cross or circular D-Pad, this allows you to choose the D-Pad configurations that suits your play.
Will we see this D-Pad featuring as standard on future Xbox 360 controllers?

We can't comment on future plans for the controller - but we always listen to what Xbox owners tell what they like (and don't like!)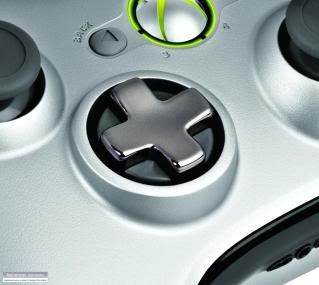 The tops of the analogue sticks have changed too – how and why?

There's a subtle groove around the top of the analogue stick which helps with traction
Why was silver chosen as the colour for the controller?
It's distinctive and exciting! We're always considering other colour & finish offerings for our future controllers
Isn't it strange that the traditional Xbox button colours have been removed and replaced with different shades of grey? Why was that decision made? Has any testing been done to see if the colour change alters reaction times?
It's purely a design thing, and wasn't intended to impact game play.
Is this a limited edition controller? Will Microsoft release other controllers, either in this colour or with this D-Pad?
While I can't comment on our future offerings, we will have limited availability in Europe when the controller launches on March 4th
We've heard the controller was codenamed 'Aberdeen'. Any particular reason for that? Who chooses the codenames?
We can't comment on code names.
How does the controller improve precision in fighting games?

You can customize the D-Pad to better suit your style; (the regular D-Pad also gives you control over the multiple directions you can move in).
Do you think that there is now a level of hardware unfairness – will someone using one of these and someone using a controller or a fightstick be advantaged or disadvantaged in any way?
I think that's a personal preference more than an 'advantage'. Some gamers like to play football with an analogue stick, and some with the D-Pad - the same goes for other types of games as well.
What about accidental alterations – especially if you do a special move in a fighting game, can you accidentally trigger the change?

No
Do you know when the release date for Europe is?
Yes, it's March 4th
Click here to view the article