Beyond Good and Evil was first released in 2003 on several platforms. It tells the story of Jade, a female protagonist who joins a rebellion called Iris on a mission to find out why aliens called the Domz who are attacking Jade's home the Hillys, have recruited the Alpha Section to kidnap for them and just what they are doing with the victims. Beyond Good and Evil HD is an Action/ Adventure game from Ubisoft, designed by Michel Ancel, creator of the Rayman franchise from which you play third person view and which has been digitally enhanced for HD with improved character models, textures and soundtrack. Being Xbox 360 achievements have been added, leaderboards and is part of Xbox LIVE Arcade's House Party promotion.
Jade lives in a light house in the year 2435 in a remote section of the galaxy, an orphanage for children who parents have been attacked by the Domz. The game starts with Jade struggling to re-connect the force field which has gone down after not paying the electricity bill which results in the Domz attacking and the children being captured, from this moment on you are thrown into an action scene and get a taste of what is to come, Jade is trained in Martial Arts and the first thing you learn is to use Jade's Daï-jo combat staff. Later on you acquire a long distance weapon which fires discs. My main problem with this is the camera angle is awkward when firing the discs and often requires quick reflexes to line up the shots as enemies do not give you much time before shooting at you, you use the Left Bumper to aim and the Right Trigger to fire, this sounds fine but completely eradicates your line of vision except for the enemy you are aiming at, this means you are open to being spotted from other angles, not only this but it uses the same button as the camera, disorientating you and often it will point you in the wrong direction. It takes time to line up and to go back to normal mode, so if you are crouching holding down holding the Left Trigger and you need to move to another place you must release the Left Bumper being careful to not release the Left Trigger as well causing Jade to stand up and be noticed.
Having run out of money Jade must earn some to keep the force field up protecting the children; she is offered a job photographing the animals for a science museum. By completing rolls of film, pearls are earned which can be traded to upgrade essential items required to complete missions. Pearls can also be found hidden throughout the game. Taking photographs becomes a fairly large part of the game as Jade is gathering evidence as well as cataloguing animals, similar to using the discs you aim using the Left Bumper and take photos with the Right Bumper ensuring they are framed correctly zooming if necessary, once taken the photo is sent to Iris to catalogue.
Along with shooting enemies there are puzzles to solve and platforms to navigate, some parts require Jade to sneak past enemies, jump over and crouch under laser beams, find keys to open doors and use passwords, push objects to reach areas or uncover hidden areas and navigate ladders and platforms. It doesn't hold your hand, you need to work them out, but they are not particularly hard either, they are the kind of puzzles where once done they seem very obvious, you can also get lost eventually ending up in the right place. It does have a kind of co-op to it as the allies which you meet can be ordered to push buttons for you, attack enemies or remove obstacles.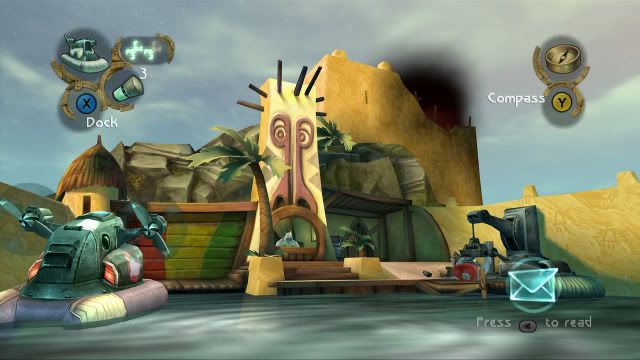 Similar to Role Playing Games the items you buy and collect are placed in an inventory; these can be shared with your allies and are accessed using the B button. You can also talk to characters, healing them that way. Jade and the allies you meet have a Hovercraft to travel around the planet to different areas which is also used in the mini-games, later on a Space Ship too. Traveling also encounters enemies occasionally but you can buy upgrades to take these out. There are four races to compete in, the first two you can do early on but the other two only become accessible when you acquire a jump feature for the hovercraft. There are also looters to chase down. Although the races are pretty short and fun, then soundtrack certainly isn't and becomes very annoying. The hovercraft can boost, jump and shoot missiles and torpedoes, with upgrades. Other mini-games include a hide-the ball under a cup and an air hockey type game.
Beyond Good and Evil looks good, is absorbing and requires puzzle solving, it will bring back nostalgia for those who remember it the first time round, although not quite up to par with today's games there is certainly something special about it. Although I have enjoyed playing it, there are parts where it is frustrating due to the camera angles and the dodgy controls, but nether-the-less a good game which has a fair length to it; ten to fifteen hours for the main campaign and being 800 Microsoft Points; good value too.
8
Click here to view the article