When I first turn on Ghostbusters: Sanctum Of Slime I'm happy. I hear the unmistakable Ghostbusters theme tune and can't help but smile. I'm of a certain age where it brings me a sense of nostalgia and really makes me look forward to playing this game.
Sanctum of Slime could have been a great little game if only it tried a bit harder and also built on the nostalgia a bit more. We soon discover why it's really abbreviated to S.O.S.
The story has the same premise as the long awaited 3rd movie in the franchise, the classic Ghostbusters we all know and love are training up rookies so they can have an easier life. The plot is brought to us through nicely presented comic book style cut-scenes, these look kinda nice and they help to get the point across quickly and effectively, however, the developers must have been worried about people skipping these as there are 20gamerpoints available just for watching these all without skipping.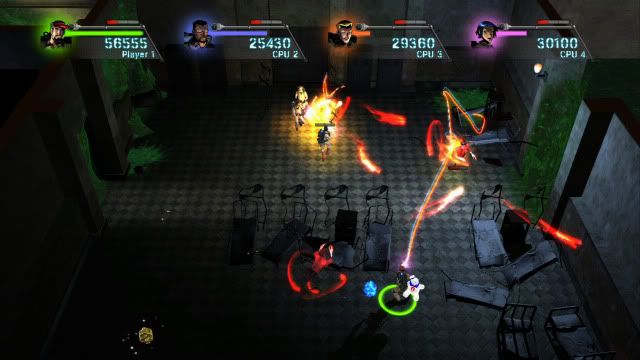 Playing as a rookie is nothing new to the Ghostbusters video games, the last game had us playing as a generic, voiceless character who had just joined the team. This wasn't a major problem for that game as even though you didn't really care about the playable character you always felt like an extended part of the team, you got treated like a rookie which was always good for a lil comic relief. Failing that you could just sit back, watch and enjoy the banter between Ray, Peter, Egon and Winston. It felt like you were taking part in one of the movies, no, it wasn't a perfect game but it was fun.
This game starts off with a new mission for the 'busters. Our heroes are a little too tired to go on this one so they leave it down to the new guys. Alan, Bridget, Gabriel and Samuel. Whoever named this new breed of Ghostbusters needs to be shot and I have a funny feeling that whoever wrote the dialogue for Bridget has already been shot. Bridget cracks a lot of jokes, none of which are funny. I didn't really manage to connect with any of the new characters to be honest, they will suffice, but, I want the old crew.
The game play will be very similar to anyone who has played games such as Alien Breed or Smash TV. Viewed from above you move your guy around with the left analogue stick and fire your weapon by pointing the right stick in the direction you want to shoot. All four characters are on screen at the same time and you are able to play on your own or with up to 3 players at home or on Xbox Live.
The game mainly involves moving from room to room shooting ghosts as you are directed. To start off with you are given the classic proton pack and told to go nuts, shooting ghoulies and smashing various bits of the scenery like tables and chairs. This starts off being quite fun, blasting everything that moves and most things that don't. Although I was hoping that something would happen when the proton streams cross but alas, nothing does. These enjoyment levels soon lower the first time you get stuck behind something barely visible on screen, or the first time the automated camera decides to go mad. I encountered both problems frequently.
A little while in you are given access to a couple more guns, neither of which are as fun as the starting weapon. Each gun is given a corresponding colour and you can cycle between them using the bumpers. These colours represent different enemy types. There are several different types of enemies, however, each of these can either be Red, Yellow or Blue. Please try and stay with me while I describe the complicated weaponry scheme. The Red gun is best used on the red enemies. The yellow gun is best used on the yellow enemies and there's also a blue gun, but I forget what that's for. The enemies themselves are something I don't want to ruin for you here, some of them will make you laugh, a lot, especially if you are with friends.
This game really does need to be played co-operatively, it is a lot more fun that way as you fight with your friends for the most points and to pick up the various power ups available by shooting poor ol' Slimer. Playing single player is a lot more stressful, the A.I. Is infuriating, it's decent enough for shooting but if your character dies then God help ya. When you die your team-mates have the opportunity to revive you, as long as there is one person left alive there is a chance to resuscitate everyone else. Here lies the problem. When you need reviving, your team-mates will stop whatever they are doing, they will stop shooting and just run as fast as they can to your lifeless body in the hope you can be revived. All well and nice apart from they will literally run through any danger to get to you and, more often than not, this will lead to their death as well and ultimately a game over.
At the end of each level there is your standard boss fight which involves yet more shooting, until you have taken most of the boss' energy off. At this point you get to hit the right trigger and throw out a ghost trap prompting a small button pressing mini game in order to capture the ghost. Again, this could have been implemented better as the game cannot process the button presses as fast as you will be able to press them.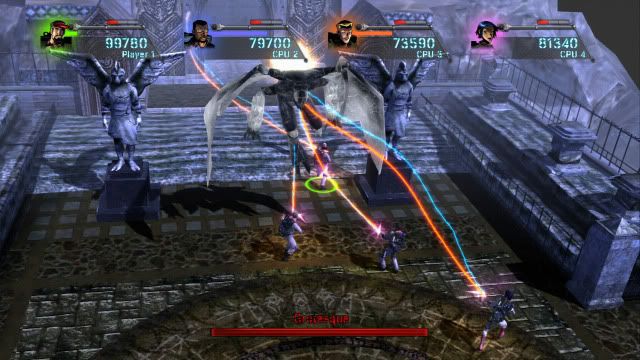 As I mentioned at the start, this game could have done with chucking a bit more nostalgia our way. There are some nods to previous moments from the films such as the Sedgewick hotel being the first level and collectibles in the form of the Stay Puft Marshmallow Man. There are more, but I'll let you find these for yourselves, should you be willing to give this game a chance. More variety wouldn't have hurt either, sure there's the occasional level where you are on the back of the new Ecto 4WD car, shooting in different directions, but that's about it.
If, like me, you grew up with the wonderful films, toys and T.V. Series you will really want to love this game. You will want to, but sadly, you won't be able to even like this game very much. While co-op play does add a degree of enjoyment to proceedings, you will find the graphics and game play simply failing to deliver. I'm thankful there is no voice acting here as Bridget's terrible puns are offensive to my eyes and it would be a shame to ruin the very well done music with her warblings. Sanctum of Slime isn't really a game I'd like to play again and I wouldn't recommend much more than the trial if you simply have to play it. There are much better games available for the 800 Microsoft points that are wasted here. I think I'll stick to Smash T.V.
5/10
This post has been promoted to an article