Be the weapon
The very popular Crysis, a first person shooter appears on the Xbox 360 in the form of Crysis 2. It's actually the third installment if you count the stand-alone expansion pack Crysis Warhead. Nether-the-less, up until now if you wanted to play Crysis you would have no other option but to play on a P.C. Coming onto the Xbox 360 is a treat for fans who wish to play with their Xbox Live friends, it's also a chance for those who do not play P.C games to experience Crysis, which has some very good, fun and unique aspects to it. For those who have played Crysis on P.C it is very much a game which people were looking forward to, for those who have not played it before Crysis 2 does a very good job of explaining the story.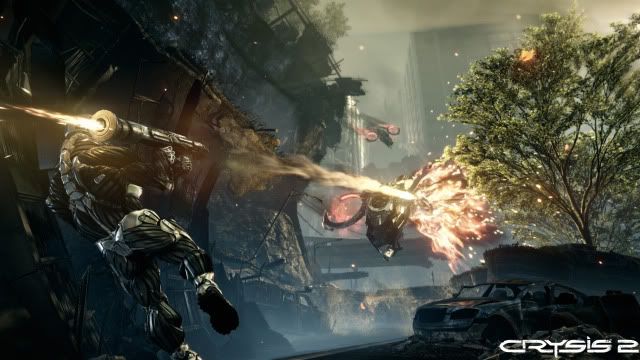 Crysis 2 is set in New York, a concrete jungle of buildings, a city which has seen its fair share of demolition and has been evacuated due to an alien invasion. The events take place in 2023, three years after the first game's events and this time you are playing as Alcatraz, Jake Nomad Dunn's successor. Armed with an array of weapons and a Nanosuit you are on a mission to save mankind. We've seen this story many times in games, saving mankind seems to be a popular topic, but Crysis 2 does have a very good storyline, told very well through its cutscenes. A good feature is the mission briefings as you are waiting for the game to load, it's a good place to put them without interrupting your concentration, it gives you something to watch and listen to instead of sitting there waiting for the game to load, not that it takes too long to load anyway. The story is also a decent length, engrossing and even on the easiest setting gives you a challenge, like many games nowadays it's like playing through a movie. The mini map is not always clear to see where you need to go next, you can get lost easily if you are not paying attention to the story. You'll be facing not only the aliens, but marines and other main enemies which are after your Nanosuit.
The Nanosuit sets this game apart from regular shooters, not only is this a protective shield when holding the Left Bumper, but it also makes you invisible with a cloaking device using the Right Bumper, that is until your energy runs out leaving you exposed to enemies, so for this not to happen you need to ensure you can get behind cover before this happens. You can also enter a tactical visor mode using the D-Pad to pinpoint targets which also doubles up as night vision. You can use multiple features at once, but using multiple will deplete your energy faster. As you play through either the Single Player campaign or the Multiplayer Modes you unlock upgrades for this suit, you'll be able to air stomp, use a threat detector or increase the rate in which the health recharges among others. You can upgrade Stealth modes, for example: increase the rate of time coming in and out of Stealth Mode, jam enemy radars and even identify where enemies are who using stealth mode.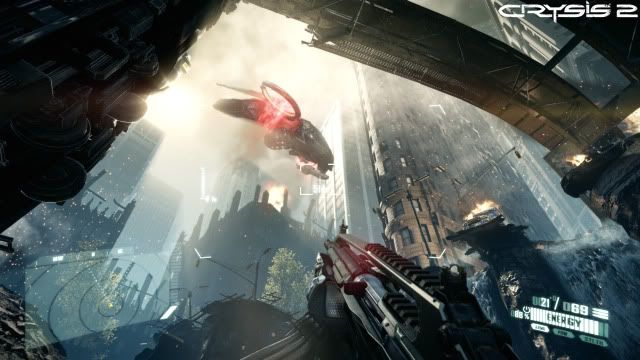 The weapons too can be upgraded with additional aids and extras. In fact Crysis 2 has very good customisable features. If you're one of these people who prefer online gaming you'll have to reach Level five before you can customise your class and there are five custom classes to unlock when you reach certain levels, but the standard choices you start off with give you plenty of choices and even more can be unlocked. There are your usual Sniper, Machine Guns, Shot Guns e.t.c. and also some surprises such as the K-Volt. Alcatraz can carry two main weapons and also grenades or a rocket or grenade launcher. The two main weapons and grenades are accessed with the Y button, whilst the others are accessed with the D-Pad. The back button brings up a suit customisation or by holding it a weapon customisation in Single Player mode or the leaderboard in multiplayer mode. Interacting with objects can be a pain as the same button is used for reloading the weapons, so often instead of interacting you reload.
Crysis 2 is full of statistics and not only are you levelling up on XP, but also on Armour, Power and Stealth. It has the usual screens showing you how many kills and deaths you have acquired, but also more as in how you use the suit, which weapons you have used the most and the amount of time you have spent on each of the six multiplayer game modes. The leaderboards are separated into XP, Kills, Accuracy, wins and skill kills and you can filter between all and friends only. There are also things to unlock and find. As you kill an enemy in multiplayer they drop Dog Tags which you can then pick up adding to your support bonuses. There are also skill assessments to complete which earn you attachment unlocks.
No matter how you like playing Shooters Crysis 2 seems to cover them all, whether you are a run in and shoot player or prefer to play stealthily or somewhere in the middle, you can play the missions many times with different tactics and play styles. You can use objects in the environment to aid you, things will explode, can be thrown and vehicles can be driven.
Graphically, Crysis 2 is up there with the best looking Xbox 360 games, but can be a bit dark in places; although a screen set up option is available my TV couldn't pick up the set up image no matter how bright I turned it up. It also supports true stereoscopic 3D.
There are rumours Crysis 2 freezes in certain parts of both the Single Player mode and the Multiplayer mode, well yes it did to me, but a simple reload of that particular mission cured it and it carried on fine. Multiplayer ran smooth with plenty of people to play with and it replaces the host if need be and with six different Multiplayer modes, many ways to level up, replay value through the campaign and downloadable content planned it is a game which will last.
Crysis 2 is a very capable, good looking, atmospheric, fun shooter with a good storyline. Crytek have done a good job, which is not surprising as they do have ten year's experience with P.C games. All it needs is a patch to solve the freezing issues and I can see myself bringing this out to play a fair bit.
9.1
Click here to view the article