Centre Court is yours
It's Tennis season again and that means one thing, it's time to dust off your Tennis Racket, work on those skills and take to the courts in the fourth edition of Top Spin. Top Spin 4 promises to bring the competitive action of tennis to life like never before with redesigned controls, jaw-dropping player models and enhanced TV-style presentation elements.
Featuring the largest roster in the franchise to date, including Andre Agassi, Bjorn Borg, Roger Federer, Jim Courier, Rafael Nadal, Boris Becker, Serena Williams, Patrick Rafter, Michael Chang, Dinara Safina, Andy Murray, Novak Djokovic, Ana Ivanovic, Ivan Lendel, Pete Sampras, Andy Roddick, James Blake, Caroline Wozniacki, Nikolay Davydenko, Gilles Simon, Bernard Tomic, Eugenie Bouchard, Stanislas Wawrinka, Vera Zvonareva, and Jelena Jankovic, have you got what it takes to travel the world and gain the number one position?
Top Spin 4 gives you a fair amount of different game modes to play, Exhibition, Career, King of The Court and Top Spin Academy and a good amount of Xbox Live modes including Player Match, World Tour where you try to get the number one position across Xbox Live and 2K Open.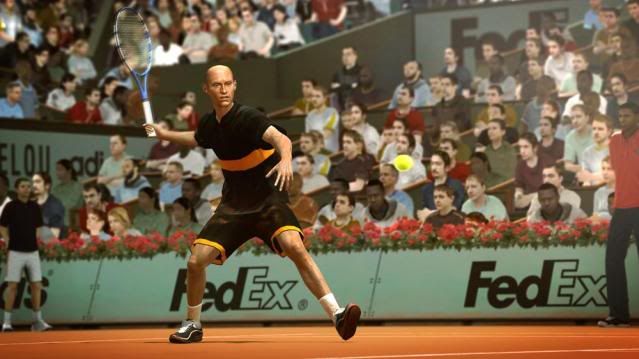 If you are lucky enough to own a 3D television, Top Spin 4 also supports stereoscopic 3D.
The Academy teaches you the skills needed with a coach and is the place you should start. Taking you through twenty six lessons, starting with basic, how to play the ball and keep the rally alive up to advanced then baseline offense and defense and serve and volley lessons. As well as practical lessons the academy also includes written and spoken words which further improve your knowledge and skill. I found this academy extremely useful in not only learning the different techniques but also learning the gameplay and it is worth completing it as it does help with the rest of the modes.
The gameplay is very much about getting the timing right, whether you are serving or returning the shot as a badly timed shot will result in less control, a meter above the characters' heads lets you know if you have timed it correctly. You also need to contend with a fatigue bar which can be an advantage if you see the opponents' bar depleting to get that crafty shot in you know they haven't got the energy to run after. There are two main shots which need to be mastered; Control shots which are a tap of the button and give you more control over the ball and Power shots performed by holding the button down which are less controlled but much faster, adding a spin to the ball to direct it. In fact until you have mastered the timing and control expect to get many outs. Advanced serves are perhaps the hardest to master but once you get into the swing of things Top Spin 4 is a joy to play.
Apart from the obvious choice of man or woman the player creator like most sports games allows you to create your character as you would like to see them, starting with the character's name. The facial features can go into a lot of depth including an advanced face editor and an expert one, by moving the points to define the shape. Morphology allows you change the body shape and height and the locker room you can kit them out in a variety of different clothes, rackets, haircuts, tattoos and other accessories. The customisation for Top Spin 4 goes into a lot of detail and you could easily spend hours in it.
Top Spin 4 has an in-depth Career Mode which sees you go from a Rookie to a Legend using a calendar of different events, sparring training and matches. Starting with Minor Tournaments you progress through to Major, Grand Slam, Dream Matches and Special Tournaments gaining XP and fans as you go and unlocking bronze, silver and gold coaches with different objectives to complete to earn you skills. Each month you can play a preparation event and one tournament, but can skip any you choose. Special events include unofficial events, charity, interviews, sponsor challenges and exhibition matches which are sent through to your messages. The XP is used to increase your player's attributes and is split into three strategy levels, serve and volley, offensive baseline and defensive baseline. You have the choice of which one to place the XP on and as your player level increases so does the amount of XP needed to move up. Your player is fully developed at level twenty. Along with the tournaments and events, Career Mode gives you a lot of statistics and ranking screens. You can compare coaches; change your player's clothes and appearance, even adding tattoos. It also gives you the choice whether to auto save or not. You also get four save slots so you can have four careers running at once.
The character's modelling has been done very well, you can see the material on their clothes and the facial expressions as they celebrate or commiserate in between sets. The courts look like grass, clay, carpet etc and are very detailed, right down to the groves in the carpet or the short blades of grass. You can change the camera angles to suit your style, bringing the court in or zooming out. The players resemble the real players and even have their characteristics.
The unmistakeable Top Spin theme is present along with national soundtrack, which seems to repeat a lot in the menus, the ambiance noises are what you would expect from Tennis, crowd cheering, umpire quieting the audience and the sound of the Tennis players themselves.
Being the fourth edition of Top Spin, you kind of know what to expect, this is Tennis as real as currently possible. With an in-depth career and quite a few modes to play you never tire of playing and it becomes very addictive. However, to master the game it is advisable to complete the Academy as the timing and different shots may be a little difficult to begin with.
9

Click here to view the article