The first person shooter is a tough nut to crack. Since the PC, First Person shooters have been stealing players away from other genres and slowly but surely, the genre has developed and grown in intuitive and clever ways. We've taken the bad with the incredibly good and currently, we sit within a FPS limbo. With the Call of Duty franchise wooing over a majority of FPS players, this genre deadzone is literally enough to make or break new series. But is now the time for something new to take in the limelight?
God I certainly do hope so. As groundbreaking as COD 4 was when it hit our consoles, the multiplayer, four games on has become stale with little real advancements and whilst the 'don't fix what ain't broke' saying would normally apply. Sometime down the line, minor changes and fannying about with over priced map packs just isn't going to cut it.
Enter Brink, a title from UK developer Splash Damage, known for titles such as; Enemy Territories Quake Wars and Doom 3. Brink brings an objective heavy, class based style of game play with some seriously creative parkour elements. Top that off with a unique visual style and some serious customisation and we could be onto a winner here.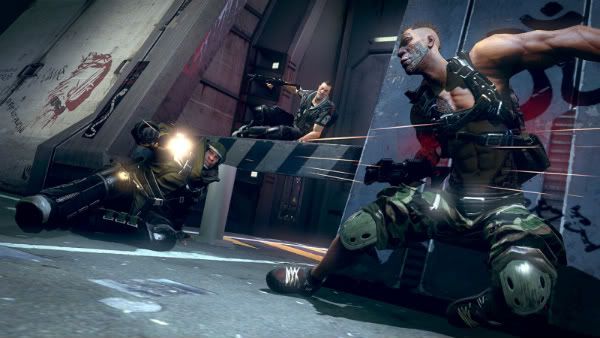 Brink is set some years into the future. Earth, now submerged underwater. A collective known only as 'The Founders' built a massive living complex known as The Ark, a floating city, to house people from the elements. As more and more people forced themselves onto the already densely populated man made island. Resources run short, and with the additional 'Guests' being treated as second class citizens compared to those with a richer life. A resistance begins to form in search for justice and escape.
From the get go we're given the option to choose which side to fight for. The Ark Security, the police force for the Island, trying nothing but to keep order within the complex and keep the founders and innocent families safe. Or the Resistance, the uninvited population which struggles against oppression and disease, living in shipment containers and other slums on the outsides of the island. The resistance seek equality, a voice to be heard amongst the founders and to leave the Ark in search of other life remaining on the world. From the beginning, we are clearly shown that neither team is the bad guy, yet there's darker paths intertwining with both factions, with secrets and discoveries to be made along the way on both sides.
Whilst Brink has its instruction videos from the start. Brinks game play can be a bit 'in at the deep end' even for the most experienced FPS players. With the only playable tutorials besides the videos being the challenges, getting stuck in with the campaign missions is probably the best way to go about it. Learn by doing. The movement of your character, and how the guns feel and handle are easy to get your head around. Those familiar with games such as Team Fortress 2 will understand the class roles fairly quickly, it always pays off to check out the perks. In the game you have 4 classes.
Soldiers have access to Heavy Explosive charges, making this the guy you'll need to be when something needs destroying, naturally. The other main perk of the Solider is that he can carry more ammo than other classes, and his team effect is the ability to re-stock himself and other players with ammo.
The engineer is our handy man of the team. When objectives involve repairs or construction, engineers are who you need. This class also has the ability to lay mines and place auto turrets around to aid players. Its buffer perk is to add damage multipliers to your weapons.
The Medic, is...well. Do I really have to say? When your incapacitated, if a Medic is feeling a little Nightingale then they can throw you a revive syringe which you must use yourself. Medics can also add more health to your character.
Finally, the last class is the Operative. This class is the electronics' guy of the team with the ability to hack objectives as well as disguise themselves as the enemy team. Each of the four classes has no other attributes besides what they can do for the team and sometimes the circumstances. It pays off to experiment with classes and become familiar with their perks so you can utilise each class when needed. As you progress with XP through playing the game you can unlock extra character perks which will enhance and upgrade your characters and classes to further make you a more useful unit on the battlefield.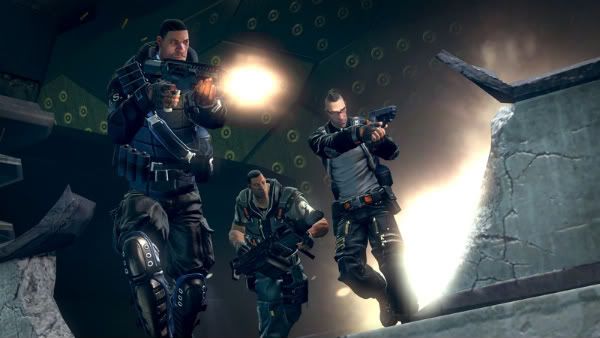 Long gone are the standard days of death match. Brink is a strictly objective based multiplayer experience which is more than welcome. Too often Ill play First Person Shooters ignoring almost all the play lists just to play endless rounds of Team Death match and similar games. Brinks objective based nature and elements allow you to work as a team without even realising. Everyone in a group of friends has that 'lone wolf' (If you don't know someone like that. Then its you) Even they can unwillingly work towards the common goal with the A.I based command wheel which will give you a selection of objectives for you to personally complete to aid the full team. These objectives change on your location, your current class and the situation your faction are currently facing, whether you're the front man in disarming a Heavy Explosive charge or your needed to revive a fellow team mate in need of help. And if you
are
strictly a TDM kinda guy. Shooting people always helps. Regardless of the situation.
Fluid movement is something that has made Brink really stand out amongst the crowd. Those of you who have played the EA title Mirrors Edge will know too well how important it is to have a smooth control system and good level design to ensure the parkour elements in the game work smoothly. Brinks systems do just that. Everything in the levels have been designed to interact with in some way or form, whether its to quickly jump over, or to slide past for cover, the Smart system works really well. It's a new and fun way to learn the maps and makes for interesting ways to traverse them, with shortcuts becoming instantly attainable by all with a simple manoeuvre. The system will however reward you for getting a little creative. By pressing and holding one button you character will sprint, with the button still held any objects you map come into forward contact with will be easily traversed providing its possible. However those a little familiar with the movements and layouts of the level will be able to chose your own route. With the A button also providing a jump button and the B also being a the slide button, you can get a little creative by adding in wall runs and timing your own jumps to getting to places you wouldn't normally go. This allows newcomers to become familiar and confident with the system whilst also providing veterans new routes and escape paths.
One of Brinks main development missions was to blur the lines between offline and online game play. Campaign missions, Challenges and the online free play mode can be fully played in both competitive and co-operative play, if you wish not to play online then you can chose to do so within the settings but if you don't really mind then the majority of your campaign missions can sometimes be joined by fellow gamers playing co-operatively, the motion is fluid and doesn't halt the game play what so ever allowing for a seamless drop in drop out online service. Players that leave early will simply be replaced by the A.I. bots provided, and vice versa.
Another thing which really lends itself to Brinks individual style is the weapons. Your armoury consists of some of the most menacing looking weapons you'll see in a video game this year. With some weapons taking inspiration from real life ones, each weapon is totally unique. Weapons vary from Assault Rifles and SMG's to Pistols and Sniper rifles with a shotgun and grenade launcher in there to mix things up. Better yet every weapon has a selection of attachments that can be added and switched between to suit your play style, all the favourites are there, Red dot sights, scopes and underslung grenade launchers are there, with more tactical additions like the 'weapon slings' for faster weapon switching and advanced iron sights for better peripheral vision. Everything is taken into account for the weapons in both statistics and style giving you some one of the most daunting armouries I've seen in a long time. Each weapon however doesn't just look the part, it sounds it, with some pretty heavy gunfire coming out of some of the weapons you'll be feeling each and every round as it pounds through your speakers so much so you might even considering adding a silencer to your guns just so you don't wake the neighbours.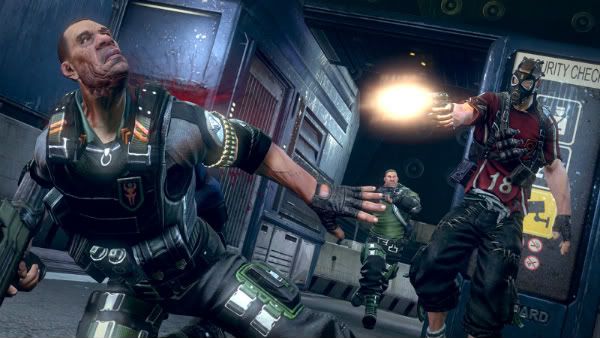 The visual style of the game is a deliberate take on realism yet still leaning towards a cartoony style. What we get is a style more recognised to the likes of Team Fortress 2, after a weeks binge on the gritty realism of Grand Theft Auto 4. The style is a nice refreshing mix of looks which allow the character design, costumes and weapons to be almost instantly recognisable as Brink. The settings of the level and the Ark in general vary from the clean futuristic building design all the way to the darker slum cities made from shipping containers and other resources.
The developers from the get go originally said that you could play Brink entirely story free. Now, whilst that's great for some, I do enjoy a good story, and from what I've gathered from playing the game so far, I am generally interested in the history and future of the Ark and its people. Though Brinks story is hard to follow as the majority of narrative is within the loading screens (via voice) or in the short scenes before and after each match. The reason being it's so hard to follow is not only are both those things skippable but the cutscenes fail to flesh out a lot of the main story plots I.E. What the sickness is and why people are getting it and who are the founders and where are they? Other things like the fact the missions are loosely based around certain characters, it would be fine if we actually knew who these characters were and what place they had in the Brink universe. Not to mention which story is most canon.
Brink seriously delivers on the game play, graphics and just general fun fronts, but the amount of content can also leave you a little empty. The 10 campaign missions for both factions can keep you going but the levels aren't exactly long. There are a handful of challenges and they are generally quite easy. The weapons and attachments are almost completely available from the get go, with only 5 ranks (albeit the ranks require a lot of levels and experience) it wont take players long to have a totally maxed out character, top that off with only 36 achievements and Brink may face the danger of becoming too stale too quickly for some. Whilst Downloadable Content has been announced for Brink this June (for the price of nothing as a thank you due to the lag issues fixed this weekend) the content will most
definitely
have to be something a little more than just map packs. New weapons, challenges, achievements and maybe even campaign extras will be required to ensure Brink has a fighting chance amongst the First Person Shooters set for release this year.
8.5
This post has been promoted to an article