Dead Space 2 has been out for a little while now, but what was it that truly made it a fearful experience for you? Was it the idea of being isolated in space with nothing but monstrous cries to keep you awake? Was it tiptoeing around corners in hope there's nothing big and nasty behind it? Hell no, it was the music that kept the hair on the back of your neck stuck up like that and I got the opportunity to have a chat with the man behind it, Jason Graves.
Mechanical R: How did you first get into composing music?
Jason Graves:
It seems like I've always been banging on something, whether it's a piano, a drum set, or guitar. My parents even have a picture of me sitting at the upright piano in the den when I was five years old. I have these huge headphones on, because it was the late 70s, and this wonderfully serious expression on my face.
MR: Was writing for games your ultimate goal?
JG:
Definitely not! I originally had my sights set on composing for film and television. But of course, this was more than 10 years ago. No one was really talking about writing music for video games. It was definitely more of a niche market And a lot of people think of it as a lesser art, even a few years ago. The irony there is I really feel like games is the place to be for composing music. I thought that since I worked on my first game nine years ago. Now it seems like everyone else is starting to take notice and jump from film or television into games.
MR: Has writing pieces for Dead Space been any more engaging or taxing than writing for other franchises such as Star Trek or Command & Conquer?
JG:
More engaging and taxing? That would be a big yes for Dead Space, but in the best possible sort of way! The Dead Space universe and mythology is so well laid out. It really is an immersive experience in so many ways. I think a lot of it has to do with the fact that the music is so scary. With scary music, you don't have to obey any of the "standard musical rules" that most other kinds of music hold a composer to. In fact, I found the music gets more scary with the more rules you break!
MR: Has the writing been any more fun or experimental than previous work?
JG:
Any of the Dead Space titles are an absolute blast to work on. The biggest challenge for me is trying to find ways to keep myself interested as a composer. As a result, I end up exploring different things than I would in any other game. It's definitely a lot more experimental, and by natural extension a lot more fun, than most titles I get to work on.
MR: Dead Space's combination of psychological fear and all out panic must be very demanding on the composer to create two styles of suspense, was this easy? Or was it hard to create a balance between the two?
JG:
I can sometimes get very wrapped up in trying to figure out how to balance different aspects of the score. Whenever I find myself running in circles, I always go back to basics. For me, it essentially boils down to the emotions the main character is feeling. I put myself in that situation and try to distill that emotion into a piece of music. So I guess I'm not consciously trying to balance fear and panic, I am simply scoring the scenes in the game as I relate to them as a player.
MR: Has Isaac Clark, Dead Space's main characters story aided in creating more powerful pieces whether emotion or fear?
JG:
Absolutely. Isaac is a lot more vulnerable this time around. As a result, I had the opportunity to compose music that portrayed his emotional vulnerability. I used a string quartet in many scenes of the game to reflect this. This small, intimate ensemble is exposed, naked, defenseless. Just like Isaac. On the opposite side of the coin, I call upon the power of the entire orchestra to churn, gnash, mutilate and otherwise sonically destroy the musical scenery for the rest of the game. In essence, the orchestra is one giant musical Necromorph.
MR: Are you pleased with the overall success of Dead Space and how well received the music you created for it was?
JG:
Wow, that would be the understatement of the year! I truly feel blessed to be able to work on such an amazing franchise. That fact that it was fairly well regarded by some of my peers is just the icing on the cake for me.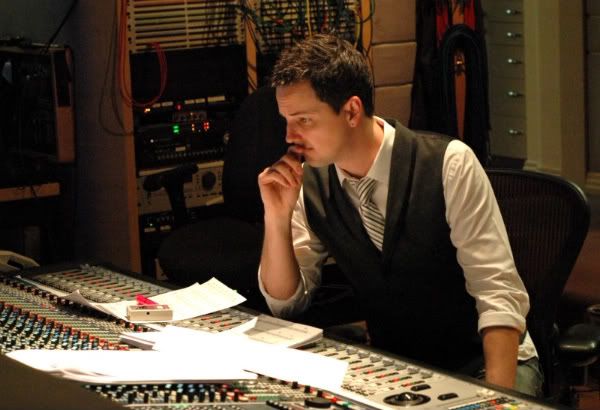 MR: How will Dead Space 2 differ from its predecessor in the sense of generating that fear that Dead Space oozed at every moment?
JG:
I think it's the psychological fear that gets players so scared. It's the "not knowing what's around the corner" that puts you on the edge of your seat. There was plenty of that in the first game, but I've switched things around a bit for the sequel. Musically speaking, a portion of the score lulls the player into a false sense of security with the plaintive, raw sound of the string quartet. But then it turns on a dime and can rip your head off. I think that sonic dichotomy really pushes the envelope and makes this trip into the world of Dead Space that much more unpredictable and scary.
MR: How do you go about creating some of the pieces? Do you have control in deciding where and how often in the game your scores will emerge?
JG:
The implementation is really up to the developer, but I do work as closely as I can to make sure I'm giving them exactly what they need for the best possible in-game experience. We always chart specific cues out before I start them, as far as what purpose the music will be serving and how it will interact with the game.
We had a few pieces that I wanted to rework the implementation for. It wasn't really much of a composition thing - the piece actually stayed exactly the same. What I changed was the different instruments that were playing at different interactive moments in the gameplay. It still amazes me what a difference a bit of tweaking here and there can do for musical impact. I would say implementation is easily more than half the experience when it comes to game music.
MR: Are you a gamer yourself?
JG:
Yes I am. I'm definitely a third or first person shooter at heart. That's kind of cool, because that ends up being a lot of the kinds of games that I've been working on. So I definitely play when I can, but I found in the last few years that my "play time" ends up turning into "family time." I'm usually either playing or watching a movie of whatever game I'm working on that particular day. As a result, I've basically been playing shooters all day long and I'm ready for a break. Which is totally fine with me! I've got two little kids and we have a lot of fun playing Wii or PlayStation together in the evenings.
MR: Are you working on any other titles this year?
JG:
I recently scored FEAR 3, which is coming up next month. City of Heroes is constantly updating their downloadable content, which includes music. It seems like I'm working on that title about every other month now. I'm also close to wrapping up the music for Prey 2, which was recently announced. There are a few fantasy titles on my plate as well, one comes out this summer and the other this fall. And of course, there always the Uber secret projects that I'm not even allowed to mention!
MR: Thank you very much for your time Jason.
JG:
Thanks a lot. It was my pleasure.
This post has been promoted to an article