The Xbox Live Summer of Arcade has returned and in true SoA style it plans on bringing some highly anticipated arcade titles to our consoles. The past two Summer of Arcade promotions have brought us infamous titles such as Braid and Limbo. Becoming a pair of the most popular games to grace the arcade rosters. This year's month of arcade games doesn't plan to disappoint either with first up on the chopping block, Bastion.
We play as white haired anime like character known as the kid, forced to find is way through the world he once knew, only now left in ruins and full of creatures on every corner. The Kid soon meets a stranger named Rusk who manages an unaffected area of land called the Bastion. The kid then sets out to rebuild the world currently in disorder from the unknown 'calamity' which had ravaged their world and discover the secrets behind it all.
Bastion is an Action RPG at heart. What's great about it is that it's a very basic style of RPG. Almost like a Lite version, which is enough to keep RPG fans occupied, but also not deep enough to estrange newcomers to the game or playing style. Rebuilding the world and the Bastion gives you more options and choices to make you a more formidable foe in the wilds. The combat is simple allowing you to have two weapons, a special ability and your shield which can be used to block and counter attacks. The combat itself is very easy to get into with a more dungeon crawler sense of style meaning you'll have free roam to get stuck right into the action. Or run around like a loon with low health in search of a health potion. None of that turn based fixed position stuff that many people may associate with RPGs. There are plenty of weapons to unlock on the way from bows and pistols, to more melee weapons like hammers and spears. It really pays off to experiment with load outs to get a good mix to suit your play style and then of course upgrading them to suit you even better.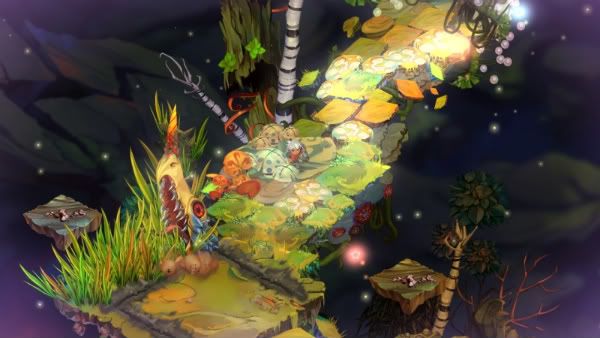 As well as the main game to play you also have testing areas for each weapon; these give you rewards varying on how well you do as well as give you a little bit of practice with each weapon. Though if you're after first prize for them all you're going to need to invest a little in the upgrades for them as they can get quite tricky. If the game seems too easy for you, you can also turn on God idols. Similar to the Skulls from Halo, switching these on will have an effect on the game in a way to make it harder, like faster enemies, better damage resistance or even dropping explosives when they die. Obviously, with risk, comes reward and you'll be given much more XP and money for completing missions for the story.
Bastions visuals are colourful and unique. Using a mix of 3D character modelling on 2D settings and backgrounds make for interesting visuals, the game keeps a drawn, sketched style whilst still retaining a serious side with more computer aided visuals. Another cool feature in the game is as our character walks around on most areas, the level will actually fall into place in front of him. Paving will rise from underneath you, whereas buildings and greenery may fall from the sky. It all makes for an interesting and appealing take on level design and makes it instantly recognisable. Throughout, Bastion is gorgeous to look at.
The music in the game isn't really something most gamers may take note of, but its all just another part of the game which really seals the experience, the mix of wild west style riffs mixed with some ambient drum fills do well to fill the space in between Rusk's narration. The music isn't there to pump through to fuel your crazed creature genocide, but it is always present, setting the mood should the locale, or sometimes the narrated story need it.
There's something unusually satisfying about the narration in Bastion. Since it's a rather unused story telling tool in video games, the narrator is able to tell us parts of the story in which we wouldn't usually find out through the course of the game. The history and how the world came about to suffer against the calamity are hard subjects to bring up since it's already happened when we begin playing. He also narrates the Kids life as you play, entering certain areas, fighting enemies, dying or even selecting certain weapon load outs and items are all commented on in Rusks wise and soothing tone. There's something quite cool about having everything narrated. This, with the music in the game are just about perfect for Bastion adding those little extras that make it stand out amongst the famous titles such as the aforementioned Braid and Limbo. Both games where the unique visuals and creative music and story telling really set them apart from other arcade titles.
Bastion is a good length for an arcade title, however I managed to finish it rather quickly due to just not wanting to put it down, and well. Can you blame me?
But there are plenty of things to keep you coming back to the game. The game has two endings and once you complete it, you're able to play the game again with your XP and upgrades fully intact, giving you more time to complete some of the challenge vigils you didn't get last time, or even testing your skill with those cursed God Idols.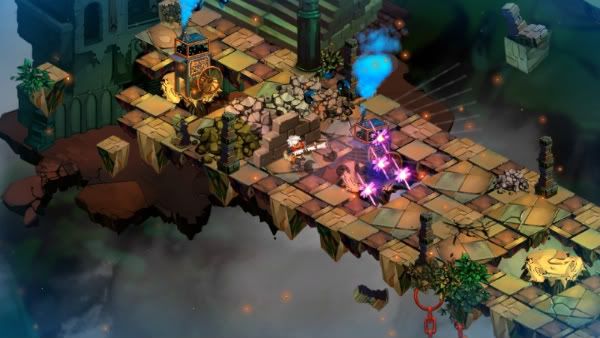 Bastions addictive and immersive game play brings great value for money and is one hell of a way to kick start the Summer of Arcade. With the current games climate as dry as it is, this time of the year is the best time to pick up older titles or lesser known ones that might be on the cheap. The Xbox Live Arcade is no different in its share of gems and Bastion is definitely one of them, a great start to the month of Arcade and will be a hard one to beat in the next coming weeks.
9.0
Click here to view the article