Now, I had quite the bad experience with Operation Flashpoints previous adventure 'Dragon Rising' but the thing that got to me the most was that I really did want to get on with the game. It had a set-up to be a great tactical and most importantly co-op shooter, but it just failed to deliver to me in a lot of ways. So when Red River was announced I kept my ears and my heart open for Flashpoints second chance to win me over.
Like Dragon Rising, Red River is a brutal kick to the teeth to anyone who considers themselves as a hardcore FPS player. In some cases, you may actually be a hardcore FPS player who may find this statement moot. But Operation Flashpoint has been known to bring even the biggest players to tears. Its constant large scale combat mixed with realistic weapon accuracy and even more realistic damage hit points gives a more heavier approach to what most gamers may have expected to be yet another gun-ho approach to war. You'll definitely feel the pressure when enemies are flowing over the hills and you're blindly shooting whilst trying to not only save your own ass, but three other soldiers part of your fire team. Red River, whilst a little bit easier than Dragon Rising, still gives you quite a hard time and wont feel bad about bullying you, stealing your lunch money and fornicating with your mother after either.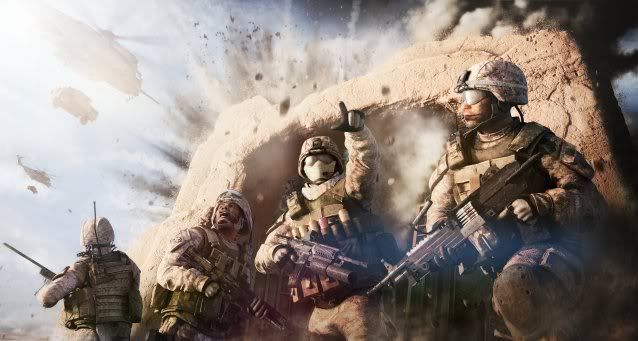 After launching the starting level, one main issue came across to my attention. This game would be quite long. Whilst there's nothing wrong with having a game that's got some fairly long levels, in a co-op mode, that's pretty much exactly what you want, its still going to be a long ride for those going lone wolf. The one thing that killed the flow of things was the trips in the vehicles. Each level starts with you entering the area by either hummer or helicopter. Unfortunately this means you're going to spent the next 5 minutes listening to Knox and co talk for what can seem like an eternity. It was borderline sending me to sleep with it all when in fairness I just wanted to get right in the thick of it and get on with the objectives.
For those who choose to play it alone, the game gives you full control over the three men apart of your fire team in the form of orders. The game has a very elaborate command tree which allows you to order your men to pretty much do anything, from clearing buildings to changing their rules of engagement. A second command tree also allows you to order a vast amount of air strikes and assists, however you can only use the when the game allows you to given the objective and strangely enough, despite having all those different things to choose from, I never actually got to use them all in the game as it simply wouldn't let me.
Also new to the Operation Flashpoint games is the ability to upgrade your characters and load outs. Each of the four classes you can play with have a level count of 20. Earning experience points by playing with the load outs will earn new weapons, attachments and character perks for you to choose from to give you plenty of options to suit your play style and to prepare for what the missions may entail. Something that's probably easily overlooked. Your character as a whole is also upgradable, with things like increases on sprinting/accuracy and enemy spotting, these will help by the bucketload if playing with a group of friends on the harder levels. Earning these points requires you to get medals for finishing each level. Not letting your fire team die, not having to restart at checkpoints and completing the level in a faster time will all help in earning a Gold medal which will in turn give you three points to add to your overall character attributes.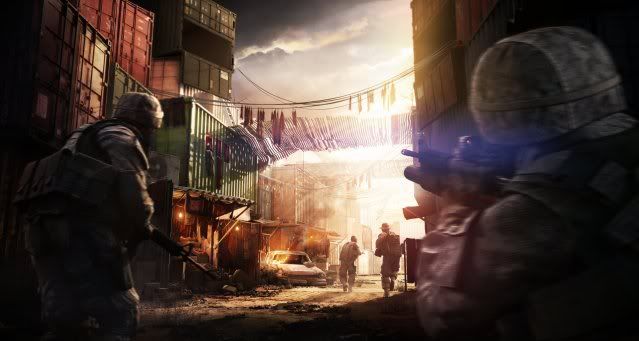 Whilst the game does look good., when playing alone it can become quite samey. Something quite expected in a game set in one area but gets a little boring on the eyes. Similar to Dragon Rising, the level is open world. However after the complaints of DR's distance between objectives was so unbelievably long, Red River whilst still giving you the entire area to roam, you'll still be confined to one area of the level as your objectives are kept reasonably close ensuring you wont be walking to every point of the map for one mission. The playing area is very large which does mean that you wont often see the same place more than once. Mountains, fields, large and small settlements all inhabit the land increasing the sense of depth in the world. For once, having an enormous area in a game works out well. Lessons learnt from games like Dragon Rising, and even off road racer FUEL.
One of the first things you'll first notice is the complete removal of a competitive multiplayer experience. Whilst I never fully got to grips with Dragon Risings multiplayer, what they've replaced it with is personally a lot more appealing. Instead of a competitive multiplayer, they've added a series of co-op or single player mini missions. Separate from the main campaign these missions include eliminating areas of enemies, rescuing and extraction downed chopper pilots and protecting convoys. Each level has a primary and optional secondary mission to complete for bonus points and has an arcade scoring system which scores you on your full completion of all missions, kills, time you completed in and how many casualties or deaths your team took.
There are medals and character upgrade points available not to mention you'll gain character specific XP for it, but with two missions for each game type, after a little while you sort of start to feel like it could have done with some more of them, there's definitely space for more yet only two missions are available. No doubt a deliberate hole left to fill for Downloadable Content.
Co-up is definitely the name of the game this time around with Red River, booting up the game will immediately throw you into a lobby in which friends, or other Xbox Live players can join you from the go to take part in some co-op Campaign missions or the Fireteam Engagements. Co-op is definitely what this game has needed to focus on and Red River finally delivers us with what actually suits the game perfectly.
Sgt Knox talks you a lot through the game which is a welcome change from the mute characters of Dragon Rising, but after a few levels, his conversations begin to repeat. With his constant reminder of 'Knox Rules', Knox decides to repeat himself to you as if your a brand new character in each and every mission, this grates fast and you'll soon be wishing Knox was on the other team. Besides is infernal constant babbling, the sound used in the game does well to create a sense of depth. Obviously, the visuals do well enough to show you each area is an enormous place to traverse, yet the audio from even gunfire gives you that sense of realism. Being sniped at from a distance, taking heavy gunfire inside a building or even just swarming an objective with your squads becomes that little bit more special with the help of good audio, both the environment and your friend wailing down the microphone as he finishes the last few rounds on his LMG. Rambo style.
The Operation Flashpoint franchise is for the hardcore. Always has and always will be. Red River shows its willing to change itself to maintain the hardcore style and game play, but tweak itself to allow more and more players to get involved and give it a try. But with a FPS industry filled with COD's and imitations, will the public be brave enough to meet Flashpoint half way and give it the go it deserves?
7.5
Click here to view the article