A game on the showcase floor you probably haven't heard of is Binary Domain. This title caught my eye on the shop floor purely through chance of having a free console going as I was passing by, however this chance setting managed to put the game on my radar for future investigation.
Whilst the game doesn't boast stellar new game play or much in the sense of ingenuity. Something stands out with this team based first person shooter. Fans of games like Vanquish and Lost Planet 2 will enjoy the fast paced action orientated shooting against a variable amount of robot enemies varying from the likes of standard crash test dummy like bots, all the way to giant insect like mechs. My short time with the game showed some extensive environment and enemy damage which, especially in the boss battles gave a really satisfying feel to show you were really dealing some damage to these giant mechanical brutes.
With that Vanquish feel, there's always something going on for you to look at. Whether it be some heavy fire fights through dilapidated streets. Or staring at awe at the sheer size of the next enemy your about to encounter, Binary Domain does a lot to impress.
Binary Domain will be available in February 2012 and will feature single player campaigns and full 12 player competitive multiplayer modes, its possibly the sleeper hit of Eurogamer and definitely one to watch!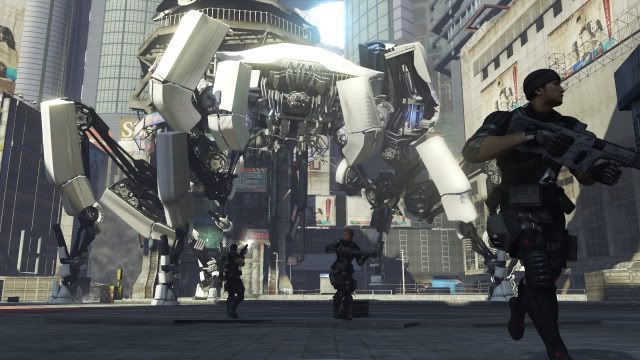 Click here to view the article