Hands up those of you who played Halo: Combat Evolved ten years ago, back before Xbox Live and when there was no multiplayer unless you used Xbox Connect or system link, I know it seems Xbox Live has been around forever but it really hasn't. Built-in Xbox Live is just one of the new features for Halo: Combat Evolved Anniversary created to celebrate ten years of Halo and a feature we now take for granted. I had a chance to play some multiplayer and watch a presentation from Jessica Shea, Community Manager for 343 Industries on Saturday at an event called The Gathering 2011.
Of course Halo nowadays probably means multiplayer to most, there have been tournaments, leagues and many other ways of playing on Live since, but Halo has always had a great storyline behind it too and Bungie had nurtured it into a very popular franchise; if not the most popular exclusive for Xbox. Halo: Combat Evolved Anniversary is the first Halo title 343 Industries are developing and from what I've seen they've done a very good job.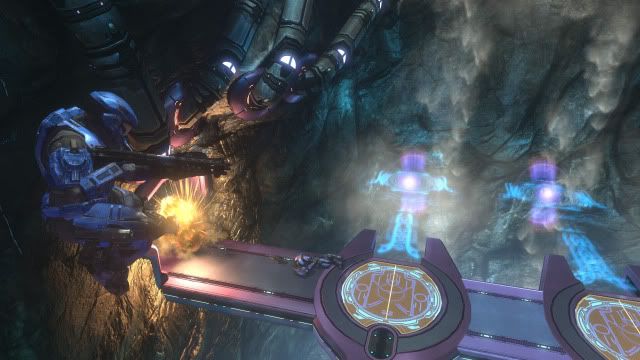 Halo: Combat Evolved Anniversary will be shipping with seven of the most popular maps, including Timberland, Prisoner and a new Firefight map modelled on a mission. All have been remastered in the Halo: Reach engine and merged with Reach, but Reach is not required to access all seven. These maps have been inspired by maps from Halo: Combat Evolved and Halo 2 and will include parts you would recognise if you are a seasoned Halo fan, but have been altered to make them feel fresh. There will also be Xbox Live and local Co-op.
The campaign is the same story as Halo: Combat Evolved, but it now includes achievements, new skulls, terminals, Co-op and has been brought into 2011 with many improvements to the graphics and audio.
Of course ten years ago we didn't have HD or 3D, Anniversary supports both. Through the campaign you can switch from HD to what it was like ten years ago (Classic Mode) just by pressing the back button on the fly without interrupting your game, there really is quite a difference and you can do this how often you wish. Although, Halo ten years ago was revolutionary you can really see how far we have come. Using a 3D TV, if you are lucky enough to have one the game really jumps out on you although the weapons seem to more than the background.
Other parts which have been remastered are the soundtrack and weapon noises; Pyramid Studios and Sky walker Orchestra have re-recorded Martin O'Donnell's original soundtrack to make it clearer and to work in 5.1 surround sound and from what I heard it sounds awesome. When asked to explain the difference in the weapon noises Jessica Shea, Community Manager for 343 Industries said they made a heavier sound and they certainly have a meatier, deeper noise.
Through my brief look at Halo: Combat Evolved Anniversary, my time with the multiplayer and the demonstration from Jessica Shea, it certainly looks as if 343 Industries has succeeded in bringing Halo: Combat Evolved not only into 2011 but to a new generation of Xbox Live gamers who hopefully will appreciate the story just as much as we did ten years ago.
Halo: Combat Evolved Anniversary is being released on Nov. 15th, 2011.
Click here to view the article