Max Payne returns in 2012 in the 3rd instalment of the series in an explosive, gritty action which will appeal to Max Payne fans and those new to the series. Max Payne is the first in the series not to be developed by Remedy Games, but Remedy has given a lot of impact, instead it will be developed by Rockstar Studios.
Rockstar introduced some revolutionary original features such as bullet time into Max Payne which helped you control your own action movements and some really strong narrative and what they are trying to do with Max Payne 3 is stay strong with the franchise and advance everything to create something a modern gamer would be interested in and the most cinematic, action packed shooter you could imagine. They are packing in as much detail as possible and remaining very much focused on Max Payne.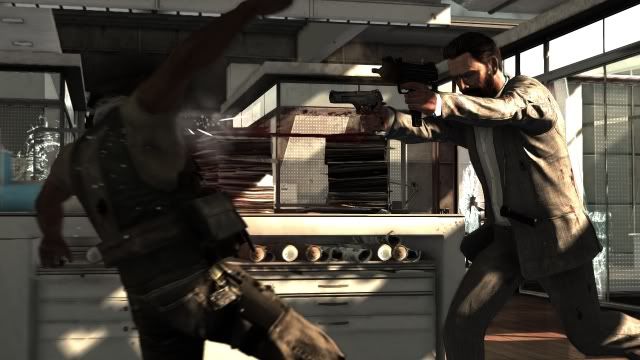 At the end of Max Payne 2 Max is down on his luck, at the bottom of a Whiskey bottle, traumatised by his past, hooked on painkillers and he has left the Police force. In Max Payne 3 he is reluctantly persuaded to take a job as a security guard for a wealthy family in Sao Pau, Brazil by a friend from the Police force who shows up in his apartment, however before this can happen he gets blamed for a mob boss's son's death. Max eventually makes it to Brazil where he finds a hostile, unfamiliar environment.
There have been a fair bit of changes and improvements. First thing to notice is Max has a new look, his shaved head and beard makes him look the part and as we virtually walk around his apartment in New York in the demo which we are shown the attention to detail is brilliant, there is a picture of Max and his daughter sitting on the side, empty Chinese take away boxes on the table, scribbling on the wall and plenty to look at and explore. Through a series of flashbacks we see Max as we knew him, clean shaven wearing his trench coat. Some parts take place in New York, some in Brazil.
The bottom right comer of the screen shows the classic silhouette which represents Max's health and the number of painkillers. The weapon wheel is similar to Red Dead Redemption with four different slots and you can carry single arm side arms at once and you can combine them in any part of the wheel and the bottom slots are reserved for double handed weapons like shotguns and assault rifles. Classic Max Payne duel wielding is in there.
No details have been spared in this one; you can see the charred remains of a suicide bomber, bodes cut in half, limbs lying around. The level of detail of the weapons, empty shell cases flying around and even unique serial numbers for each of the weapons.
A big part of the game is they have added hundreds of thousands of custom animations for each of the characters, so they act completely dynamically. Max Payne 3 will be the first Max Payne game to use a cover system.
The upgrades to the character movements include; as Max is walking you can see him placing each foot realistically, he never slides around and does definite movements, as Max changes direction he positions himself, moves his feet and shifts his weight moving side to side which is a massive improvement from previous Max Paynes. Max braces himself for impact, putting out his arms to steady himself, enemies heads will snap back realistically, other details are when Max gets shot you can see blood soaking through his clothes, entry and exit wounds and he will get sweatier, discolouring his clothes.
The best way to win is to use a combination of shoot, dodge and bullet time and accurate shooting, so you're not always in bullet time and the action is varied. There are tons of ways to approach each section using the environment. There is 360 degrees shooting and the target will always remain in front of you.
The bullet cam from the original game which was used for Sniper rifles from Max Payne 1 and 2 has been upgraded to the final kill countdown which can be used with any weapon, gives you a stylish finish to the last kill, you can speed up or slow it down and the camera angles will change. If you have a painkiller left you get the chance to kill the guy to shoot you and you will get a health boost.
James McCaffrey the voice actor of the first two games is back, but he won't only be giving Max's voice in the game but also be doing a large proportion of the motion capture as well to give a more rounded sense of the character.
Max Payne 3 has had a lot of improvements; the level of detail is brilliant. This is Max as we've never seen him before, a few years older, more world-weary and cynical than ever.
Max Payne 3 is set to be released in March 2012.
Click here to view the article