Residing in the Pinball Hall of fame in the U.S.A are classic Pinball tables, thirteen of these can be found in Williams Pinball Classics. These tables are usually reserved for the lucky few but now we can play them on Xbox 360.
Williams Pinball Classics features thirteen classic tables faithfully reproduced from the originals, including the original audio, digitally remastered. Ranging from Jive Time from 1970, up until No Good Gofers from 1997, these are some of the best Pinball tables ever created. Williams was one of the major forces in arcade amusement history. In 1973, particularly Pinball, but they later entered the Slot machine market, eventually transferring all of the copyrights and trademarks in its video game library to Midway, closing their Pinball in 1999.
The game is split into three modes, Arcade, Williams Challenge and Tournament. In Arcade mode all of the tables are unlocked but only two are free to play the others require various credits to be spent. Each table can be played with up to four players and you get three balls.
As you play through, the table's credits can be earned which can be used to unlock them for freeplay, alternately by completing the table's goals you can choose which one to unlock for freeplay, there is also a chance to earn one more credit by matching a number when it's game over.
Each table has sets of goals to complete starting with Basic goals and moving to Wizard goals, these goals really do test your skill. They also have their own high scores with an overall leaderboard for each available in the main menu.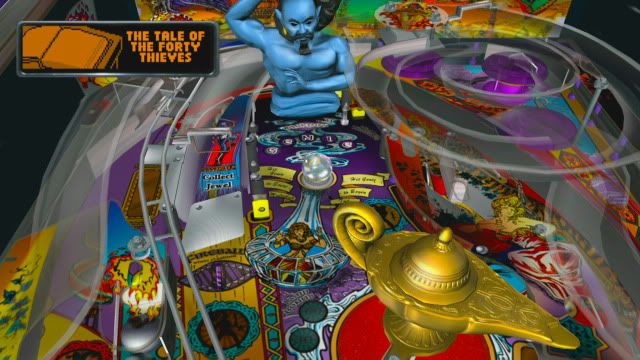 Each table also has its original flyer to view and in depth instructions to help you achieve those high scores. Through the options you can also turn table reflections on or off among other options and choose the music you would like to hear from the track list. There are also unlockable options, custom ball, tilt and you can also unlock mirror mode. The instructions are extremely well done, as well as text you also have audio and diagrams showing you exactly where to aim for.
The full list of tables is;
Black Knight
Funhouse
Gorgar
Pin*Bot
Space Shuttle
Taxi
Whirlwind
Firepower
Jive Time
Sorcerer
Tales of the Arabian Nights
Medieval Madness
No Good Gofers
Using the right stick to launch the ball, the left and right triggers for the flippers, left thumbstick to nudge; but be careful as too many nudges will freeze the ball, Y to turn the hud on and off, X to cycle through the full cameras and B the smart view cameras, the controls are very easy to use. If you do get the ball stuck anywhere you can press start and call attendant to reposition the ball.
There are five different camera angles and five Super Cam views to play in, each one zooming in or out on certain parts, for example there are four different plunger views, smart cam will zoom into where ever the ball is and full view will show the whole table.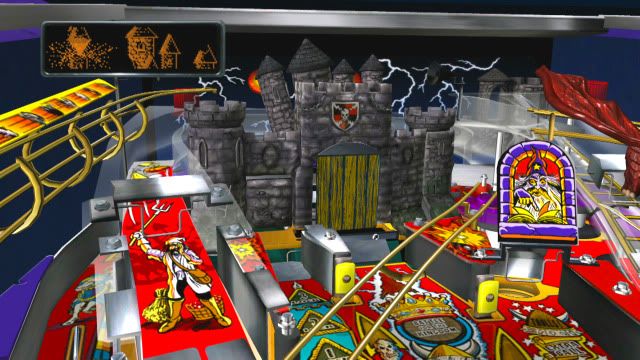 In Arcade mode you are virtually entering the arcade, walking around the lower floor, back room and up the stairs to the top floor visiting each table in turn, so it gives the impression you really are in an arcade. The sounds are realistic as well and there are even people playing on arcade machines.
The Williams Challenge takes you through each of the tables, with three chances and a score to beat on each, unlocking the next after you have beaten the previous, you again get three balls as in the Arcade mode. If you fail you begin again from the beginning.
The final mode takes you through a tournament for up to two players where you can change the number of tables from one to three and you are ranked with tournament points.
Williams Pinball Classics really is a stunning Pinball game, with superb graphics, a great deal of detail and faithful audio. This really is the best Pinball game I have ever played and a must if you are a Pinball fan.
9
Click here to view the article