Xbox LIVE is not just about games. Your Xbox 360 can be used to watch movies, listen to music and to socialise; in fact it is a multi-media centre ready to entertain you.
In this fifth part of a series we are going to be looking at Horrible Bosses which is a new release on Zune.
We will also be looking at how Zune works, how easy it is to navigate and use. We will be looking particularly at the movies section. We will be looking at value for money, quality, whether they are easy to find and whether they stream/ download fast and without problems.
Those familiar with the Xbox 360 dashboard would already be aware of the different tabs, one of which is the Video Marketplace, from here you can access Zune after a software download.
Zune can be accessed with a controller or by Kinect using your voice to control playback and find movies. It also features a pretty big library of movies, music videos and independent videos. You can also watch movies in an Xbox LIVE party if you wish.
Horrible Bosses was a featured movie at the time of this review, so easily accessible from the dashboard. Otherwise load Zune and find it from the 'Movies' menu.
There are several options to rent in Standard definition for 480 Microsoft Points, High Definition for 590 Microsoft Points or you can purchase in Standard Definition for 1770 Microsoft Points.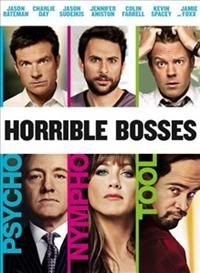 Horrible Bosses is a black comedy about three friends, Nick Hendricks (Jason Bateman), Dale Arbus (Charlie Day) and Kurt Buckman (Jason Sudeikis) who for one reason or another are fed up with their bosses and devise a plan to get rid of them for once and for all.
Nick has been with his company for years and is wanting a promotion, but his boss has him jumping through all kinds of hoops and has no intention of giving him one, he has no intention of letting him go either and is threatening a bad reference, even setting Nick up as having a drink problem. Dale on the other hand has an over-sexed boss (played by Jennifer Aniston) who is intent on 'getting him in the sack' even though Dale is very much in love with his Fiancée and wants none of it. Kurt's boss dies leaving his drug-fuelled son in charge, who is only interested in profits and not the welfare of his staff or the company.
The three friends have just about had enough and meet up to discuss how to get rid of these three bosses and decide to bump them off, but how do they do this? Thinking that the best idea is to hire a hitman they first hire a 'Wet Man' who is definitely not a hitman and afterwards go to the roughest part of town on the search of a proper Hit man. There they meet Dean Mother F***** (Jamie Foxx) who they believe has experience and who takes on the job as 'murder consultant' and advises them to each kill each other's bosses and make it look like accidents. However things take a turn for the worse when things don't quite go to plan.
There are some pretty funny parts to this movie and some clever lines, however some parts are slow to the point and it is rather predictable with no real surprises. There are very few laugh-out-loud parts, more smile points, but it is still an enjoyable movie which most people with a boss may be able to relate to. With some pretty big actors it could have been better, the actors play their parts well, but something is lacking as I've forgotten most of the jokes already.
Horrible Bosses can be rented or purchased from your Xbox 360 dashboard or from Zune's website
http://social.zune.n...9a-c4299ea5c4e7
Click here to view the article