Warp- Distorting the gravitational fields of Xbox LIVE Arcade

Warp puts players in control of Zero, a loveable – yet lethal – little orange alien with a big score to settle. After being captured and taken prisoner in an underwater facility, Zero is subject to torturous research experiments by cruel scientists. But Zero's powerful and deadly abilities help him break loose and gamers must guide him through the laboratory to safety.
Warp has been praised for its dynamic gameplay, giving players the choice to take bloody revenge on every human they encounter or hide and plan their way through each level for a no-kills, stealth game. Bending the traditional rules of videogames, Warp features clever and intuitive puzzle-based gameplay where players decide how to traverse obstacles and combine abilities to master challenge rooms and top online leaderboards.
Abducted by a villainous General from his home world and taken to an underwater research facility, Zero must plan his ultimate escape by relying on his arsenal of special abilities.
Play your way
Players are in control. Take revenge and kill every human in the facility, or hide and plan your way through each level for a no-kills stealth approach.
Abilities and Upgrades
Use Warp to teleport short distances and into objects, then Frag to explode them from within. Echo a duplicate image of Zero to distract enemies or use Swap to replace similarly sized objects with Zero's Echo image. Warp inside an object and use Launch to propel it from Zero at high speeds. Collect grub to upgrade each ability in unique and powerful ways.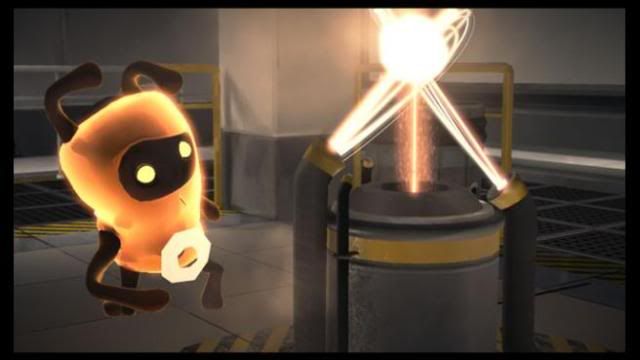 Challenge Rooms and Leaderboards

Compete and compare against friends in Challenge Rooms that test players' speed and lethality in unique mazes and deadly environments. Reaching the top of the leaderboards will require true cunning and skill.
Unreal 3 Sci-fi Madness
The Unreal 3 engine brings cutting edge, top-down visuals to this downloadable title. Players are immersed in sci-fi madness in a persistent world as they explore the sprawling undersea facility.
Zero's Journey
Warp delivers a unique and compelling story of torture and affliction in the name of science. Zero's abduction and pursuit of revenge will have players rooting for the little orange alien that could!
Bossing around
Warp features epic boss battles with Zero's enemies and reoccurring nemesis.
http://marketplace.x...15-d802584111dc
800
Review-
Coming Soon
Competition-
http://www.xboxlivea...

http://www.ea.com/warp
Click here to view the article