Zune on Xbox LIVE brings you the latest movies and gives you access to unlimited music and music video streaming in SD or HD, you can even use Kinect to find and play music and videos and to control playback.
We are taking a look at the newly released movies available from your Xbox 360 and Zune, this time it is Sherlock Holmes: A Game of Shadows.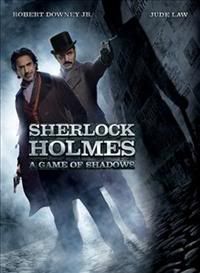 Sherlock Holmes is solving crimes yet again in the latest movie; Sherlock Holmes: A Game of Shadows is now available on Zune the sequel to the 2009 movie named simply as Sherlock Holmes, sees Dr Watson about to marry and with this become more involved with his new wife and less with solving crimes. However, their archenemy Professor James Moriarty is not going to let Dr Watson and his new wife enjoy their Honeymoon in peace and has other ideas, making them a target and using them as revenge against Sherlock Holmes. Resulting in Dr Watson becoming a partner yet again in the resolutions of murders, terrorist attacks, and business acquisitions which Holmes believes are tied to Moriarty and which Holmes was investigating before Dr Watson turned up at 221B Baker Street.
Holmes meets Moriarty, who informs he had already killed Irene Adler who was given a package to deliver to Dr. Hoffmanstahl for a letter he was about to deliver, which when opened triggered a bomb and explains he will kill the Watsons too. On the train to Dr Watson's Honeymoon they are ambushed by Moriarty's men, resulting in Dr Watson's new wife being pushed from the train into water by Holmes for her own safety. Holmes and Watson carry on to Paris in search of a Gipsy fortune teller who Holmes had met earlier and the recipient of the letter. It then becomes clear her Brother Renee is missing, so a search is then started to find him.
From the beginning of the movie there are action scenes, explosions which sound pretty good in 5.1 surround sound and scenes which use a similar touch to the Matrix movies, slow motion then sped up, creating a break from crime solving and adding a bit of excitement. Even with these action scenes Holmes has done a bit of preparing, foiling the plans of his enemies and twisting the enemies' plans to his advantage.
Sherlock Holmes is well known for his clever and intelectional way of solving mysteries related to crimes using several methods. Sherlock Holmes: A Game of Shadows in parts shows how he examines people and objects to do this, but not with undesired consequences, for example during a dance scene instead of enjoying dancing his eyes are wandering around the crowd, this he explains can be a problem as his mind is always active, looking for clues.
Sherlock Holmes: A Game of Shadows features many well-known actors and actresses, such as Robert Downey, Jr., Jude Law, Noomi Rapace, Jared Harris, Stephen Fry, Kelly Reilly and Rachel McAdams creating some good acting.
Sherlock Holmes: A Game of Shadows has some good action scenes with Matrix effects, some good actors but is a bit lacking on what Sherlock Holmes does best and that is crime solving. Sherlock Holmes fans may see this as all action and hardly any mystery. However the one-on-one scenes of Holmes and Moriarty are impressive.
Sherlock Holmes: A Game of Shadows is available now on Zune to buy in SD for 1770 Microsoft Points or to stream in SD for 480 Microsoft Points or HD for 590 Microsoft Points. This movie is recommended to view in HD, to get the most from the action scenes. Zune movies give you fourteen days to watch or forty Eight hours from starting to watch.
Click here to view the article