Max Payne 3
The moment I inserted the disc into the console, I had high expectations. I had waited for what seemed forever for a third instalment of the series and here it was, sitting in my disc tray. This, is the highly anticipated Max Payne 3. But does it deliver? Or just fall flat on Max's face?
First impressions are very promising, with its strangely colourful Title screen, which, in a Max Payne game, seems very alien. If you are familiar with the series, you will know that Max lives in a depressing, grey New York, full of drug dealing gangsters, and corrupt cops. However, Max Payne 3 is set south of the border, in the very sunny, but deceiving Sao Paulo, Brazil.
The first two games were centred on Max losing everything that mattered to him. From his wife and child, to his new love (depending what difficulty you completed it on, you would have had an alternative ending). So, this brings us to the Max of today, a broken man, full of regret and hatred, but not just to the people who ruined his life, but to himself.
Constantly seen drinking on many occasion during the cut scenes, Max finds himself in an endless hole, trying to scrape his way out without much progress. A quiet drink in his local bar, soon escalates into trouble involving the local 'Kingpins' power hungry son. Matters start to heat up, but partner-to-be Passos, who claimed he knew Max from the old police academy, he is a helping hand in this desperate attempt to try and clamp in a family name to a ruined, uninterested, Max Payne brain.
What a way to meet an old friend right? Well, it gets even better for Max, as Passos soon convinces him to take up a job in Brazil, protecting a very rich family, the Brancos. Well, I don't want to give the whole story away, so ill stop just before it gets interesting.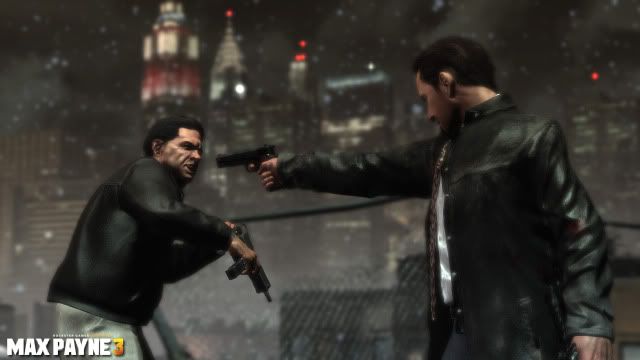 It starts off in typical Max Payne fashion, with the third person view looking incredibly polished compared to the last generation consoles from yesteryear. Bullets fly from the off, making you already try out the updated Bullet time function. Max being a decade older, you would think he is stiff as a rake, but to my surprise, he is shockingly agile.
Equipped with the basic hand gun, you start pumping countless bullets into nearby enemies, with a great amount of satisfaction. With all but one victim kissing the floor, you fire one final blow, to be gifted with a close up bullet time, plummeting into the helplessly stranded gangsters head.
Throughout the game, you will be constantly holding down the right trigger, shooting at goons for fun. Sounds great, but be warned, this is ALL you will be doing. I'm not saying it's not a satisfying experience seeing hundreds of people drop to the floor, its just that it never seems to offer anything else but this. I encountered no challenging puzzles through the game, which is a shame, as it would certainly break up the cover, shoot, and slow mo game play. Further into the game, you will come across a section where you have to plant bombs around a room. Fine, it does give you some change, but even whilst doing this, in between each planted bomb, an arsenal of thugs come at you with force, giving you no break. You will be finding yourself constantly retrying certain parts, as they give you no warning to where and when they will be bombarding you with bullets.
However, saying that, you will find yourself shooting from helicopters to help your colleagues, effortlessly firing from buses, and over-heating your machine gun from a high adrenaline boat chase. Although extremely exciting, your still doing exactly the same thing as you will do throughout the game, just in a quicker pace, adding to constant menace of 'repetition'.
Now I come to the cut scenes. Utterly fantastic to watch, especially if your already enjoying the deep and gripping story. A tad long, but you're not going to complain with the conclusion of the story. However, for those who aren't too bothered about what happens to Max, you haven't got an option but to watch the scenes. So, my advice to you, is leaving it, and grab a drink for five minutes.
Controls are easy to grasp, which is useful to the quick pacing of the game, no complaints of cramp have occurred to me throughout the game, which is a bonus, especially with the game being at least nine hours long, single player mode.
In terms of graphics? Brilliant. Rockstar have really gone to town on this one. The details to the face are just the tip of the iceberg, with added gems such as bullet holes in walls, to actual wounds on the bodies, its like porn to the eyes.
A specific part which has noticeable detail to lighting and colouring is in the run down shanty towns. Every little detail from rust on the side of metal panels, to the fantastically garish 'tourist' shirt that Max regretfully wears, is astounding.
If you're a Call of duty/Battlefield fan, you will probably have to put in a few hours to master the multiplayer.
First glimpses of the online modes, you see the typical deathmatch and team deathmatch, which is already unlocked for you. One match in, and your dodging bullets in slow mo, looting bodies, and setting up wagers, which makes the most basic game mode, its actually quite refreshing, and different from the normal war games. Another look, you will see four or five modes which are locked at first. Unfortunately, with me being terrible on the multi-player, I haven't had the pleasure to actually unlock them yet!
Overall, Max Payne 3 is a compelling experience, with a gripping story, and a not so common setting. It packs the punch to compete with some of the best third person shooters out there, if not better. On the other hand, with the only real challenge being for you to dodge bullets has nothing to offer in the puzzle department. Yet the beautiful graphics add to the tension of being a wanted man, and a great twist to the overused deathmatch, really adds play ability to the experience. If you're a fan of Max Payne, no doubt you will be impressed, if your not, you will still find a hidden gem in the shooter genre. With success imminent, there's bound to be demands for a Max Payne 4.
Story - 5/5
Game play - 4/5
Graphics - 5/5
Multi- player - 3/5
Overall -
8/10