Reviewing a game months after it's been released can sometimes be an incredibly difficult task. Not only will people have played the game to death, but tons of similar games would have been released in the mean time. In the case of Stoked Big Air Edition the later is not as much of a problem as usual. We haven't been spoilt for choice when it comes to snowboarding games this generation. Basically we have this games semi- seriousness, the uber stylish over the topness of SSX or the ginger poodle steering of Shaun White. And since no body wants to steer a poodle around we'll ignore Shaun White.
As the title says, this is a review for Stoked Big Air Edition, so while comparisons with SSX will be made I will mostly be concentrating on the benefits, or pitfalls, of Stoked. Once you're done here head on back to the reviews page and read MechanicalR's review of SSX and make your own comparisons.
You all know how snowboard games work. Jump on a bit of 2 by 4, slide down a snowy mountain either busting tricks or racing people until you reach the bottom. Then repeat. That's almost the case here but the developers have gone for something a bit more along the lines of Skate. They want you to start off slowly busting simple tricks, off of certain objects, beating scores and really learning the tricks as you go along.
Another similarity to Skate is the analogue stick controls, using the right stick to first ollie and then modify your grabs by holding it in different directions in conjunction with the shoulder buttons. The left stick will obviously steer your snowboarding dude as well as spinning and flipping in mid air. It would have been nice to have been given some form of face button control scheme. I for one prefer using this control method for my boarding games, be it snow or skate.
We have to live with what we are given and the controls on offer aren't that bad once you get used to them, the main problem is having to ollie with the right stick and then manoeuvre it quickly enough into the next position for a grab, sometimes proves restrictive. Other than that it's all about practising and learning the controls and all the moves. I found them kinda clunky and unresponsive to start with, however, with more practice I got used to the scheme on offer and they started to fit well for the game. Fans of SSX may take a little longer to get used to them though.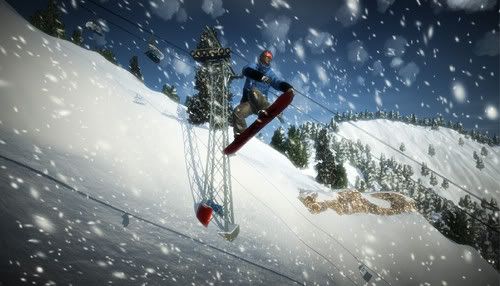 Practice you must as there are now 7 mountains to bust your moves on. This is an updated version of the original Stoked and now includes an extra 2 mountains. You didn't think they'd call it big air edition for nothing did you? Each mountain has it's own pro rider to talk you through what you're doing as the helicopter flies you up to the starting point. Every mountain has it's own free ride, which does what it says on the tin, as well as it's own challenges.
Completing a challenge will earn you influence points in your quest to finding a sponsor. Get enough points and you'll unlock a sponsor challenge, complete this and you're on the road to becoming a pro. There are plenty of challenges to do on each mountain involving racing or tricks. I tried to spend as little time racing as possible. I found it tedious and boring. It would have been a lot better if the game allowed you to race any way down the mountain you wanted, here you are forced through small checkpoint gates and any slight deviation from the course will see a restart needed.
The other challenges all have various different names but they are pretty much just trick based. Certain criteria will need to be met for each one in order to gain those valuable influence points. Whether you need to beat a score, do certain tricks off an object or string a line of tricks together, this is where the game, for me, really shines. To be honest, I started off by hating this game quite substantially, but the more I played around with these challenges, the more I started to enjoy it.
Its nice having a game nudge you in the right direction rather than holding your hand and walking you through. When you're asked to do certain tricks, you have to learn them. The screen prompt that tells you to bust a Stalefish Tuckknee tells you just that, it doesn't show you all the buttons to press on screen like some games will. You need to perform and learn the tricks yourself. This can take some time, unless you go off and cheat by looking it up, but it's worth the effort and you're rewarded with a sense of accomplishment when you prevail. This sort of trial and error game play will put some players off, others will revel in it.
I liked the way this game scores you, land a trick badly and you will get massively reduced scores. Either that or you'll just wipe out completely and have to try again. You really do have to strive for perfection.
Spend too long attempting a particular challenge and you will begin to notice this games pointless day and night cycle, although the night-time part is pretty realistic, I couldn't see a thing. It's nice that effort has been made in the detail, it's just an annoying and pointless detail. Less pointless, although sometimes annoying, is the weather. To go along with the time each mountain has it's own variable weather that really does affect the gameplay. Too much snow and you'll barely go anywhere, your rider will just slowly slide down the mountain before attempting a jump only to get no where and slam into the ground. Not enough snow and the rocks of the mountain will appear beneath the thin veil of snow and cause your rider to accelerate extremely fast down the mountain until you force him to slow down or lose control. This gives you more to think about and is a nice touch.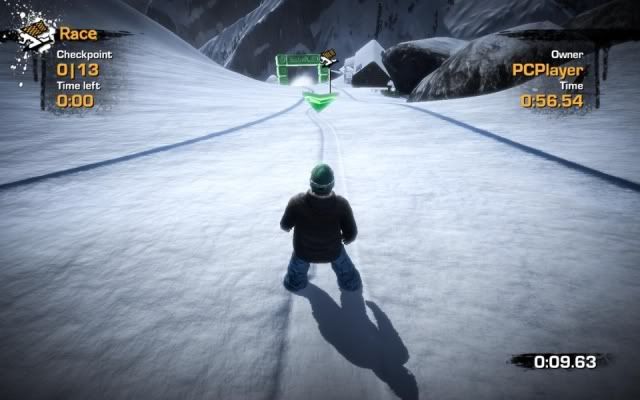 I must say though, if you're looking to play online think again unless you know anyone who owns the game. The online is pretty dead. In fact, if any of you manage to play the game online please let me know what it's like. I found no one online at all, another problem of reviewing a game this long after release.
Overall there is plenty of fun to be had in Stoked, you just have to work for it. It's nice enough to look at, even if the graphics are nothing to write home about and the music is definitely not for everyone. If you're the sort of person who likes the idea of the more realistic side of snowboarding where you have to work to land each trick then this could be a game for you. If not then go get SSX. Either way this is a definite case of try before you buy, even if retailers are practically giving this game away.
A small part of me was hoping that Stoked would be worse than it actually is. Then I would have been able to bust out a snow-
BORED
pun. You would have been laughing for days dear reader, for days.
7.0