Spiderman 2 was the best super hero game ever made. There, I said it. While I'm sure many people will disagree with me and go for Batman's Arkham games, for me, Spidey 2 takes the crown. The Batman games were excellent so I'll agree that there is some room for debate on the subject, however, there can be no debating the fact it is the best Spiderman game. This is something developers Beenox hope to fix with this release of The Amazing Spiderman released to coincide with the new movie film.
Being a movie tie in you would expect this game to follow the same story, here though they have decided to create an epilogue to the movie. This gives the developers creative licence and allows them to create their own story that directly follows from what you may have seen at the cinema. If you haven't seen the film I would really recommend a viewing unless you don't mind finding out what has happened to the characters.
Speaking of the characters, don't expect to be seeing Andrew Garfield here. Unlike the games based on the Sam Raimi films the cast don't lend their voice or even likenesses to this game. To me this wasn't an issue at all. I would be inclined to treat this as just a stand alone Spiderman story and would take the movie tie in with a pinch of salt. I'm sure that when they pen Spidey 2 they will not take this game into account. So just try to enjoy what is here, the voice cast do a good job and in case you were wondering the answer is yes. Of course Nolan North lends his voice to the proceedings.
Oh and on a personal note of pleasure, Bruce Campbell does make a return. He's not narrating this time but I'll take any Bruce that I can get.
The voice acting, the story, none of that really matters too much in the grand scheme of things. The most important aspect of this game is the return of free roaming around Manhattan. Swinging from building to building as you please has always been a pleasure and here we see the camera move closer to good ol' Spidey allowing you to feel closer to the action than ever. Swinging through the mean streets of New York is still a joy and is what I enjoyed doing more than anything whilst playing this game. The city itself is nice enough to look at, I have seen game worlds that are a lot better than this to play in and look at, but, I have also seen a lot worse. Everything runs fairly smoothly which is the main thing I would want and ask for.
I'm guessing you all want to know how the rest of the game plays, well I'll tell you. This is a game that can be played by almost any one, everything on offer is pretty simple. The story side of the game sees you running and climbing around, beating up people as you go while the game chucks the occasional boss fight your way. It's all by the numbers stuff, it's simple but I did find myself having a lot of fun. I would strongly tell anyone who plays to put this on the highest difficulty as the game isn't that difficult at all. It does have a few sticky moments but nothing too testing.
The combat system is basic. Mash a button to punch, mash a button to dodge and mash a button to finish off bad guys with signature Spidey moves. Simple yes but it does at least let you feel like the kick ass super hero we all know Spiderman to be, he catches villains just like flies don't ya know.
I am doing the game a discredit here as there are another 2 buttons you can mash whilst fighting people. The first is the Web Retreat button. A quick press of this whilst getting pummelled on will launch Spidey away from danger and onto a nice safe place up high allowing you to regain your health before sneaking back up on the enemy to either take them down stealthy or launch at them and beat the snot outta them. The other allows you to slow down time and see the areas where you can quickly web to. This is extremely handy when fighting bosses as it allows you to safely gain a vantage point on them without being hit.
This all makes the game easier to play but does make the game more accessible to players of all ages which is good for younger and casual players as well as being good for "hard up" publisher Activision. Some players will be put off by the repetitive nature of the game as well as by the relative ease it can be completed. I had fun from start to finish but then again I have played a lot of JRPG's in my life so repetitive gameplay isn't as much of a problem for me.
I'm not trying to put people off this game but like a lot of games these days it is fairly short, or "streamlined" as the PR people would like to say. Thankfully you can waste a lot of time taking in the sights and swinging around the city completing various side missions along the way, a lot of which involve, you guessed it, beating people up. Then there is also the small matter of collecting the seven hundred comic book pages laying around the city. Getting enough of these unlocks classic Spiderman comic books to read. A nice touch.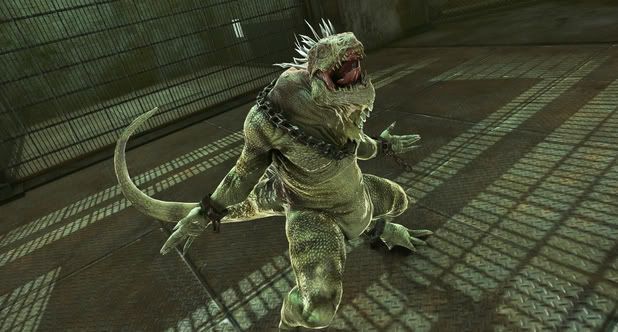 Overall I had fun playing the Amazing Spiderman. If you can look past a bit of repetitive gameplay then you will too. A fairly easy game to compete but this could be the perfect antidote if you are playing a frustrating game like Dark Souls. The only frustrating moments here are a couple of boss fights and the occasional confusing upside down camera issues. Swinging around New York can prove therapeutic. This game is still living in the shadow of Spiderman 2, which was to be expected really and anyhow I'm sure we will get an HD update of that some time soon. Until then I shall have fun playing this.
7.9