I'm a massive, and when I say massive, I mean a humungous fan of Spidey. Every time a new film or game is released, I jump at the chance to waste my last hard earned cash on experiencing the web slinger in action. I loved the last Spider-man game, Shattered Dimensions, with its unique style of breaking four different types of game play up between different eras of the hero. Edge of Time is the follow up from Dimensions, does it offer satisfying swinging through New York? Or do we get caught up in a web, with no escape but to feed the predator?
First of all, when I started the game up, the title screen, isn't just any title screen. Basically, It has the two stars of the game in the same scene as each other. But, the twist is, it has the original Amazing spider-man, being carried by the future Spider-man, 2099. The immediate thought that went through my head, was 'What the "naughty word alert"'?!?! This can't be right! Fortunately, the game tells you why this is, thank god!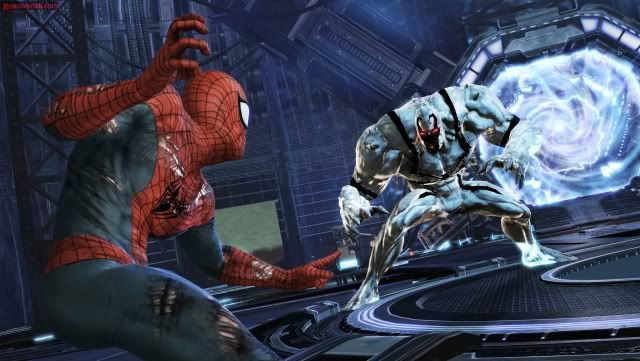 My impressions so far, just by getting to the title screen, is this game, isn't like any other Spider-man game. Set in two different time zones, both present and future heroes, have to work together to overcome the latest threat to mankind. So, I start a new game (always on the hardest difficulty they offer, because I'm a badass) just to be thrown straight into the deep end! Yep, a boss fight, straight from the word go. The enemy, Anti- Venom, a mutated version of the original Venom. As the fight goes on, I finally kick his ass, for the game to give me a pretty decent introduction to the story. This is what I got from what it was trying to explain to me. A new and unidentifiable enemy, has threatened to change the past, things don't turn out the way it should. So, first on the list of things to do, is to kill the original Spider-man, so no other could exist.
Game play is of typical Spider-man. Stringing combo after combo to defeat an endless amount of enemies. In all honesty, after about thirty minutes, I had to turn it off, just because the case of déjà vu swept over me like the plague. In any case, I did get back to the job, a week later, just to find I was doing exactly the same thing the first time I played it, except now, I know how to get keys off guards, to open doors, again, and again, and again, and....you get the picture. It becomes laughable at times, take this as an example. Anti -Venom tries to kill you, so what's the first thing you would do if you were him? Fight back? Send out more enemies? Nope, he runs away like a pussy, for you to follow him from room to room, full of enemies, to finally reach him, back to where you started in the first place! Also, be careful not get a cramp in your hand, after pressing X hundreds of times. You might be lucky, and have a Y a few dozens of times.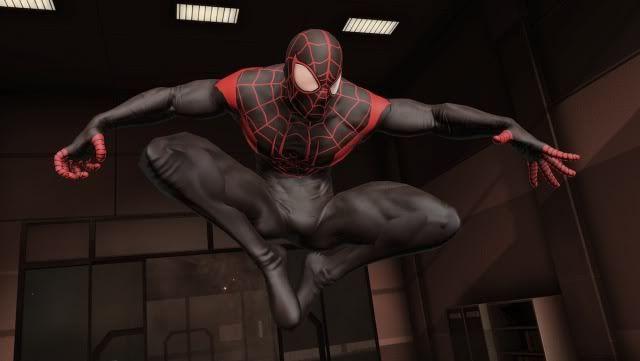 There is some uniqueness about the game play. For example, if you are playing as The original Spider-man, the 2099 hero, will have to do things in his time, so it changed back in present time. Confusing right? Anyway, you swap between character at certain points in the story, which does break up the repetition. Both have their own upgrades and moves, which is the only thing that really splits the two up, except from the suits. Also, 2099 Spidey, does have these weird flying through building scenes, which you die, many times. Trying to avoid obstacles, this mode quickly becomes annoying and frustrating, as its plain boring and time consuming.
For a game that lasts over six hours long, and has little to offer but doing the same thing a number of times over, I still managed to finish it.....Just. Therefore, I thank the gripping story for that. Without it, there would be nothing here new for me to sink my teeth into.
Graphics are a letdown for me, especially as I loved the Shattered Dimensions art style. Everything from the suits, to the walls, all look plastic. Reflections off things that aren't scientifically supposed to have a reflection, is pretty lame. Controls are of typical Spidey fashion, RT for web-swing, LT for a new feature, it's sort of a quick time effect, which will help drastically through the game, as it slows down time, but not for you. Annoyingly, after countless amounts of these games produced, no one can get the damned camera to work when your upside down on the ceiling!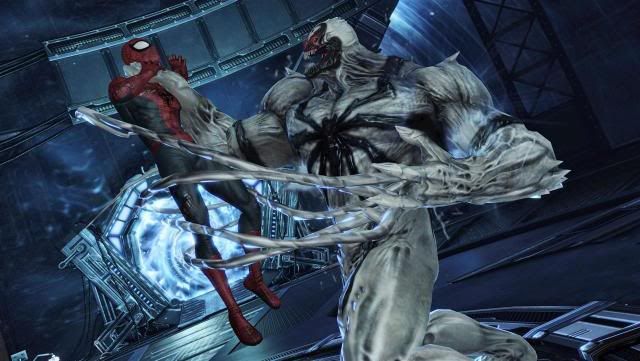 Straight into the online mode.....There isn't one. To be honest, I'm not surprised with this type of game, nor will you be.
At the end of the day, if you're not a big fan of Spider-man, you will take this back to the store literally after an hour of owning it, just because it has nothing special to offer for new fans. If you are a lover of the man in tights, you will find some enjoyment, especially for the story, which is the best part of this game. Even saying that, I still think diehard fans will be disappointed just for the fact that no one buys a game just for the story, you don't want it to be a chore just to find out what happens next.
Story - 4/5
Game play - 2/5
Graphics - 2/5
Multi-player - N/A
Overall -
5/10