The name 'Inversion' struck me to think that this was some title for a scientific experiment, which gives me no indication of it being a video game. I had to direct myself onto IGN to see if it really was a game, because frankly, I had no idea! So, with a little bit of research, I finally thought I would make Inversion my next victim in my world of reviewing, with its already confusing upside down front cover. Nonetheless, it did give me that kind of thought which attracts people to games, originality. But, this game shocked me, but all for the wrong reasons.
Let's start off with the basics first, the title screen, first impressions and what not. It certainly draws the eye, with its over the top destruction, of what seemed to be a city in America (Somewhere) completely destroyed in the background of your straight forward list of activities. Nothing special with the actual lay out, it just looks like they have taken a scene out of the game itself, and shoved it on the title screen, because they ran out of ideas. There's not much else I can say on it, however, it does give me a sense of laziness, just from the main screen.
Right, onto the story. Set in the near future, You play as city Policeman Davis Russell, with his partner Leo Delgado. Getting on with their everyday lives, drifting around the city, an unexpected invasion occurs. This brings us to the invaders, a group called the Lutadors. With them, they bring weapons that no man has ever set their eyes upon. Gravity Guns to be exact. Things go from bad to worse, as they easily infiltrate the defences of man, the Lutadors take charge extremely quickly. With all the distraction, your character Davis, realises he must get back home to his daughter and wife, before they are taken, or even killed. You finally reach your home, to find his wife murdered, and his child missing. It is now Davis's mission, to kill whoever did this, and take back what he owns. His daughter.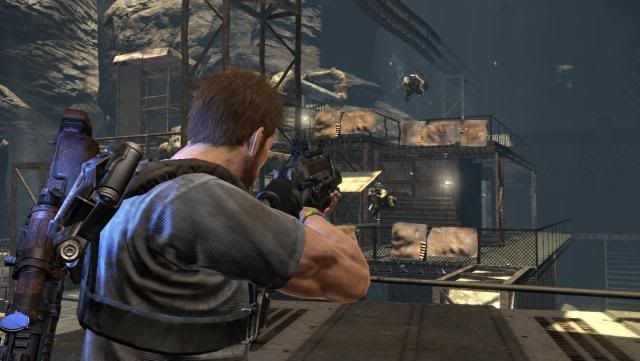 Straight into the action, you will undeniably notice similarities to Gears of war, with its shoot-cover system. The layout of your weapons is exactly the same, the camera angle is exactly the same, and the enemies, look exactly the same (from a distance) as the Gears of War Locust. I found this disappointing, as I said before, I wanted originality. Ignoring the reflective style to Gears, I pushed on to find nothing at all surprised me like it should. The way you run to cover, the manner of shooting, the way you throw a grenade, its scarily like Gears, the only thing that made me remember this is Inversion, were the characters. I wouldn't mind too much if it was as fun, but it embarrassingly failed in every department I have mentioned. The first weapon you will receive, isn't a human one. You steal a assault rifle from a dead Lutadors corpse. With the weapon, there is a knife attached to end of it for close combat, which, once again, fails to deliver. Every fire arm you will come across in this game, is so underpowered, you end up wasting a substantial amount of ammo, to kill two enemies.
Now I'm glad to mention, that there is a slice of originality, which you can use to kill enemies, and its involving gravity. You will soon pick up a piece of equipment, which the Lutadors use to screw the city up. You will notice that you will be using this as much as possible, as it is twice as powerful as the downgraded weaponry. Lifting the enemy off the ground so you can use this Alien power to throw them wherever you please, is pretty fun to start off with. You will soon after gain the ability to force them to the ground, so they stick, and cant fire any bullets at you. Sounds interesting, but soon enough becomes just as frustrating and boring as firing a normal weapon. You also have the ability to pick objects up, and lob them at dumbly waiting in the middle of the battle doing nothing(take a breath), Lutadors. The A.I is below par in game standards, with its brainless enemies wondering around, getting stuck in the environment, and basically not giving a "naughty word alert" attitude, tops off a lazy design. Rare moments consists of having a zero-gravity area. Whilst mentioning this, I have realised that there is another game that comes to mind with all these unique ideas (Dead Space) *cough*. Flying from one floating cover to another, you will relatively do the same thing as being on the ground, shooting, and covering. It becomes laughable towards the middle, with is extreme repetition, and cheesy plot twists. The emotion showed from the two lead characters, are pathetic to say the least. Meeting up with a squad of human survivors, a emotion of anger covers Davis, to go absolutely mental at them over his missing daughter, just for him to forget the ordeal, and become best friends with them, even though he threatens to kill each and every one of them if they don't tell him what he wants to hear.
Onto the Boss fights, and yes, they are just as repetitive as the all round game play, but it takes it to a whole new meaning of the word, when they literally repeat the bosses you face, over and over again. Fine if they twist up the way you have to defeat them, but unfortunately, they don't, and you have to do the same thing three to four times, per boss, throughout the game.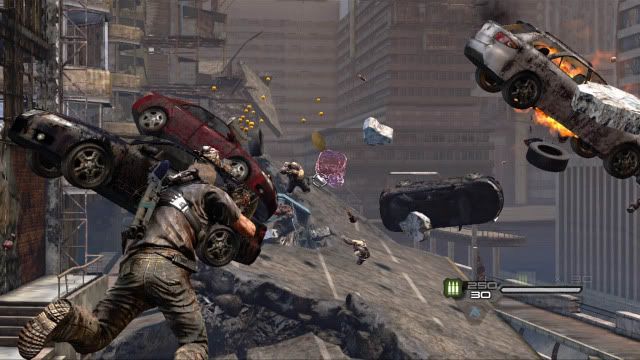 The story begins to becomes dreadful. Without giving too much away, let's just say it has a lot of plot holes, which never looks like there ever going to be filled. The ending is ludicrous, confusing and dam right pointless. You will have to see for yourself to believe it. The most annoying part of it, you will never be explained as to why they even invaded in the first place! There's no character build up, no explanation of who the Lutadors are, and no back ground to your partner Leo!
Inversion is a long winded game. Consisting of 13 chapters, they take at least forty-five minutes, to one hour to complete each one. As the game is frustrating and repetitive enough, you should award yourself if you actually get to the end. I did, I went to the shop and brought a bottle of Bulmer's pear cider, it was lovely.
The unknown city which the game is set in, is pretty good at making you believe that it is in hot water with its graphics. Scenery is well detailed, with broken buildings and destroyed landscapes, which give you and overall feel of invasion. Certain objects in the game are very low detail, such as the vehicle you come across, all look identical to one another, the enemies all look the same, and the corridors inside the buildings, are boring and lacklustre to say the least. Facial details are nonexistent, especially when you need them for the really emotional parts *sigh*.
I had a peek at the online mode, only a peek though, because no one, and I mean, not one person, was playing online! I did however, grab an achievement for changing the colour for my online character, shame I cant show off the pink uniform though. Although, what I could see, it consists of the usual Death match, Team Death match, and capture the flag.
Inversion really let me down. From its lazy game play, to its pathetic story. The developers obviously had the idea of copying somebody else, and hoping to add some originality, but they failed at almost every department. The online was a letdown, not entirely their fault, but if the game was decent in the first place, people might actually play it. At the retail price of £40, you might as well stick it down the toilet, and watch that hard earned cash get washed away.
Story - 2/5
Game play - 2/5
Graphics - 3/5
Multi player - 2/5
Overall -
4/10