Ten years ago, British based Core Design unleashed the original Tomb Raider on an unsuspecting gaming audience and with it's seductive visuals, 3D environments, classical soundtrack and of course, busty leading lady, the game almost did for gaming what Star Wars had done for the movie industry twenty years previous. I did say "almost". Like Mr Lucas, Core felt it appropriate to keep on flogging the franchise for all it was worth and consequently they got squished between the rock of staying faithful and the hard place of moving forward. If ten typical gamers were asked what they thought of the series today then they'd more than likely reply with ten very different (but no doubt intelligent and well articulated) grunts of opinionation, varying in tone and pitch. The point? Times change and they drag our expectations along with them and what was the awe inspiring critical purchase of yesteryear is today's tannin stained coaster. Perhaps for this reason Tomb Raider: Legend comes to us not from Core Design but from the altogether fresher outlook of American based developers, Crystal Dynamics. Despite the fact that Tomb Raider will always have a reasonably sized hardcore following and Lara was a true icon for a while back there, the Crystal boys still have a mighty hill to climb if they want to claw back the respect of the masses for the series. Let's see how they fared.
Well, first off there are no huge surprises or twists, it's still Tomb Raider, it's a third-person 3D action-platformer and even from the loading screen it's safe to say that it's a whole lot more enjoyable than the combined worth of both Tomb Raider "films", for want of a more derogatory word. The game opens with a flashback to Miss Croft's youth and an ill-fated plane journey over Bolivia. Child Lara and her mother manage to survive a ditching into the mountains and as luck would have it they seem to stumble into some Aztec ruins that some thoughtless fool left lying around in ages past. In these ruins they find an ornamental sword wedged into a stone dais and following a display of some magical pyrotechnics, Croft senior sees fit to remove the ancient blade from it's resting place. She gets promptly sucked into some kind of portal and is never seen again, assumed dead by all but Lara's doting father.
| | | |
| --- | --- | --- |
| Just imagine the friction between those thighs. Ouch! | Lara enters the Extreme Marbles World Championships. | She takes any opportunity to do the Funky Chicken. |
Lara's "come to play" eyes.
With the scene set TR:L becomes a quest to solve the mystery of Mrs Croft's disappearance and over the course of a mere eight levels, the player is taken on a whirlwind tour of the globe in order for Lara to gain some much needed closure on these troubling events. As the story unfolds it becomes apparent that many of the world's "magical sword" myths are inter-connected in some way and this aspect of the game turns into a rather intriguing tale that even becomes a tad complex in a couple of places. Crystal Dynamics (CD) have borrowed a few ideas from the aforementioned "films", most notably Lara's two sidekicks who are always standing by on the radio to flesh out the story, make bad jokes and push Lara in the right direction. Although their sometimes pappy banter can be an occasional distraction, it's generally well written, nicely voiced and facilitates the telling of the story well.
Without wanting to spoil the specifics, a few global super-myths are touched upon in TR:L and those interested in the subject will find some of the intricacies rather engaging. The game is basically an investigational attempt at separating some of the mythological fictions from the real-world facts. CD obviously did some research into these myths and in general the story seems solidly based on the real-world facts surrounding them. However, when magical demons and the like start turning up it leaves one wondering whether or not the entire story is merely game-fiction and ultimately, it renders the whole fact or fiction debate rather redundant. This may be because, at it's core, Tomb Raider has always borrowed heavily from the Indiana Jones franchise in which Indy encounters the same phenomenon of factual research leading to super-natural entities. Whether or not it really detracts from the game will depend largely on the players maturity and interest in the tale. The story is presented in a somewhat non-linear fashion with levels flicking from modern day events to playable flashback sequences concerning the principal characters and their chequered pasts.
| | |
| --- | --- |
| Lara limbers up for the vertical wall sprint. Ready...set... | Why coudn't the Aztec's just use door-handles like the rest of us? |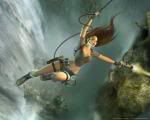 Visually TR:L is surprisingly pretty, first and foremost Her Bootiliciousness is looking smoother, rounder and more idiosyncratic than ever before. In fact she looks so good that it almost seems criminal to spend the entirety of the game looking at her back. A quick rotation of the camera reveals some nice details such as Lara's eyes focusing on points of interest in the environment and a nice range of ever changing facial expressions. The levels themselves are also convincing and solid, they range from the expected temples, tombs and ruins to more urban city areas, enemy bases and icy caverns. It's still the more archaeological levels that seem the most immersive due to the dank atmosphere and murky lighting but all are well put together and impressively lit. Speaking of illumination, Lara has been gifted her very own personal light source for this latest outing in the form of a little lamp on her shoulder, activate it with the d-pad and it'll last about a minute or so before it needs recharging. The quality of the torch-light effect given off in the darker areas adds real atmosphere and tension to proceedings, due to the realistic way it only lights your most immediate surroundings and reflects off all the right surfaces. It's absolutely essentially to advancement in the game because TR:L is very dark and I'm not talking about our gritty heroine's take-no-prisoners attitude. The developers seem to have taken every possible opportunity to deprive the player from the benefits of sunlight and a lot of the time the best that can be hoped for is a fallen roof-rock, inviting in a much needed shaft of light. Other graphical high points include some delightfully well handled under-water sections that capture the feel of sub-aqua shenanigans to a tee and a realistic approach to Lara's inventory equipment with all available items, including firearms, being clearly visible on her person. However, TR:L does not truly show it's stuff until things start moving.
Darkness pervades almost every area of the game...

...even the sunlight is dark...

...not to mention Lara's eye-liner!
Animation is most assuredly TR:L's finest selling point, it breathes life into the game, gives everything conviction and sucks the helpless player into Lara's sultry universe. Running around the stages, all of Lara's expected capabilities are present and correct, jumping, holding ledges, rolling, diving and of course that old Tomb Raider classic, the inordinately elegant and if we're honest, unnecessary, handstand to contorted flip type thing. No matter how unnecessary these kind of touches may be however, there's just no denying that they add to the fun factor and make Her Beautificence seem more like a living, breathing entity with an outlook and a personality of her own. Playing with her "buttons" for a few minutes reveals a myriad of available moves, hold "B" while climbing out of water and she'll shake her hair out, fiddle with the forward rolls a bit and Lara will perform a full tumbling combination complete with twisting somersault to finish. There's also some more practical back flips and side-somersaults which can come in handy during gun-fights and another Indy reference in the form of a grappling hook which can be used to swing across large gaps, collect items and yank enemies. Perhaps the biggest impact upon the game results from the addition of Lara's new pole swinging antics, dotted around all the levels are horizontal poles and should Lara jump at one she'll grab it and begin swinging her loveliness around the thing, leaving the player to input a well timed button press to leap off in the right direction. Even when she's performing a more simple action like travelling along a ledge or beam hand-over-hand, or just climbing a pole, the "Y" button can still be pressed rhythmically to speed up her progress and keep everything looking fluid as one move blends into the next. It gives TR:L an overall Prince Of Persia-y-ish-ness as Lara bounds from ledge to rope to pole to falling block, all the fundamental platforming ingredients the genre is built on are present, it's not necessarily original or innovative but it's faithful and it's slick.
Yes, she can still swan-dive.
Actually navigating the levels is also a fairly pleasing experience ninety percent of the time. The camera is usually helpful despite the occasional death-by-blind-spot and if confusion does occur as to where to go next then Her Fullbustedness can always whip out her binoculars for a quick look around. Using the bins, items of interest such as mechanisms or destroyable objects can be identified through scanning, a la Metroid Prime, and they feel very gadgety with plenty of whirrs and clicks accompanying the zooming and scanning.
Lighting is often dynamic.
Stages are linear without exception so players will not be troubled with the chore of actually making decisions but never-the-less, all are well designed and fun to charge through. The on-foot sections involve a pretty good balance of platforming, puzzle solving, breast watching and combat. Happily some of the puzzles aren't completely patronising in nature and there's even a few genuine itchy chin moments here and there that can actually provoke cognitive thought and keen observation. In game sound is perfectly acceptable and functional, noises heard are mainly atmospheric and duly distant, which fits the ambience well. The tombs themselves reverberate the grinding and clanking of the various contraptions in a satisfactory manner and the musical score also has a couple of stand out moments.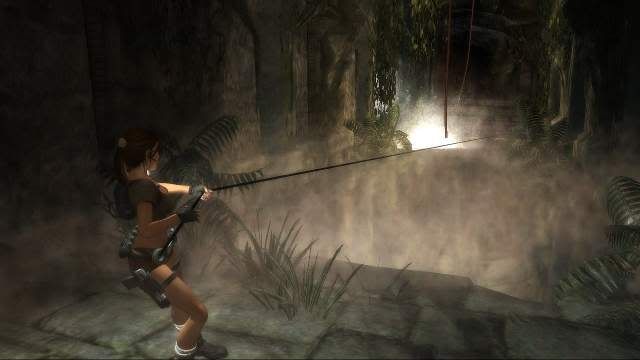 The new grappling-hook comes in very handy indeed.

The whole affair chuffs along very well up to a point and that point is gunplay. It's a great pity that encountering enemies in TR:L will soon begin to engender muted sighs and groans in most players, fire fights boil down to prancing around with both triggers held in, waiting for everybody to get dead. The left trigger locks on, the right fires your selected pistol/Uzi/assault rifle (differences are merely aesthetic) and the only real fun to be had is in dancing and flipping Lara around the battlefield in an attempt to make the process look a little more involved. While brandishing her guns she can shoot various bits of scenery marked with a "Y" symbol in order to activate the odd set-piece like falling rocks, collapsible platforms and combustible containers.

There are also a number of close-range moves available such as kicks and slides, Lara can even kick herself into the air off of an enemies chest and then fire her weapons in dynamic slow-mo. It looks fun and can bestow a distant approximation of amusement but the problem is that in order to use these moves the player must run head-long at their intended target while being shot at. Obviously it's smart to return fire along the way but doing this usually leads to Lara charging down her nemesis only to have him drop dead just as she actually gets close enough to perform anything fancy. It not only makes Lara look like a prat but it's also mildly frustrating. The same is true of the occasional boss fights, although there is an actual method to defeating each one which helps to add some interest. In general the fighting is wholly forgettable but thankfully combat is not the focus of the game. There is one particular level that involves assaulting an enemy position but it's over pretty fast and most other encounters are suitably brief. In fact the game as a whole is split up into many brief sections of play which are divided by frequent cut scenes detailing plot points, it's not a huge problem but it can interfere a little with the immersion factor at times.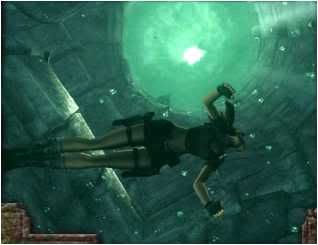 Under-water sections are rare but enjoyable.
TR:L offers a reasonable amount of variation in other play styles, some of these distractions end up reducing the game's overall kudos but most are fine. Of special note is a jolly good section of puzzling and skill with a forklift truck and a load of crates. The swimming sections also work particularly well, Her Sexywhenwetness swims very realistically and apart from being able to swim up and down with "A" and "B", she can even go into a speedy front-crawl on the surface through use of the "Y" button, pressed with the correct timing. CD have elected to use the "interactive cut scene" idea from Shenmue and more recently Resident Evil 4. At various points during these scenes buttons will flash up on the screen and should the player press the corresponding symbol within a second or so, all is well, if the button is not accurately mashed however, death ensues. It actually works rather well in this game, if nothing else it keeps players on their toes and many of the death sequences resulting from a mistake are fairly chucklesome. It's a bit of a shame that completing these scenes always involves the same buttons though, might've been nice if the actual commands needed were randomized to add a little more tension. There's a couple of poorly realised motorcycle missions which involve holding accelerate and fire while occasionally dodging a rock or lining up for a ramp. They go on for too long, there's not a great sensation of speed and the simplistic controls hearken back to those frustrating motorbike chases from the Tomb Raider games of yore. MotoGP3 this ain't.
| | |
| --- | --- |
| Helloooooooo beautiful! | Click the pic for a close-up of the prettiest Lara yet.. |
| This bit may look fun but it's not. | "Does my gun look big in this?" |
The biggest bugbear of TR:L is it's lastability and lack thereof. Each of the eight levels (with one repeated location) can take anything between fifteen minutes and an hour to complete. Running through the story on medium, as most players will do in the first instance, will result in about seven hours of entertainment. Bearing in mind that TR:L is an entirely offline game and a full price
one at that, it seems rather meagre and perhaps another example of the lack of available space for 360 games on DVD-ROMs. On the other hand the game feels a lot like CD are testing the water for future releases and didn't want to commit to a huge project without some confirmation of its possible success. It's certainly safe to say that another game is on the way, the story develops in such a way that the player is just starting to think, "Oh, this could get interesting!", when all of a sudden he's sitting staring at the end credits with a puzzled look on his face and mild profanity on his lips.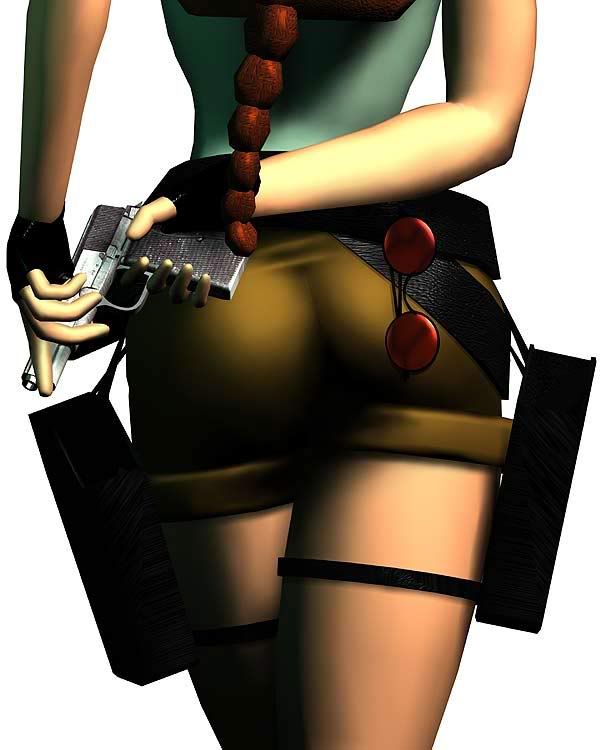 Having said all that though, CD are very obviously aware of this shortcoming and TR:L is chocked full of potential replayability in penance for it's brevity. For starters there's about fifteen artifacts dotted around secret locations in each level. They rank from the easy to find bronze artifacts up to gold and it's nice to see that finding the gold ones often takes extended searching and thought. For those willing to invest their time, going through and collecting all these bonuses will take a fair old while, requiring patience and a keen eye.......or a pc and a thorough googleing, each to their own. Picking up a benchmark amount of these tokens unlocks further costumes to drape over Her Litheness, there must be at least thirty of them and yes, there are a couple of skimpy little numbers, leading to the ultimate achievement: the swimsuit. Amen.
Each completed level can also be played again in the self-explanatory Time-Trial Mode, time limits here are reasonably strict, although there is some inconsistency with some stages easily runthroughable in plenty of time and others taking you right down to the last few critical seconds. Anyway, they're fun to complete and it's nice that the time spent artifact hunting pays the dividend of level familiarity which in turn leads to time-trial competence. Whether this flow of game modes is intentional or not is a little questionable but happy coincidence is happy none the less. Last on the list of extras is the return of Croft Mansion, it's a huge place loosely based on the mansion from the films and with lots of puzzles to solve, artifacts to collect, secret areas to find and costumes to try on, there's a good couple of hours fun to be had there. Also the solution to one puzzle in the mansion often leads to the onset of another and the whole escapade becomes something of a treasure hunt that tests all of Lara's many abilities. A very welcome addition.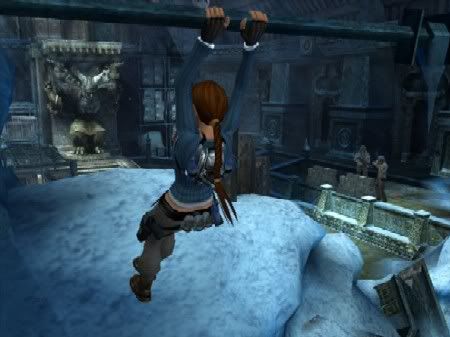 Lara visits seven exotic locations during the game, this is Nepal.
| | |
| --- | --- |
| Angelina Jolie could never do this with such grace. | Lara's sense of direction could be improved. |
No bad puns about the breast-stroke here, honest.
The TR:L package as a whole has turned out to be one of the finest examples of the platform-action genre on the market and many frustrated teenage boys, or "fans", will be pleased to know that Lara Croft seems to have made something of a comeback. There's enough Tomb Raider folklore and reference to keep those faithful to the series happy but there's also enough general movie and game reference to appeal to any fan of modern entertainment. It's very hard to put down TR:L once it's been picked up so perhaps the best advice would be to either buy it, love it and cherish it forever, or just stay well away and avoid the craving altogether. The overall length of the story will put this in the rental category for many and it's true that most players could quite easily bolt though it in a weekend and come out £42 better off. Length obviously isn't an important factor to Miss Croft but many of those same dabblers will start experiencing the Tomb Raider itch that needs to be scratched a few days later and purchasing may well ensue. TR:L gets right under the skin and at this very moment gamers across the globe will be waking from their uneasy slumber with a sudden start and an unexplainable sweat, yelling, "LARA!". The queen of the digital screen has most definitely returned and may her reign be fruitful and voyeuristic, for all to enjoy. Long live the queen.
| | |
| --- | --- |
| Gameplay | > 9 |
| Graphics | > 9 |
| Sound | > 8 |
| Controls | > 9 |
| Longevity | > 7 |
| Overall | > 8.6 |
Spirit X